Baltimore riots: Furious mother marches her son home live on TV
Riots have erupted in the city following the funeral of a young black man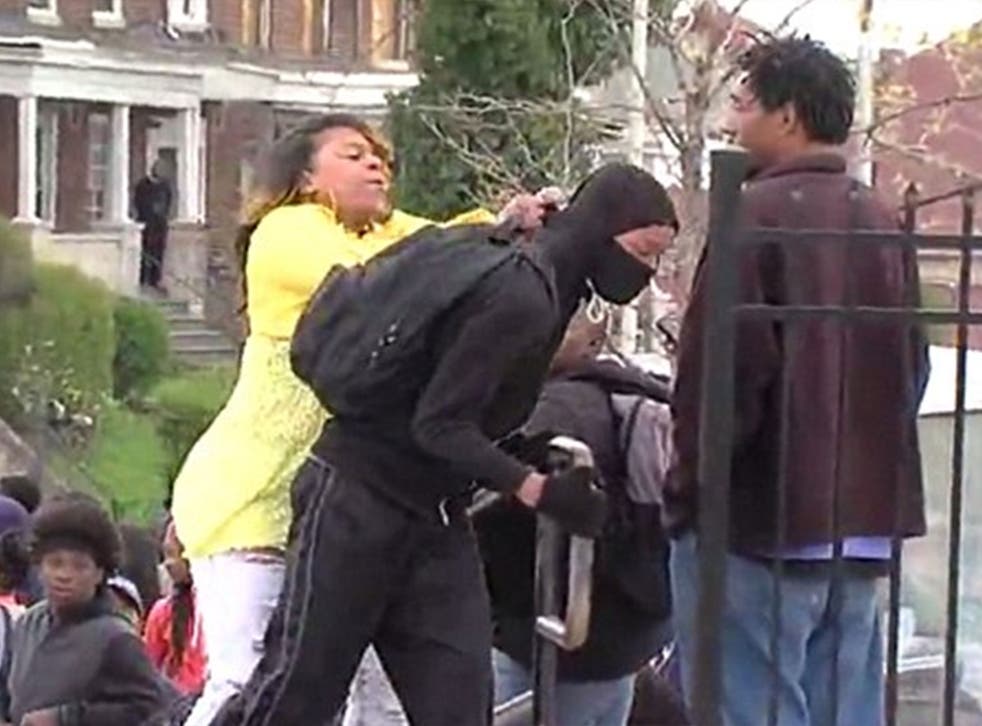 As rioting grips Baltimore following the funeral of a young black man in the city, a woman has been hailed "mother of the year" for chasing her masked son down in the street, and marching him home.
The unrest was sparked by anger over the passing of Freddie Gray, 25, who died of a broken spine after being arrested last week.
Maryland's governor has since declared a state of emergency, and called in the National Guard to restore order.
The expletive-ridden video broadcast on the WMAR local news station shows a woman confronting and repeatedly slapping a young man believed to be her son, as he was allegedly preparing to throw rocks.
"What's wrong with you?!" she shouts before ordering him home, as shocked bystanders stare at the two.
As her son attempts to walk away, she continues: "You wanna be out here doing this dumb sh*t? Get the f*ck over here. Get over here now. Did you hear what I said?!"
The woman has been praised on Twitter for removing her son from the tense and dangerous situation.
Elsewhere in the city, rioters have set fire to cars and clashed with police after thousands of people mourned Mr Gray's death.
His passing comes amid a tense national debate over how police use force, particularly in relation to black and ethnic minority communities.
Specific details surrounding his death remain unclear, after Mr Gray was arrested and pushed into a police van earlier this month.
Police have declined to disclose the races of the six officers involved in his arrest, all of whom have been suspended with pay as an investigation into Mr Gray's death continues.
After Freddie Gray: Baltimore unrest in pictures

Show all 22
Violence first erupted in West Baltimore, within a mile of where Mr Gray was arrested, and quickly spread to the east of the city near the baseball stadium.
Officers wearing helmets and wielding shields have been seen pepper spraying rioters, but reports from the scene suggest they are mainly relying on line formations to keep protesters at bay.
Attorney General Loretta Lynch, in her first day on the job, said she would send Justice Department officials to the city in coming days.
Baltimore's mayor Stephanie Rawlings-Blake has responded to the rioters by imposing a week-long, daily curfew beginning today from 10pm to 5am local time, and Baltimore public schools announced they would be closed.
Two dozen people have been arrested during the unrest, and at least 15 officers have been hurt, including six who remained in hospital, police said.
Additional reporting by PA
Join our new commenting forum
Join thought-provoking conversations, follow other Independent readers and see their replies