Barack Obama permanently bans offshore drilling in Atlantic and Arctic before Donald Trump takes office
The White House made a joint announcement with Canada to protect the waters along their coasts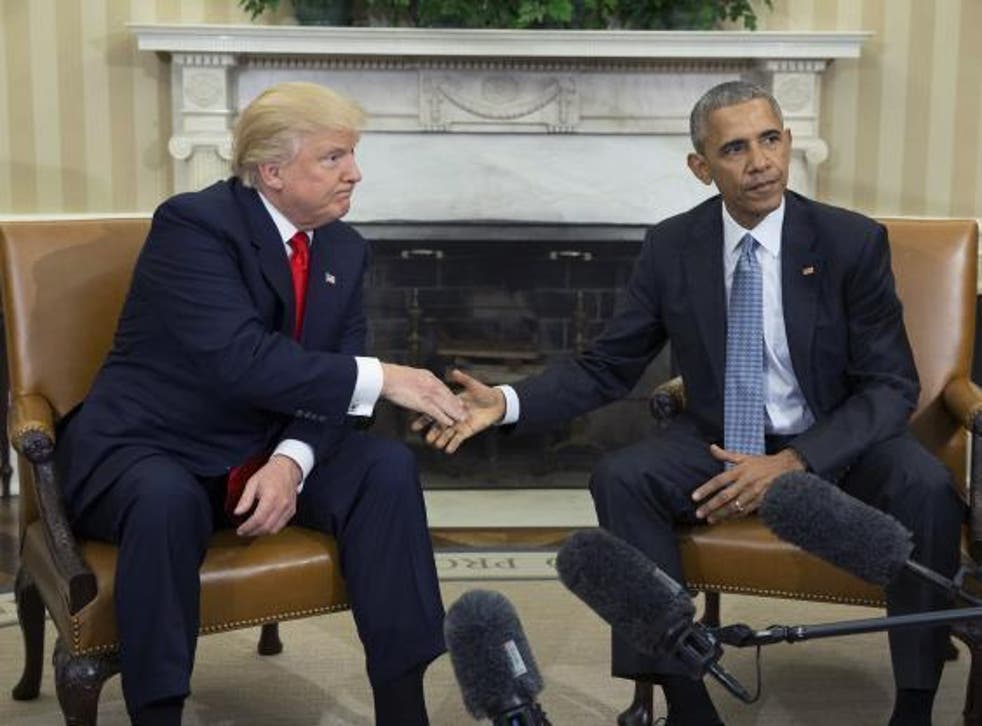 With only a month left of his presidency, Barack Obama announced an indefinite ban on offshore oil and gas drilling in the Arctic and on the Atlantic Seaboard – adding a difficult barrier for the incoming Trump administration should they decide to undo Mr Obama's environmental legacy.
Mr Obama invoked a provision of the obscure 1953 Outer Continental Shelf Lands Act, a law passed in protection of coral reefs and life in marine sanctuaries.
The action comes as Donald Trump finalises his Cabinet before taking office in January. Mr Trump has vowed to roll back many of Mr Obama's major environmental policies, and withdraw the US from the Paris global climate change agreement – in which nations vowed to lower their emissions significantly.
The President-elect has only reaffirmed his opposition to Mr Obama's environmental work by appointing climate change deniers to his Cabinet – including Scott Pruitt to lead the Environmental Protection Agency. Nominating ExxonMobil chief executive Rex Tillerson for Secretary of State has also emphasised Mr Trump's solidarity with the oil industry.
But Mr Obama, in concert with the Canadian government's own sweeping ban, could possibly slow Mr Trump's pledge to dismantle the environmental work of the outgoing administration.
"President Obama and Prime Minister Trudeau are proud to launch actions ensuring a strong, sustainable, and viable Arctic economy and ecosystem, with low-impact shipping, science-based management of marine resources, and free from the future risks of offshore oil and gas activity," the White House said.
10 photographs to show to anyone who doesn't believe in climate change

Show all 10
Mr Obama's use of the 1953 law differs from previous presidents, who primarily invoked the provision to secure only small segments of US waters. Still, should the Trump administration try to roll back the decision, they would likely have to take their case to federal court.
"It's never been done before," University of Vermont environmental law professor, Patrick Parenteau, told the New York Times. "There is no case law on this. It's uncharted waters."
Environmentalists have lauded Mr Obama's action as "heroic", while opponents decried Mr Obama for weakening national security and destroying jobs.
Leonardo DiCaprio takes dig at Donald Trump 'Vote for people who believe in the science of climate change'
"As Donald Trump stacks his Cabinet with Big Oil cronies and polluters, President Obama has acted to protect our oceans, our air, and our climate for our coastal communities and future generations of Americans," said NextGen Climate President Tom Steyer. "President Obama's impressive legacy of climate action stands in stark contrast to President-elect Donald Trump, who only cares about climate change when it affects his golf courses."
The American Petroleum Institute rebuked Mr Obama's action, and hoped for a reversal from Mr Trump.
"Blocking offshore exploration weakens our national security, destroys good-paying jobs, and could make energy less affordable for consumers," said API Upstream director Erik Milito. "Fortunately, there is no such thing as a permanent ban, and we look forward to working with the new administration on fulfilling the will of the American voters on energy production."
Nevertheless, the White House was certain that even if Mr Trump pursued efforts to overturn the action, that it would "stand the test of time".
"The United States is not acting alone today," a White House official told reporters. "One of the principal arguments that people had made against the US protecting its Arctic waters was perhaps that all of that [oil and gas] activity would move into Canadian waters.
"And by acting jointly with Canada, I think we've sent a powerful signal."
Register for free to continue reading
Registration is a free and easy way to support our truly independent journalism
By registering, you will also enjoy limited access to Premium articles, exclusive newsletters, commenting, and virtual events with our leading journalists
Already have an account? sign in
Register for free to continue reading
Registration is a free and easy way to support our truly independent journalism
By registering, you will also enjoy limited access to Premium articles, exclusive newsletters, commenting, and virtual events with our leading journalists
Already have an account? sign in