Barack Obama to make first public speech since Trump became President
The former US leader will host a town hall meeting with students at the University of Chicago
Chantal da Silva
Friday 21 April 2017 19:57 Comments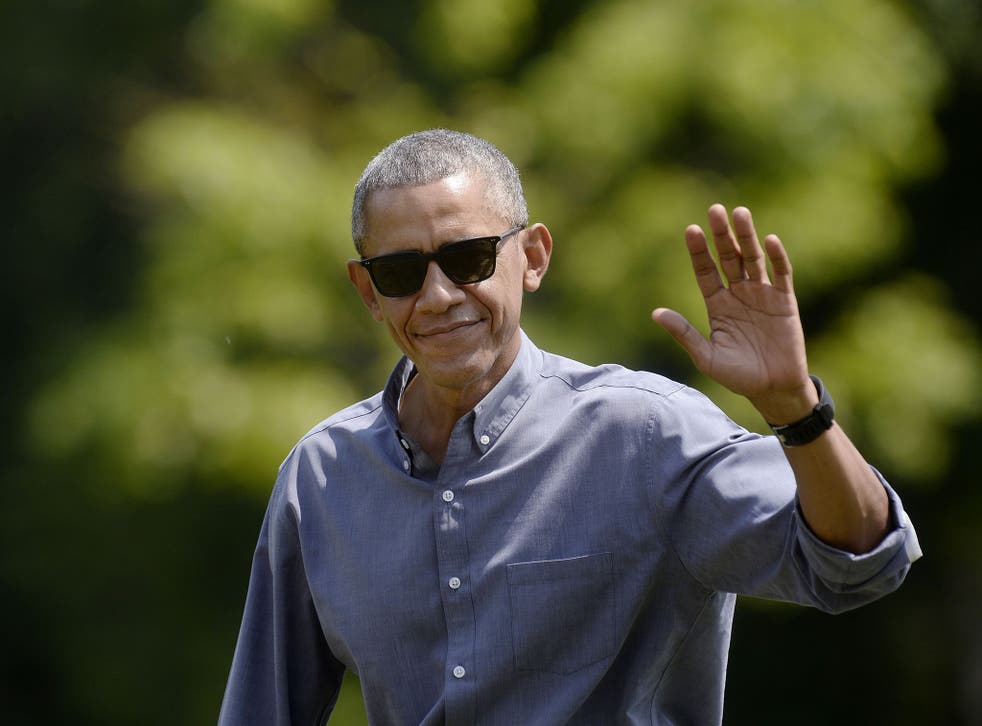 Barack Obama's post-presidential holiday is coming to an end, with the former US leader set to hold his first public event since leaving the White House.
After weeks of taking a well-deserved break with former First Lady Michelle Obama – including spending time in Palm Springs, hanging out with Richard Branson in the British Virgin Islands and relaxing on movie mogul David Geffen's yacht – Mr Obama will return to the US to host a town hall-style gathering with students at the University of Chicago.
The discussion is set to take place at 11am local time on Monday and will be focused around "community organising and civic engagement," Mr Obama's press office said in a release.
"The event is part of President Obama's post-presidency goal to encourage and support the next generation of leaders driven by strengthening communities around the country and the world," the press release said.
While the town hall is not open to the general public, young adults from schools in the Chicago area have been invited to attend the event, alongside students at the university.
The discussion will also be televised, Mr Obama's press office has said.
Aides did not say whether he would be taking open questions from the audience – or whether he plans on speaking on Donald Trump's presidency so far.
Many have been anxiously awaiting the Obamas's return to public life.
After the former President left the Oval Office, he tweeted: "Michelle and I are off on a quick vacation, then we'll get back to work."
Ms Obama wrote: "After an extraordinary 8 years, I'll be taking a little break. Will be back before you know it to work with you on the issues we care about."
Mr Obama is expected to have a busy month ahead, according to The New York Times.
After Monday's town hall meeting with students, the 44th President is expected to attend an awards ceremony in Boston and make a number of private paid speeches in the United States and Europe, according to the newspaper.
He is also expected to make an appearance at the Brandenburg Gate in Germany with Chancellor Angela Merkel in coming weeks.
Register for free to continue reading
Registration is a free and easy way to support our truly independent journalism
By registering, you will also enjoy limited access to Premium articles, exclusive newsletters, commenting, and virtual events with our leading journalists
Already have an account? sign in
Register for free to continue reading
Registration is a free and easy way to support our truly independent journalism
By registering, you will also enjoy limited access to Premium articles, exclusive newsletters, commenting, and virtual events with our leading journalists
Already have an account? sign in
Join our new commenting forum
Join thought-provoking conversations, follow other Independent readers and see their replies