Hillary Clinton on Baton Rouge police shooting: 'This madness must stop'
'Ending systemic racism requires contributions from all of us, especially those who haven't experienced it ourselves'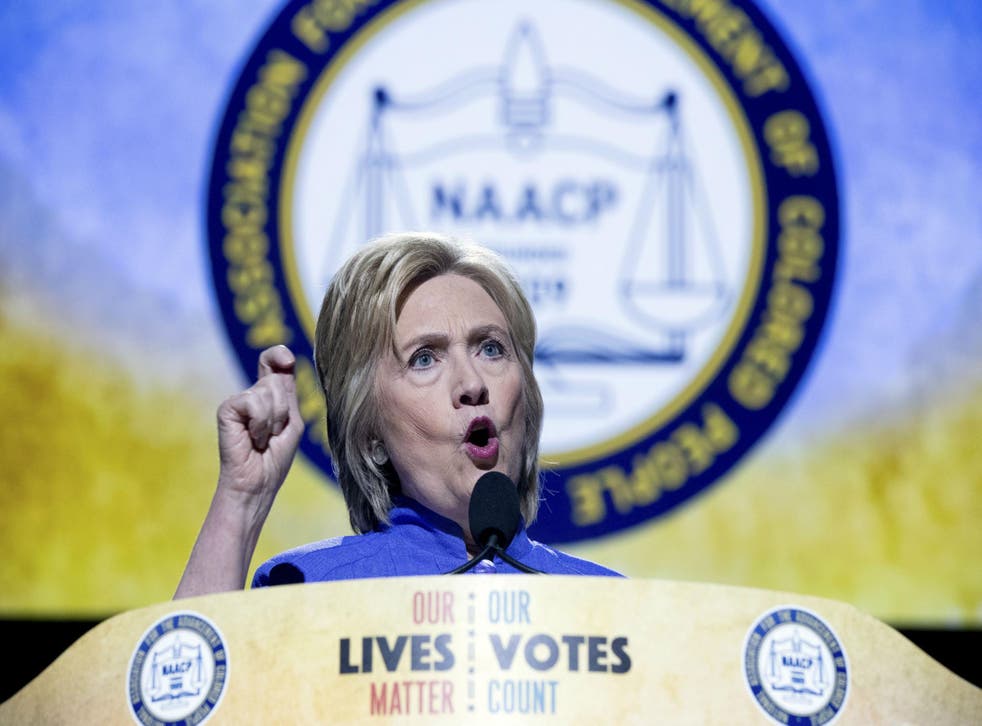 Hillary Clinton has said the "madness" of police officers being shot and African Americans being disproportionately killed by the police "has to stop".
The day after three police officers were shot dead in Baton Rouge, Louisiana, Ms Clinton said her number one priority as president would be to bring such killers to justice, to fight implicit racial bias within police departments and prevent mass incarceration of black people.
"This madness has to stop," she said. "Watching the news from Baton Rouge yesterday, my heart broke. Not just for those officers and their grieving families, but for all of us."
Her comments came 24 hours after officers Montrell Jackson, Matthew Gerald and Brad Garafola, were shot dead by 29-year-old Gavin Long when they responded to a call about a man with a gun.
"There can be no justification, no looking the other way," she said.
In her speech at the annual convention of the National Association for the Advancement of Colored People (NAACP), she said there is "clear evidence" that African Americans are disproportionately killed by the police compared to any other group.
Obama Calls for Unity After 3 Police Officers Shot Dead in Baton Rouge
They are also sentenced to longer prison terms than white people convicted of the same offenses, she said, more likely to be stopped and searched, less likely to secure jobs at interview, and more likely to go straight from school to prison.
"These facts tell us that something is profoundly wrong. We can't wish it away," she said.
She called for "in custody data" to shed light on deaths like that of Sandra Bland, who died in July 2015 after being arrested for a minor traffic violation. Police said they found she had "hanged herself" in her cell, and the claim has been disputed.
The presumptive democratic nominee also called for more police training on how to avoid using lethal force, like that used against black men Philando Castile and Alton Sterling in Minnesota and Baton Rouge.
"I've said from the beginning of my campaign, that will be my priority as president," she said, adding that America should follow the example of many police departments that are "trying to do better".
"The deaths of Alton and Philando drove home how urgently we need to make reforms to policing and criminal justice; how we cannot rest until we root out implicit bias and stop the killings of African Americans," she said.
"Many African Americans fear the police," she added. "I can hear you."
She asked for white Americans not to assume that their experiences are "everyone's experiences" and to practise "humility".
Police officers shot in Baton Rouge

Show all 21
"Ending systemic racism requires contributions from all of us," she said. "Especially from those who haven't experienced it themselves."
In Cleveland, the Republican convention is underway. Ms Clinton promised that as the "24-hour news cycle" moves on, she would not.
Register for free to continue reading
Registration is a free and easy way to support our truly independent journalism
By registering, you will also enjoy limited access to Premium articles, exclusive newsletters, commenting, and virtual events with our leading journalists
Already have an account? sign in
Register for free to continue reading
Registration is a free and easy way to support our truly independent journalism
By registering, you will also enjoy limited access to Premium articles, exclusive newsletters, commenting, and virtual events with our leading journalists
Already have an account? sign in
Join our new commenting forum
Join thought-provoking conversations, follow other Independent readers and see their replies