Bernie Sanders to lead the charge in Democrat's looming war with Donald Trump
The Vermont senator says he has earned a role in reshaping the Democrats, despite not being a member of the party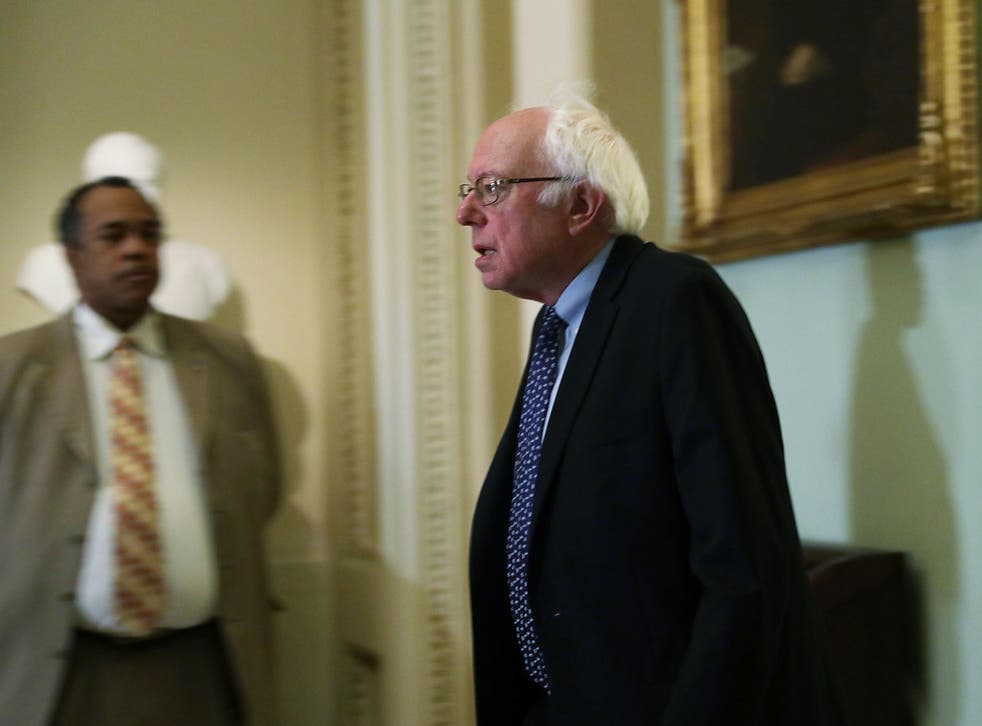 Bernie Sanders will hold an important leadership position for the Senate Democrats next congress.
The Vermont Senator, who challenged Hillary Clinton to be the Democratic Party's presidential candidate, has been elected chair of outreach. He is expected to use the role to further his left-wing "political revolution", and oppose President-elect Donald trump.
Mr Sanders will be the first independent candidate to hold a party leadership position since the modern leadership structure began in the early 20th Century, according to the Senate Historical Office.
Senate Democrats on Wednesday chose Chuck Schumer of New York to be their new leader from January.
Mr Schumer had hoped he might be the majority leader if his party recaptured the Senate, working closely with Hillary Clinton's administration. Instead, the New York Democrat will serve as the party's main counterweight to a Trump presidency as minority leader.
As the current vice-chair of Democrats in the legislative chamber, Mr Schumer's progression to leader of the group did not come as a surprise, especially as chair Harry Reid has announced he is retiring.
But the appointment of Mr Sanders to his new role was not expected.
"Real change doesn't take place on Capitol Hill," Mr Sanders said in a statement. "It takes place in grassroots America. It takes place when millions of working people, young people and senior citizens come together to demand that our government works for all of us and not just the one per cent. When the people lead, the leaders follow."
The former presidential candidate will also serve as the top-ranking minority member of the Senate Budget Committee. He said he will work to ensure the budget "represents the needs of working families and a shrinking middle class, not billionaires."
Speaking at George Washington University on Wednesday night, Mr Sanders said he aims to use new leadership role to expand Democrats' grassroot efforts, USA TODAY reported.
"I was named today part of the leadership, I think my title is to head of outreach efforts and that is something that I take very seriously," he said, "so I think again whether it's the Supreme Court, the fight against bigotry, the fight for climate change our job is to bring millions of people together".
Mr Sanders has previously said he thinks the Democrats need to get out of DC and engage working people, following Ms Clinton's loss of the presidential race to Republican Donald Trump. Sanders said the party must put equal energy into mobilising grassroots support outside the Washington beltway as it puts into work inside the beltway.
"The Democratic Party has got to make it very clear that it is the party of working people in 50 states in this country, not just in New York and California," he said. "We've got a lot of work to do."
Since the election on 8 November, there has been significant speculation about whether Mr Sanders, who supported Ms Clinton after she was chosen over him as the Democrat's nominee, could have defeated Mr Trump if he had been able to stand.
Mr Sanders himself has suggested he might have beaten the Republican candidate, and a poll, conducted by his supporters just before the election and released shortly after the vote, found the Vermont senator would have likely earned 56 per cent of the vote, while Mr Trump would have only received 44 per cent.
Bernie Sanders campaigns with Hillary Clinton

Show all 15
Mr Sanders beat expectations with his long-shot bid for the Democratic presidential nomination, winning more than 13 million votes and 22 states, and raising millions from about 2.5 million donors mostly through small-dollar contributions online.
He will continue to serve Vermont as an independent, because he was elected with that affiliation. Even so, he said support for his primary campaign earned him a role in reshaping the Democratic Party.
"In almost every instance, we got a strong majority of young people voting for the agenda that I brought forth," he said. "My role in the future is to make certain that that agenda that has so much support becomes the agenda of the Democratic Party."
Join our new commenting forum
Join thought-provoking conversations, follow other Independent readers and see their replies