Bernie Sanders bursts into laughter over Trump's claim 'nobody knew healthcare could be so complicated'
'When you provide healthcare in a nation of 320 people it is very, very complicated,' Mr Sanders counters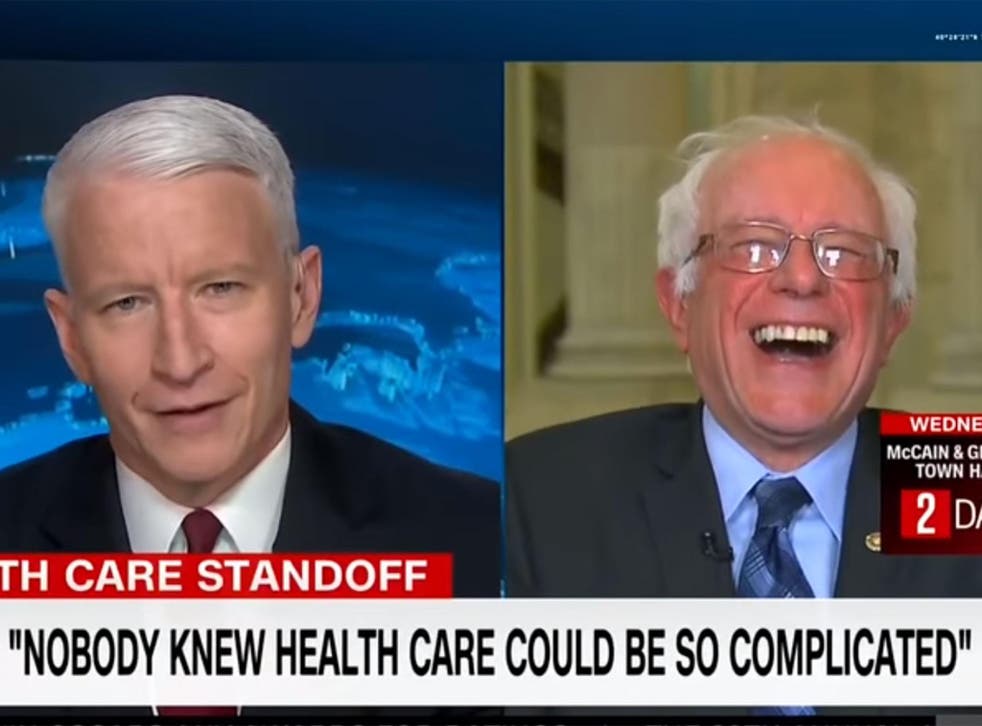 Senator Bernie Sanders has burst into laughter during a live TV interview after being told Donald Trump claimed that no one knew how complicated America's healthcare system is.
Appearing on CNN on Monday, Mr Sanders let out a short laugh when anchor Anderson Cooper said there does not appear to be an agreed upon plan by Republicans about replacing Obamacare, highlighting the lack of details to have come from President Trump's administration on this subject.
When Mr Cooper quoted President Trump's claim that "nobody knew healthcare could be so complicated," the senator burst into laughter.
"Well some of us who were sitting on the health education committee, who went to meeting after meeting after meeting, who heard from dozens of people, who stayed up night after night trying to figure out this thing – yeah, we got a clue.
"When you provide healthcare in a nation of 320 million people it is very, very complicated. And maybe now, maybe the President and some of the Republicans understand you can't go beyond the rhetoric: 'We're going to repeal the Affordable Care Act, we're going to repeal Obamacare, and everything will be wonderful'.
World news in pictures

Show all 50
"Little bit more complicated than that," he said, adding that America's status as a major country that does not guarantee healthcare to all citizens, in addition to the high cost of prescriptions drugs, are issues that need to be addressed.
President Trump made the comment about the complication of the healthcare system during the National Governors Association meeting at the White House on Monday.
He has repeatedly promised to scrap Obamacare. This move would leave around 30 million Americans uninsured according to a study by the non-partisan Urban Institute.
Critics of Mr Trump's plans have claimed repealing the Affordable Care Act would also lead to a huge redistribution of funds from the poor to the rich, but many Republicans oppose Obamacare, claiming it increases health premiums for some Americans and that it places too many costs on businesses.
Join our new commenting forum
Join thought-provoking conversations, follow other Independent readers and see their replies