Bernie Sanders tells Vatican conference income inequality worse than a century ago
Questions raised over wisdom of Sanders trip to Rome days before New York vote
David Usborne
New York
Friday 15 April 2016 16:49 Comments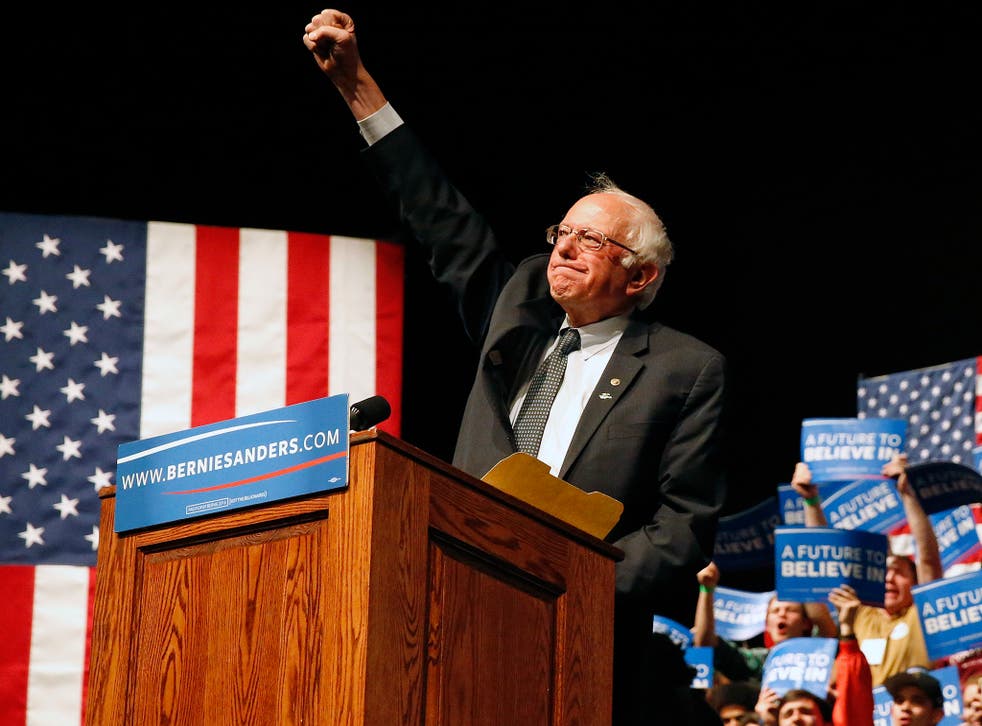 Bernie Sanders took his message on economic inequality to the Vatican today when he addressed a conference on social justice hours after taking part in a Democratic candidates' debate in New York on Thursday night that was unusual for its rancour and ill-humour.
For an American politician - one who calls himself a democratic socialist - to arrive at the Holy See essentially to decry an unfettered open market system was a rare, jarring event. If Mr Sanders was received warmly inside, he was fairly mobbed by reporters as he emerged outside.
Mr Sanders noted at the conference that the Catholic Church's first encyclical on social justice, written in 1891 by Pope Leo XIII, lamented the gap between the rich and the poor.
"And let us be clear. That situation is worse today," he said, taking up one of his main campaign themes. "In the year 2016, the top 1 percent of the people on this planet own more wealth than the bottom 99 percent…At a time when so few have so much, and so many have so little, we must reject the foundations of this contemporary economy as immoral and unsustainable."
Young people in particular have had enough of it, he contended. "Our youth are no longer satisfied with corrupt and broken politics and an economy of stark inequality and injustice."
Answering questions from reporters, he said he never hesitated when asked to attend the conference even though the dash to Italy removed him fro the campaign trail for 24 hours at a crucial moment with primary voting in New York set for Tuesday.
"When I received this invitation it was so moving to me, that it was something that I just simply could not refuse to attend," he explained. While campaigning Mr Sanders has repeatedly cited Pope Francis, notably his words on the "idolatry of money" and on climate change.
As well as giving him a presidential sheen, if only for a brief moment, the visit to Rome may help distract attention from a debate post-mortem that mostly held that the 74-year-old senator had squandered a chance to change the dynamics of a race which still sees him lagging behind Hillary Clinton in the delegate count in part by simply being overly angry and aggressive.
The debate, hosted by CNN in Brooklyn, was most testy when Mr Sanders accused Ms Clinton of failing fully to support a national minimum wage of $15 an hour. She furiously defended herself and for a while the two simply shouted past each other. "If you're both screaming at each other, the viewers won't be able to hear either of you," moderator Wolf Blitzer admonished.
The Sanders campaign moved on Friday to drive the point home with a scathing TV ad. The spot, released in the biggest New York TV markets, didn't name Ms Clinton directly but hardly needed to as it explored the contrast between taking speaking fees of $200,000 or more from Wall Street banks - which she has done - with a reluctance to ensure better wages for workers.
At the Vatican, Mr Sanders also decried what he calls the corrupt electoral system in the US where "billionaires can buy elections". Jeffrey Sachs, economist and head of the United Nation's sustainable development network and a foreign policy advisor to the Senator, told the Vatican conference that it's time to "end the impunity of the rich and powerful."
In a disappointment for Mr Sanders, an audience with Pope Francis seemed unlikely to materialise before he departed for the return flight to the United States. Indeed the Pontiff did not show up at the conference at all, sending a written apology for his absence which he put down to his imminent departure this weekend for Greece and the island of Lesbos, which is at the epicentre of Europe's immigration crisis.
Register for free to continue reading
Registration is a free and easy way to support our truly independent journalism
By registering, you will also enjoy limited access to Premium articles, exclusive newsletters, commenting, and virtual events with our leading journalists
Already have an account? sign in
Join our new commenting forum
Join thought-provoking conversations, follow other Independent readers and see their replies