Four arrested over the murder of Honduras indigenous activist Berta Caceres
Two of the suspects are connected to the hydroelectric dam company she protested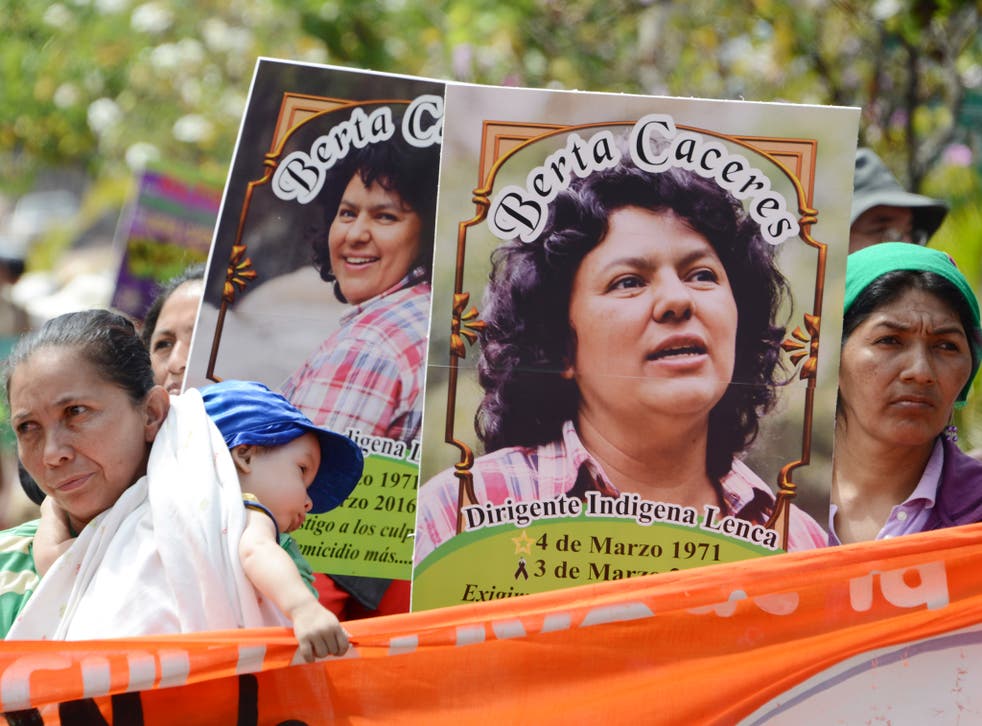 Honduran authorities have arrested four men linked to the March assassination of environmental activist and indigenous leader Berta Caceres.
Police made the arrests "based on scientific evidence that support the allegations presented", according to a statement released by prosecutors. Two of the suspects, who were taken into custody on Monday, reportedly have ties to Desarrollos Energéticos SA (DESA), the company building the hydroelectric dam that had been at the centre of Caceres' more recent activism.
Sergio Ramón Orellana worked as an engineer for DESA, while Douglas Geovanny Bustillo served as the company's head of security. The other two suspects, Mariano Diaz Chavez and Atilio Edilson Duarte Meza, both have ties to Honduras armed forces, La Prensa Honduras reports.
Two men broke into Caceres' La Esperanza home on 3 March and shot her to death, sparking international outrage and large-scale protests in Honduras. She had previously reported Mr Orellana for threatening her life - in addition to more than 30 other reports - according to the Guardian.
The US ambassador to Honduras, James D Nealon, issued a statement expressing support for the arrests.
"From the very beginning, we have called for a thorough investigation into Caceres' murder - one that followed the evidence and that would lead to those who committed the crime, including the intellectual authors," Mr Nealon wrote.
Caceres won the Goldman Environmental Prize for her activist work against the Agua Zarca dam, which DESA was building on indigenous land.
Despite the arrests, Caceres' family and colleagues are condemning the investigation. They had demanded the state to hire independent investigators - who they say took 11 days to finally approach DESA for questioning - as Honduras is "too closely linked" to the activist's assassination.
Prior suspects reportedly interviewed by Honduran authorities belonged to the Civic Council of Popular and Indigenous Organizations of Honduras (COPINH), the group to which Caceres belonged.
"If it wasn't for our struggle and international pressure for justice, my mother's murder would already be extinct," Laura Caceres, 23, told the Guardian. "We have woken up to this news [of the arrests] but it doesn't change our demands for an international investigation."
Honduras is widely considered to be one of the deadliest countries in the world for environmental activists. According to Global Witness, at least 109 activists were killed in the Latin American country between 2010 and 2015.
Join our new commenting forum
Join thought-provoking conversations, follow other Independent readers and see their replies