Betsy DeVos passes senate committee vote to be Donald Trump's education secretary despite massive opposition
The committee gathered unusually early to hurry through the vote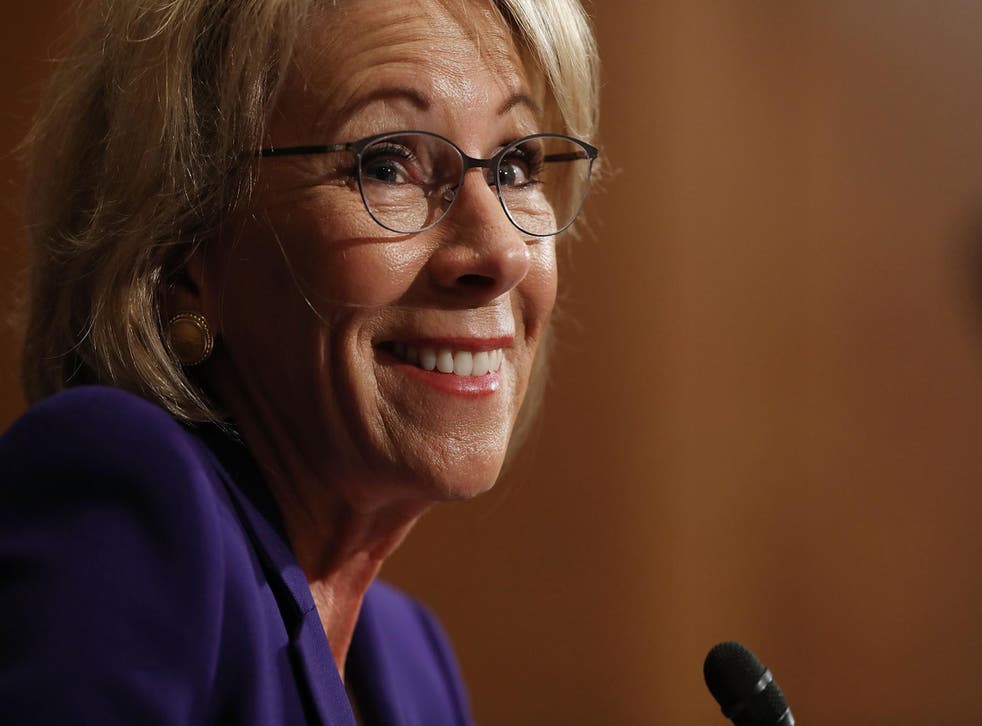 Donald Trump's pick for education secretary is one big step closer to being appointed to the cabinet after the Senate committee gathered unusually early to vote in her favour.
They voted 52 to 48 along party lines.
Betsy DeVos - a billionaire philanthropist and anti-public school lobbyist - still has to be approved by the final confirmation vote on Monday.
The vote comes despite opposition from Democrats and two Republican senators due to her positions on public and charter schools, as well as her apparent lack of basic knowledge on education laws and teaching methods during her senate confirmation hearing.
Vice President Mike Pence will be in the chamber on Monday to help usher in Ms DeVos by achieving a 50-50 tied vote, despite her losing support from Republican Senators Susan Collins of Maine and Lisa Murkowski of Alaska.
Democratic senator and Senate Minority Leader Chuck Schumer implored his colleagues to "look into their conscience" and that Ms DeVos, the former Michigan Republican Party chairwoman, was "one of the worst nominees that has ever been" considered for the job.
She is known for her controversial push for private school voucher programmes, consequently diverting money from free public schools which the majority of low-income children attend, and she has strong ties to the Christian Reformed community.
Betsy DeVos blames 'clerical error' for years as VP of anti-LGBT foundation
The Republican chairman of the education committee, Senator Lamar Alexander, said he would be "pleased to support her".
Other Republicans have accused the Democrats of their stalling tactics, arguing their pro-teaching unions stance has influenced them politically, and that they have also delayed other cabinet picks.
Democrats in turn have accused Republicans of rushing through cabinet picks without proper vetting or background checks.
The Best of Bernie Sanders' grilling of Betsy DeVos in her Senate nomination hearing for Education Secretary
During her senate confirmation hearing in January, Ms DeVos was asked by Vermont Senator Bernie Sanders whether she would have got the job if her family had not donated $200 million to the Republican Party.
"Senator, as a matter of fact, I do think there would be that possibility. I've worked very hard on behalf of parents and children for the last almost 30 years," she responded.
She also appeared to struggle when questioned on other Education Department issues including the private schools voucher scheme, student debt and the bedrock federal law guaranteeing an education to students with disabilities.
If she is appointed, she will lead the agency for policies affecting public schools, and will be in charge of executing Mr Trump's promise to use $20 billion in federal funds to create school choice programmes.
She will also decide what state-level requirements schools should abide by.
Join our new commenting forum
Join thought-provoking conversations, follow other Independent readers and see their replies