Black Lives Matter painted on entire street leading to White House by Washington mayor
Local Black Lives Matter chapter does not support painting of mural, labelling it 'performative'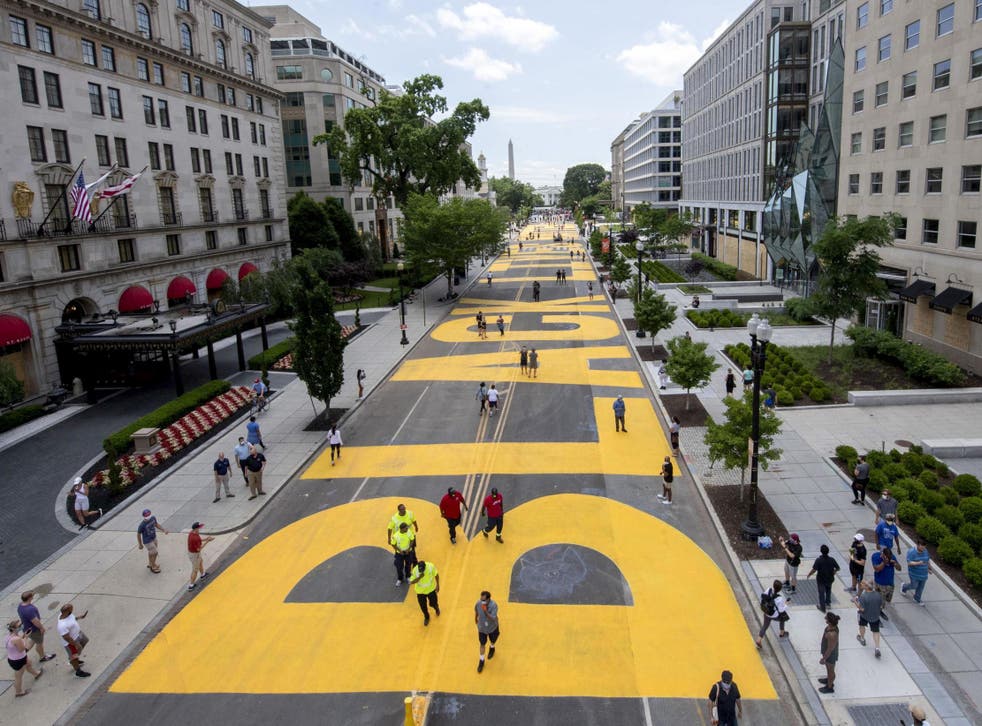 Black Lives Matter has been painted in huge bright yellow letters on the street leading to the White House, painted by city workers and local artists after being commissioned by the mayor of DC.
Mayor Muriel Bowser said that the mural, completed on Friday, was intended to send a message of support and solidarity to Americans outraged over the death of George Floyd.
"There is a lot of distrust of police and the government. There are people who are craving to be heard and to be seen and to have their humanity recognised," the mayor said.
"We had the opportunity to send that message loud and clear on a very important street in our city."
Floyd, an unarmed black man, died on 25 May after a Minneapolis police officer pinned him to the ground by his neck for a prolonged period of time.
Outrage over Floyd's death has spiralled in the last week with violent protests and demonstrations breaking out in all 50 US states.
The letters and an image of the city's flag stretch across 16th Street for two blocks in the stretch up to the White House.
The writing ends near St John's Episcopal Church, where President Donald Trump posed for a photo op on Monday after a press briefing concerning the protests in the White House Rose Garden.
Mr Trump has been widely criticised for the photo op, with many accusing him of using tear gas, rubber bullets and flash bangs to clear peaceful protesters outside the White House to make a path for him to walk to the church.
The mayor and the president have clashed multiple times over the handling of the protests. The mayor has hit out at Mr Trump's militant federal response and called for the removal of National Guard troops.
Mr Trump in response called the mayor "incompetent" and said her "budget is totally out of control" on Twitter.
A sign labelling the section of 16th Street near the White House where the mural is painted as the "Black Lives Matter Plaza" has also been installed.
The local chapter of Black Lives Matter said it did not support the painting of the mural and has criticised Mayor Bowser.
"This is performative and a distraction from her active counter organising to our demands to decrease the police budget and invest in the community," it said on Twitter.
Additional reporting by The Associated Press.
Join our new commenting forum
Join thought-provoking conversations, follow other Independent readers and see their replies