Black men have legitimate reason to run from police, Supreme Court rules
The Massachusetts Supreme Judicial Court just threw out the 2011 gun conviction of Jimmy Warren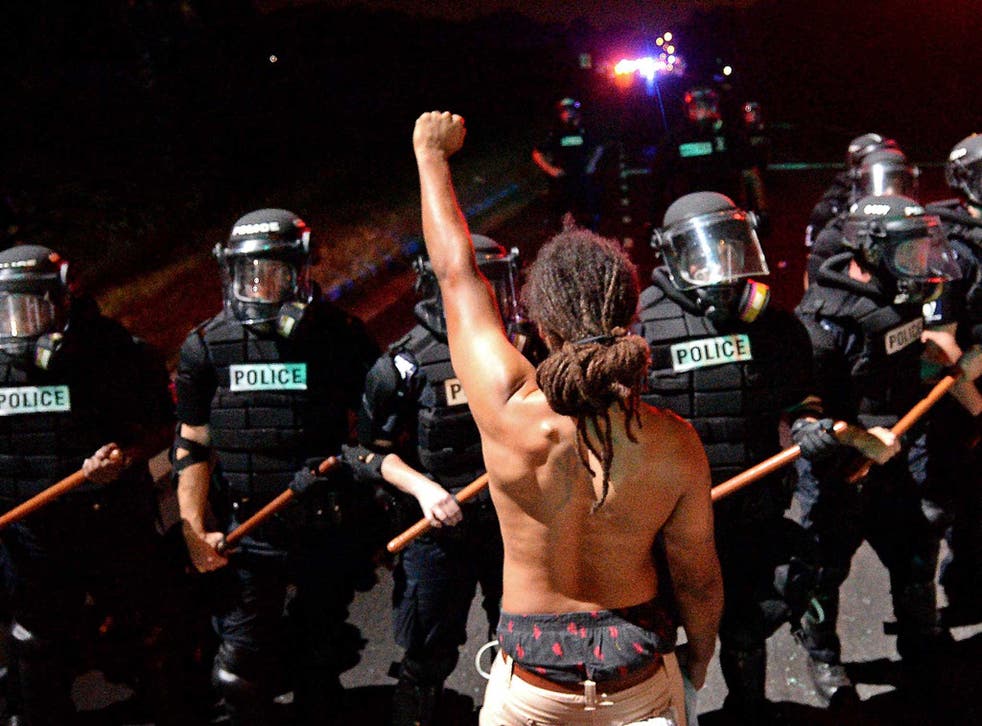 Black men running from police have a legitimate reason to do so, a supreme court in the US has ruled.
The Massachusetts Supreme Judicial Court has ruled threw out the 2011 gun conviction of Jimmy Warren after ruling police did not have a legitimate reason to stop him and the fact he ran away should not be used against him.
In doing so, the court cited police data and a 2014 report by the American Civil Liberties Union (ACLU) which found black men were disproportionately likely to be stopped by police in Boston
It comes as a state of emergency was declared in Charlotte, North Carolina, following two nights of riots after police shot and killed a disabled black man, Keith Lamont Scott.
At least one person has been shot in clashes with riot police as the National Guard and State Troopers were deployed to restore calm.
Mr Warren was arrested in December 2011 by police investigating a break-in in the Roxbury neighbourhood of the city.
Officers had been given the description of three black men - one wearing a "red hoodie", one wearing a "black hoodie" and the other wearing "dark clothing" - suspected of being involved.
An officer then spotted Mr Warren and another man - who were both wearing dark clothing - walking near a park a few hours later who both ran when officers approached them.
Mr Warren was later arrested and searched. Officers found nothing illegal on him but recovered an unlicensed gun in a nearby backgarden.
He was later charged with the unlawful possession of a firearm and convicted, Boston radio station WBUR reported.
Police shooting of Keith Lamont Scott sparks riots in Charlotte

Show all 7
But the court has now quashed the conviction, saying the description of the break-in suspects' clothing was too "vague" to justify targeting any black man with dark clothing.
It ruled that even if someone flees it does not necessarily mean they are guilty.
The court said: "We do not eliminate flight as a factor in the reasonable suspicion analysis whenever a black male is the subject of an investigatory stop.
"However, in such circumstances, flight is not necessarily probative of a suspect's state of mind or consciousness of guilt. August:
Black Lives Matter protesters block major UK cities
"Rather, the finding that black males in Boston are disproportionately and repeatedly targeted for FIO [Field Interrogation and Observation] encounters suggests a reason for flight totally unrelated to consciousness of guilt.
"Given this reality for black males in the city of Boston, a judge should, in appropriate cases, consider the report's findings in weighing flight as a factor in the reasonable suspicion calculus."
The 2014 ACLU report found that black men in Boston were subject to 63 per cent of police's stop and searches despite only making up 24 per cent of the population.
Matthew Segal, the legal director of the ACLU in Massachusetts, said it was a "powerful ruling" for ethnic minorities.
He said: "The state's highest court, in talking about people of colour, it's saying that their lives matter and under the law, their views matter.
"The reason that's significant is that all the time in police-civilian encounters there are disputes about what is suspicious and what is not suspicious.
"So this is an opinion that looks at those encounters through the eyes of a black man who might justifiably be concerned that he will be the victim of profiling."
It comes as the Black Lives Matter movement grows in momentum after a year of high profile killings of black men by white police officers across the US.
Register for free to continue reading
Registration is a free and easy way to support our truly independent journalism
By registering, you will also enjoy limited access to Premium articles, exclusive newsletters, commenting, and virtual events with our leading journalists
Already have an account? sign in
Register for free to continue reading
Registration is a free and easy way to support our truly independent journalism
By registering, you will also enjoy limited access to Premium articles, exclusive newsletters, commenting, and virtual events with our leading journalists
Already have an account? sign in