Black police chief helps protester in Nazi T-shirt at KKK protest with heatstroke
Leroy Smith, the head of public safety in South Carolina, was snapped helping a KKK protester who had been hit by sunstroke
Caroline Mortimer
Monday 20 July 2015 00:49 Comments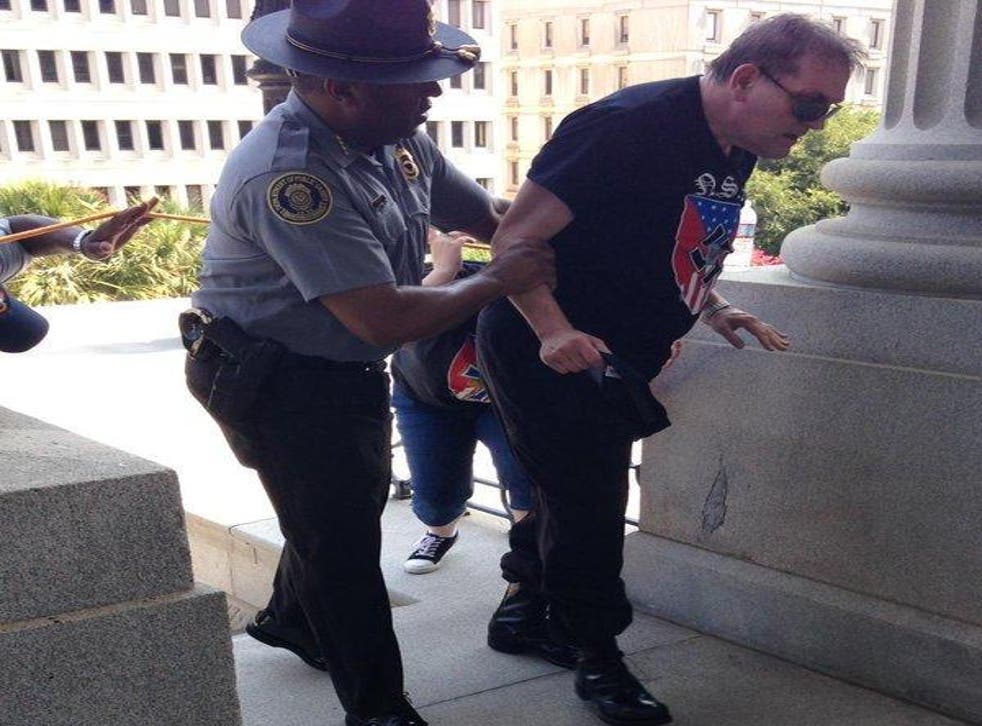 A picture of a black police chief helping a man wearing a swastika T-shirt suffering from heatstroke during a KKK rally at the South Carolina has gone viral.
The picture of Leroy Smith, the director of the South Carolina Department of Public Safety, showing compassion to a man wearing a swastika T-shirt and protesting against a decision to remove the Confederate flag has been retweeted over 2,000 times since it was shared on Twitter:
Commenting on the picture, Twitter users praised Mr Smith for rising above the hatred and the bigotry:
The picture was taken as three people were arrested during two separate protests outside the South Carolina statehouse in the state capital Columbia on Saturday.
The Ku Klux Klan protested the removal of the Confederate flag and on the south side of the statehouse Black Educators for Justice, based in Florida, staged a counter protest.
Police were quick to intervene as several fights broke out.
Several people were spotted carrying Confederate flags, the symbol of the slave owning south states during the American Civil War, and shouting racist slogans alongside the Black Educators protest.
Heartwarming news stories from around the world

Show all 30
The SC department of public safety estimated about 2,000 people were at the statehouse in total. South Carolina has become the centrepoint of the debate over the use of the Confederate flag after white supremacist Dylann Roof shot nine people dead in a Charleston church last month.
South Carolina governor Nikki Haley urged Columbia residents not too go near the KKK rally, adding that doing would honour the memory of Roof's victims.
Additional reporting by AP
Register for free to continue reading
Registration is a free and easy way to support our truly independent journalism
By registering, you will also enjoy limited access to Premium articles, exclusive newsletters, commenting, and virtual events with our leading journalists
Already have an account? sign in
Join our new commenting forum
Join thought-provoking conversations, follow other Independent readers and see their replies