Black waitress handed menu with hand-drawn swastika while working at event hosted by David Irving
Irving's history as a denier of the Holocaust was featured in the movie 'Denial'
Andrew Buncombe
New York
Tuesday 25 July 2017 21:57 Comments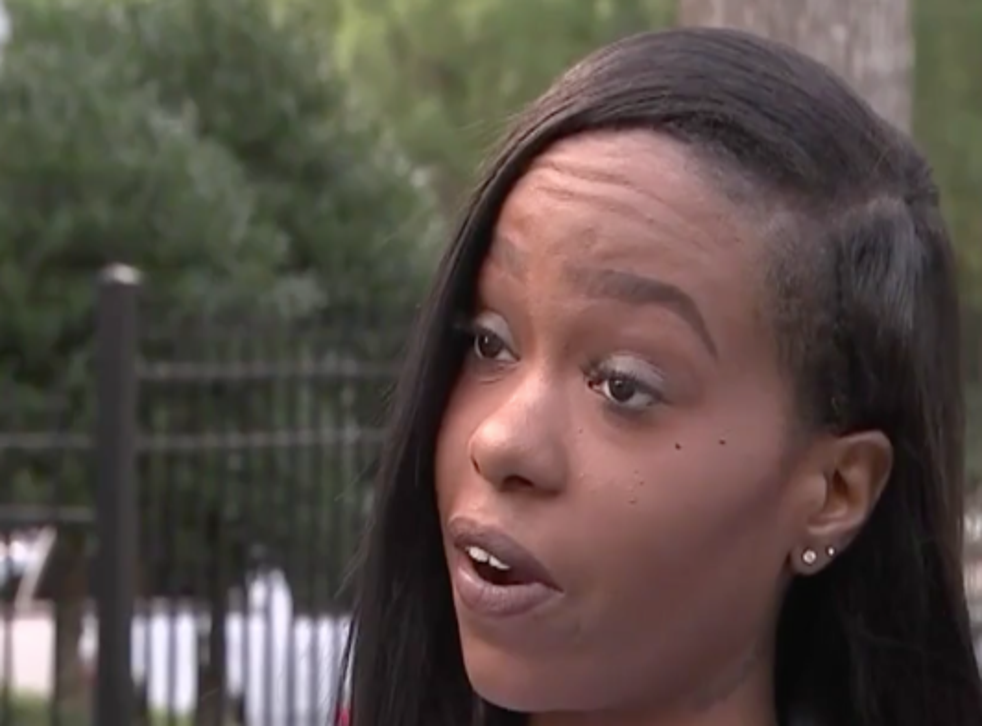 An African American waitress has told how she was handed a menu containing a hand drawn swastika while unknowingly working at a private reception hosted by Holocaust denier David Irving.
Shelley Sidney said told an Atlanta television channel she had complained to her employer and demanded the event be terminated, but that he cited the right to freedom of speech. Writing on Facebook, she said she heard people using racist and homophobic slurs, and talking about "Jews and immigrants".
"I was really in tears when I was overhearing the conversations, the private conversations of just how horrible black people are, immigrants are, gay people are," Ms Sidney told WSB-TV.
Ms Sidney said the incident happened at the Antica Posta restaurant in the Buckhead neighborhood of Atlanta. The restaurant was apparently one of the locations for Mr Irving's latest book tour, advertised as "David Irving looks back: My fifty years defending Real History against its enemies. An evening with the British historian".
There is no evidence that Mr Irving was aware of the incident, or knew who had written the symbol on the menu.
Mr Irving, 79, is known for his staunch and persistent denial of the Nazi Holocaust.
In 2000, he famously lost a a libel action against American historian Deborah Lipstadt and her British publisher Penguin Books, who had described Mr Irving as a Holocaust denier and falsifier, and said he manipulated and distorted real documents. The episode was featured in the 2016 movie Denial.
Denial: Timothy Spall on playing Holocaust denier David Irving
At the time, Mr Justice Charles Gray wrote in his opinion: "Irving has for his own ideological reasons persistently and deliberately misrepresented and manipulated historical evidence; that for the same reasons he has portrayed Hitler in an unwarrantedly favourable light, principally in relation to his attitude towards and responsibility for the treatment of the Jews; that he is an active Holocaust denier; that he is anti-Semitic and racist, and that he associates with right-wing extremists who promote neo-Nazism."
In 2005, Mr Irving was arrested and jailed for a year for Holocaust denial in Austria, a country where such behaviour is a crime. Since then, he has continued to speak and write, and remains an icon for many neo-Nazis. He recently said he had found a "new generation" of Holocaust deniers through YouTube videos of his speeches.
Writing on Facebook, Ms Shelley said she was struggling to "process the situation, because never in my 29 years on this earth have I felt or experienced such blatant hatred".
World news in pictures

Show all 50
She added: "I cried so hard and tried to pray that feeling off. I couldn't shake it. At first I was hurt, now I'm pi**ed."
The restaurant failed to respond to inquiries. However, its lawyer, Manny Arora, said: "I would also advise that the only "racist" in this incident was Mr David Irving and his group. Mr Betti was not familiar with who Mr Irving was prior to 7/27/17 and took immediate steps to remove [the group] from his restaurant when he learned of the offensive drawing that was discovered by one of his wait staff."
Read more
He added: "You don't check into people's backgrounds or their political beliefs before you agree to a reservation."
Mr Irving said he had not been aware of the incident until he read about it in the media.
"The waitress at our function was very good, which I as host demonstrated by a $100 tip which she more than earned," he told The Independent.
"We had no complaint at the time from her or her manager. We have held dinners there for several years. I have no knowledge of the actual incident reported and will inquire of all our attendees, and ask for statements, as my experience is that this kind of allegation is likely to show up later."
Register for free to continue reading
Registration is a free and easy way to support our truly independent journalism
By registering, you will also enjoy limited access to Premium articles, exclusive newsletters, commenting, and virtual events with our leading journalists
Already have an account? sign in
Join our new commenting forum
Join thought-provoking conversations, follow other Independent readers and see their replies