Town loses entire police force as officers quit over cuts, low wages, and safety concerns
'We refuse to put our lives on the line anymore for a town that seemingly cares so little about us'
Jess Bidgood
Wednesday 01 August 2018 14:54 Comments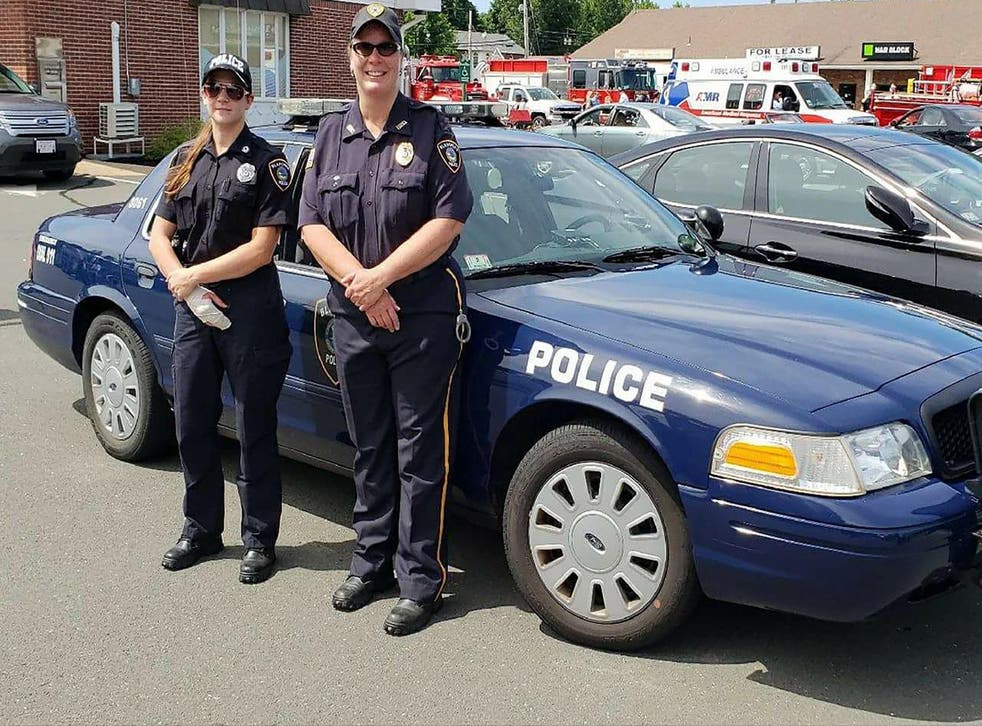 The police cruiser was sitting at the edge of the car park in front of the town offices, angled towards the road as if an officer inside were waiting to catch speeders.
Only there was no officer inside. Nor, for that matter, was there a Blandford police officer to be found anywhere else on Tuesday. The entire local police force in this western Massachusetts town had just quit and the cruiser was the law enforcement version of a scarecrow.
"The ghost cop," said Bill Levakis, a member of the town's board of selectmen, who had positioned the cruiser just so. He shrugged. "I don't know what else to do."
The night before, the interim police chief had emailed local officials in Blandford, population 1,200, to say that work had grown unsafe and untenable for her and the town's three part-time officers. The email cited failing brakes and faulty air conditioning in the police cruisers, ill-fitting bulletproof vests and low wages.
"We refuse to put our lives on the line anymore for a town that seemingly cares so little about us," read a statement signed by Roberta Sarnacki, the interim chief, and the three officers. So they turned off the lights, locked up the police station and said they weren't coming back.
But as word of the abrupt resignations spread through town, officials like Mr Levakis said other tensions had played a role. Officials had been considering a merger of law enforcement services in Blandford with the nearby town of Chester as a way to cut costs.
That concept, Mr Levakis said, had threatened and angered Blandford's own officers, who, he said, had never before complained about their safety.
"You've got to move with the future," Mr Levakis said. "We're just trying to find better ways to use our money."
Around the country, towns with shrinking tax bases and rising costs have been forced to make hard choices. In some cases, that has meant merging local police departments or cutting them altogether. Earlier this year, Brooksville, Florida, shuttered its 30-person police department and handed law enforcement duties over to the local sheriff. Other departments have disbanded after problems; Galesburg, Michigan, for instance, closed its police department in January after firing the chief.
"Small towns are having this discussion around maintaining the most basic functions of local government, police services being one of them," said Josh Garcia, the acting town administrator for Blandford.
The town was not without protection from law enforcement on Tuesday. Officials there said officers from the Massachusetts State Police, the local sheriff's department and the Chester Police Department were helping to patrol the town.
Still, the entire police department's sudden exit was jarring in Blandford, which is just east of the Berkshires. Residents were already accustomed to spare services at times. Parts of the town have yet to be connected to broadband internet. The elementary school closed years ago, leaving the town struggling to lure young families. And residents have long been used to the sight of state police troopers in town, because the Blandford officers kept only limited hours.
"All small hill towns understand the fact that the police force is here and there," said Tammy Mullens, a pet-sitter and dog walker who was taking her grandchild for a stroll near the town offices. "To know what little we had walked out is kind of a shock."
In an interview, Ms Sarnacki, the former interim chief, said she and her officers felt they had no choice but to leave. In addition to safety concerns they raised about their cars, she said officers were frustrated because town officials were seeking applications to replace her. And, she acknowledged, there was some concern about the prospect of consolidation with another town.
"I think you take a little bit of the town's identity away if you take the police department away or move it to a different area," Ms Sarnacki said.
World news in pictures

Show all 50
Cara Letendre, the chairwoman of the board of selectmen, said Blandford officials had only had preliminary discussions about merging forces, but the idea seemed like a possible solution for an ageing town with little industry to fuel a tax base.
"We certainly have issues with funding a police department," Ms Letendre said. "That's part of what we've been working to resolve."
Ms Letendre said the police officers had not recently come to the select board with concerns about their working conditions and one of the police cruisers had just been fixed.
"All this did," she said, of the sudden resignation, "was create chaos unnecessarily and leave the town vulnerable."
Some residents who have watched the erosion of services here said they were concerned. "It's getting harder for a town to survive," said Jim Webster, 70, a semiretired landscaper.
But others, like Peter Langmore, said regionalization would be smart, given economic pressures.
"There are only 1,200 people in this town — we work things out," Mr Langmore said. "We've been here since the 1700s," he added. "We'll continue to be here."
For Elaine Greene, a retiree who emerged from the town offices carrying a 3-pound toy poodle in a carrier, the sudden lack of local police officers was not a concern.
"I'm a member of the NRA," Ms Greene said, smiling. "I can take care of myself if the need arises."
The New York Times
Register for free to continue reading
Registration is a free and easy way to support our truly independent journalism
By registering, you will also enjoy limited access to Premium articles, exclusive newsletters, commenting, and virtual events with our leading journalists
Already have an account? sign in
Join our new commenting forum
Join thought-provoking conversations, follow other Independent readers and see their replies