Blind man makes history by finishing New York City Half Marathon aided only by dogs
The runner has launched a programme to help the blind connect with dogs to keep them safe while running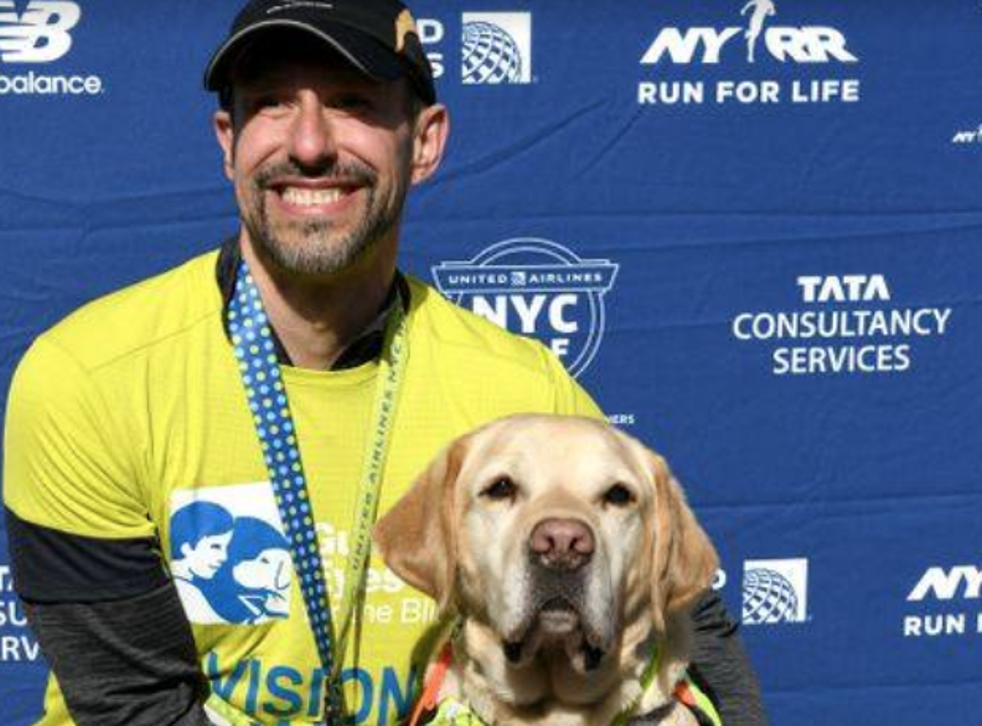 A blind man has made history by finishing the New York City Half Marathon with the help of a few good dogs.
Thomas Panek, a lifelong runner who lost his eyesight more than 25 years ago, finished the race on Sunday by crossing the finish line of the race in less than two and a half hours.
Mr Panek was able to finish the race with the help of a golden Labrador retriever named Gus, who was pictured alongside the runner after the event with his own medal of completion.
"History has been made! #GoodBoyGus earned his United Airlines NYC Half medal and will now step into retirement. Congratulations Thomas and the entire Running Guides team on a successful race!" wrote the group Guiding Eyes for the Blind on Facebook after the race.
Gus was not alone in helping Mr Panek, however. A couple of fellow dogs named Waffle and Westley also helped Mr Panek on his journey.
Mr Panek is the CEO of Guiding Eyes for the Blind, a non-profit group that "provides superbly bred and trained dogs to people who are blind and visually impaired."
And, for Mr Panek, the triumph is one years in the making.
"When I lost my sight I was too scared to run," he told CBS This Morning in 2017.
Support free-thinking journalism and attend Independent events
He said that he was able to start running again after becoming acclimated to being blind — but that running with human guides was not enough for him.
"Although many people run with running clubs, at the end of the day you're running your own race. And when you're tied to another person, it's no longer your own race. The independence isn't quite there," he said.
So, he started the Running Guides programme in 2015, after the idea was suggested to him by a former Marine named Richard Hunter. Mr Hunter is also a blind man who wanted to get back into running.
Since then, the group has trained a team of Labrador retrievers and German shepherds to help guide blind people on the run, with the training for the dogs starting at just 18 months old.
Register for free to continue reading
Registration is a free and easy way to support our truly independent journalism
By registering, you will also enjoy limited access to Premium articles, exclusive newsletters, commenting, and virtual events with our leading journalists
Already have an account? sign in
Register for free to continue reading
Registration is a free and easy way to support our truly independent journalism
By registering, you will also enjoy limited access to Premium articles, exclusive newsletters, commenting, and virtual events with our leading journalists
Already have an account? sign in
Join our new commenting forum
Join thought-provoking conversations, follow other Independent readers and see their replies