Blogger takes on Mexico's drug gangs by publishing vital news on the latest shootouts, abductions and cartel roadblocks
A secret online activist, unbowed by threats and murders, is nominated for a free-speech award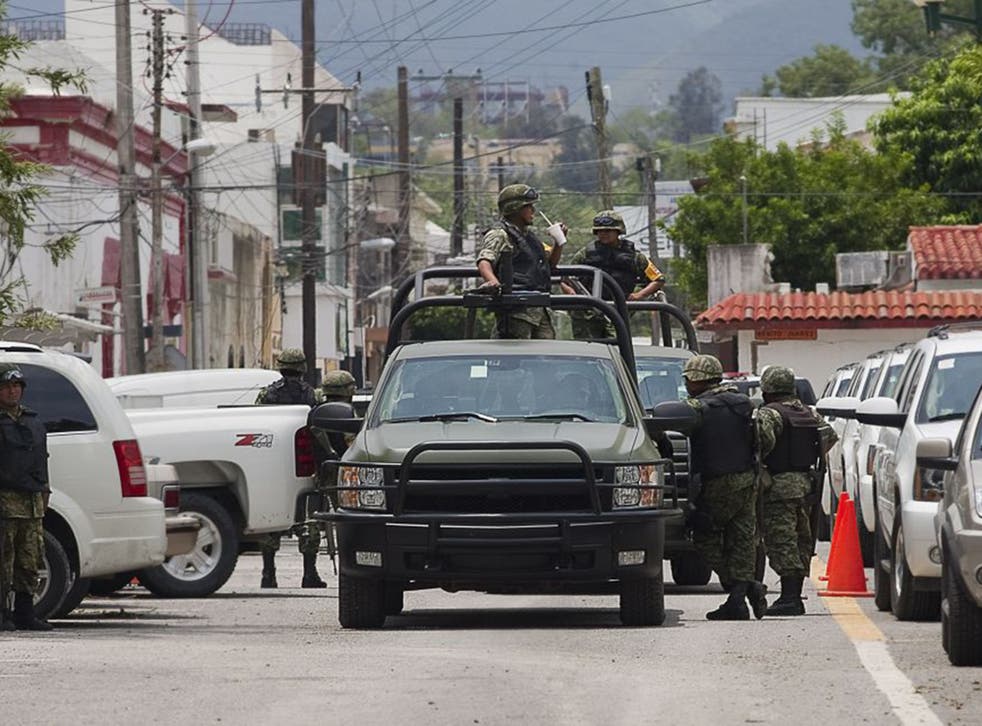 Being a citizen journalist in Tamaulipas, one of Mexico's most violent states, means living a life of extreme risk and expecting very little by way of reward.
For three years, the anonymous administrator of the website Valor por Tamaulipas (Courage for Tamaulipas) has hidden his online identity from everyone he knows and faced a constant barrage of threats against him and his family. He has seen colleagues brutally murdered, while criminal gangs and corrupt officials apparently continue to operate with impunity in his state.
In recent years, Tamaulipas, which borders Texas in the US, has become a black hole for reporting, with traditional media outlets resorting to self-censorship to avoid upsetting the drug cartels that dominate the region. But there is one place where citizens can read about stories that the local newspapers, television channels and radio stations dare not cover.
Fed by a network of anonymous contributors who send in up to 60 tip-offs a day, valorportamaulipas.info publishes vital news in real time on the latest shootouts, abductions and cartel roadblocks. The site has engendered a strong sense of community since its launch in early 2012 and now has more than 520,000 Facebook fans and 116,000 followers on Twitter.
"The site has become a bastion of free speech, providing a voice for those who have no other means of making themselves heard," the administrator told The Independent on Sunday via encrypted email.
His insistence on anonymity is understandable. Violence against journalists is one of several serious problems facing Mexico's embattled President, Enrique Pena Nieto, whose popularity ratings having plummeted following the disappearance and probable massacre of 43 students in Guerrero state last September. The country's attorney general said last week that authorities believe the students were killed by a drugs gang that thought it had been infiltrated by a rival. Parents of the students want the investigation to go on, believing that the evidence is unclear.
Protests in Mexico over 43 missing students

Show all 13
Last weekend, the headless body of citizen journalist Moises Sanchez was found in the eastern state of Veracruz. A gang member confessed to committing the crime under the orders of a local mayor whom Sanchez had frequently criticised in his reports.
The cartels operating in Tamaulipas are notorious for attacking online activists. In September 2011, the mutilated bodies of a young man and woman were hung from a bridge in the border city of Nuevo Laredo in retaliation for denouncing organised crime on Twitter. Days later, female blogger Marisol Macias was decapitated in the same city after reporting on cartel activity.
The Valor por Tamaulipas administrator has also been targeted. In early 2013, cartel members began handing out flyers in Ciudad Victoria offering a reward of approximately £30,000 for information on the whereabouts of him or his family.
Around the same time, gang members killed a supposed contributor to the site. The administrator responded by sending his wife and children to the US.
One of the ugliest chapters in Valor por Tamaulipas's history unfolded last October when regular contributor Maria del Rosario Fuentes Rubio was kidnapped and murdered. The killers used her Twitter account to post a photograph of her body and a series of tweets warning others not to follow her example.
The administrator was devastated. "I began to think about what I could have done differently to protect her," he said. "I'd tried to aggressively push her away in 2013 to make sure that they wouldn't cut off her head like they did to the other woman. I told her to be careful, to start a new account and not share her identity with anyone, but she didn't listen and by then it was too late. I don't know what more I could have done."
The administrator founded the site to try to dispel the impotence he felt at seeing communities paralysed by fear. "I thought if I could make public what was happening in the state, that would be enough for other states or even the international community to take notice and help us," he said.
The response has been slow but his cause was furthered in recent days when British free-speech advocacy group Index on Censorship announced that it has nominated Valor por Tamaulipas for the 2015 Digital Activism Award at its annual Freedom of Expression Awards. A public vote to decide the winner of the award is open until 15 February at the group's website.
"With drugs gangs silencing many professional journalists through threats, kidnappings and killings, anonymous social media accounts are playing an increasingly important role," Index on Censorship said. "Last year was a particularly hard year for Valor por Tamaulipas, with the brutal murder of their colleague, and this nomination is for her and her colleagues who continue to do such brave work in the face of constant danger and intimidation."
In the wake of the murder, the administrator announced he was stepping down. "I lost hope and motivation upon seeing that the criminals didn't care that their actions were being exposed." he said. "We keep losing honest citizens and it feels like we're not making any progress."
But after two weeks, that same sense of impotence came rushing back and he knew he had to return. "Sometimes I'm not convinced I'm doing enough or that this is effective, but there are many people who believe this community helps," he said. "So I'll have to keep going until I think of a better way of helping my state."
Join our new commenting forum
Join thought-provoking conversations, follow other Independent readers and see their replies