The Independent's Banned Books Week
The book ban surge gripping America's schools and libraries
A nationwide surge in restrictions against library materials under the auspices of a "parental rights" campaign runs parallel to legislation targeting LGBT+ people and honest discussions of race and racism, sowing chaos for educators and chilling speech in schools across the US. Richard Hall and Alex Woodward report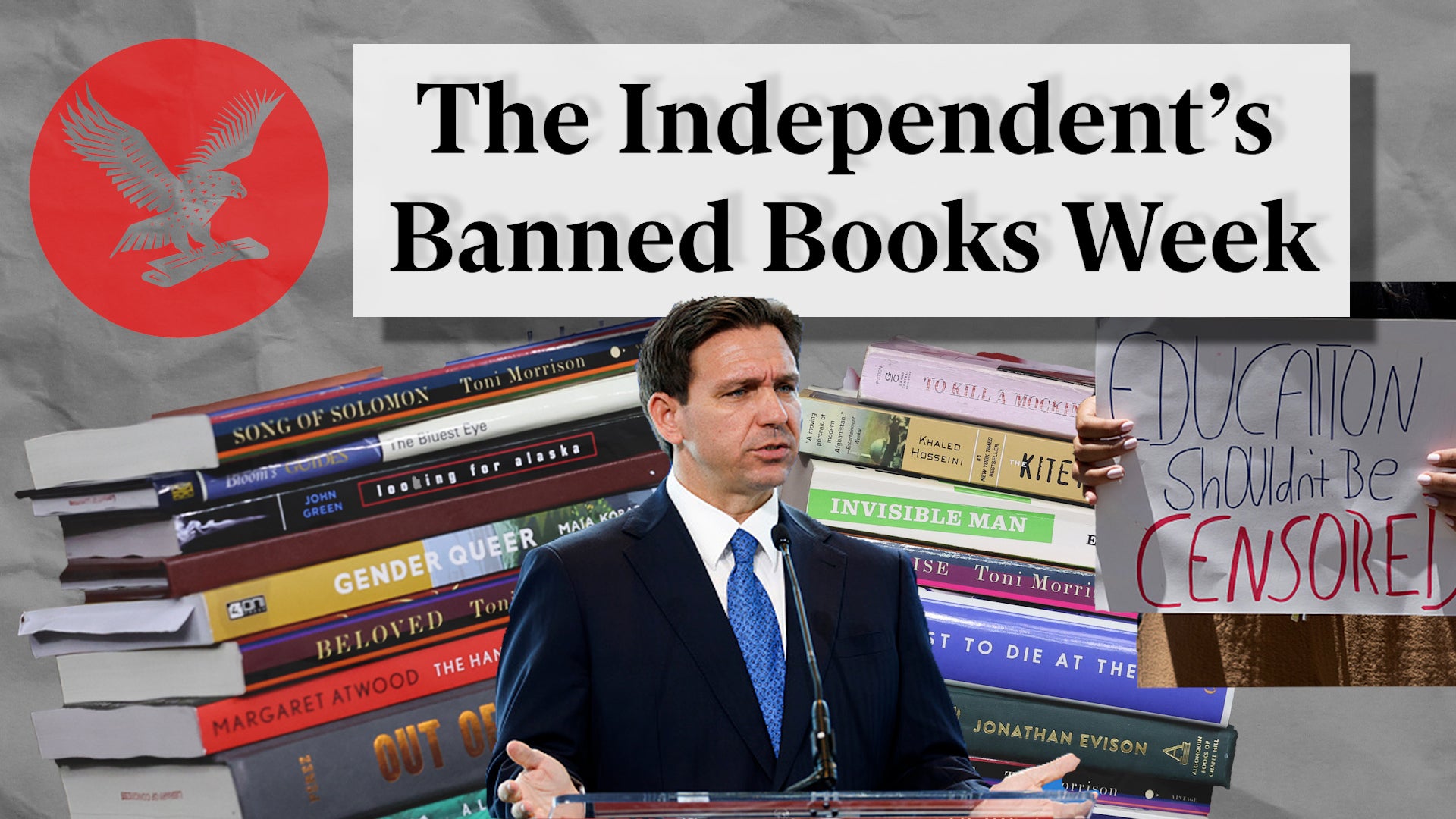 A new wave of book bans is sweeping across the United States, fuelled by Republican lawmakers, religious groups, politically motivated school boards and right-wing activists.
Once thought to be a relic of America's past, these bans have sought to stifle discussion and learning about race, gender and sexuality under the auspices of a "parental rights" campaign.
But the measures run parallel to an unprecedented wave of state-level and national legislation targeting LGBT+ people, particularly trans youth, and attempts to limit honest discussion of race and racism in classrooms and workplaces.
Teachers and library workers have been thrust into a volatile political environment, facing on- and offline harassment while juggling new regulatory regimes and policies that could open them to costly litigation.
The numbers alone tell a shocking story.
There have been at least 1,477 attempts to ban 874 individual book titles within the first half of the 2022-2023 school year, according to PEN America. The figures mark a nearly 30 per cent spike from book challenges over the previous year.
Last year, a record high of more than 1,200 attempts to remove books from schools and libraries were reported to the American Library Association.
Overwhelmingly, book ban attempts target stories by and about people of colour and LGBT+ people, PEN found. At least 30 per cent of the impacted titles are books about race, racism, or feature characters of colour, and more than a quarter of all titles include LGBT+ characters or themes.
PEN has described the measures collectively as part of a "concerted campaign" taking place across the country "to ban books and instructional materials containing 'objectionable' content" which often amounts to "little more than an acknowledgment of LGBTQ+ identities or the existence of racism or sexism."
This campaign has not only targeted book titles, but the institutions and professionals that distribute them: libraries, librarians and teachers.
More than 100 bills in state legislatures in at least 31 states this year threaten to cut library budgets, implement book rating systems, regulate the kinds of books and materials in their collections, and amend obscenity definitions that preempt First Amendment protections, according to a database from EveryLibrary.
Republican officials across the US have defended such proposals with dubious claims that libraries and classrooms are circulating "pornography" and materials aimed at "sexualising" young children, which almost always are books written by or featuring LGBT+ people.
That campaign has also entered the halls of Congress in Washington DC, where Republicans are proposing national bills that mirror the legislation dominating state capitols.
Ron DeSantis, the Republican governor of Florida, has passed sweeping laws to control public school education by the banning of books, lessons and speech he deems to be objectionable, while characterising reporting on the impacts of such policies as a "hoax" manufactured by the press.
One such law, passed by Mr DeSantis in March last year, requires a certified media specialist to evaluate all books available in classrooms and libraries and punishes teachers with felony charges if non-sanctioned books are present in classrooms. That has led to teachers stripping their classroom shelves of books in fear of being prosecuted.
In Tennessee, the "Age Appropriate Materials Act" mandates schools to catalog all titles in their classroom lest they include any inappropriate content.
In Texas, which leads the country in the number of book ban attempts, per PEN America's data, officials in Llano County proposed closing down the library system entirely – after a judge ordered books that were targeted for removal to return to the shelves.
One school board in Granbury, Texas, sought to ban more than 130 titles from its libraries — the vast majority of them because they contained LGBT+ themes. That effort prompted a lawsuit from the American Civil Liberties Union (ACLU) and a first-of-its-kind civil liberties investigation by the Department of Education.
Chloe Kempf, an attorney with the ACLU in Texas, told The Independent that the bans have gone hand in hand with additional legislation restricting the rights of LGBT+ people across the state.
"Politicians in Texas at every level are essentially trying to legislate LGBTQ people out of existence, be it through censoring books about them, restricting their access to health care, restricting their access to playing sports, and even expressing ourselves through art and what we wear. And so I think it's a very worrying time," she said.
Last year, voters in Michigan's Jamestown Township – population 10,000 – rejected renewals for two tax proposals that have funded the community's Patmos Library for decades. Without that funding, the library is expected to close in 2024.
The debate largely centred around just one title: Maia Kobabe's Gender Queer.
Right-wing outrage over that book – a memoir about gender dysphoria and life outside a gender binary – and other titles led to the resignation of a library director and plans to dissolve a library board in Idaho. A prosecutor in Michigan suggested bringing criminal charges against a local librarian who refused to concede to state and right-wing pressure against it.
In April, Republican state lawmakers in Missouri threatened to defund all of the state's public libraries. The state's Republican-controlled House of Representatives voted on a state budget proposal in March that sets the library's budget at zero, which would eliminate millions of dollars for the state's libraries.
The state legislative debate over library funding follows a recently enacted state law that broadly bans educators from "providing sexually explicit material" to students, punishable by up to a $2,000 fine or a year in jail.
That language has had a chilling effect in schools and libraries across the state, where officials preemptively removed titles over fears that right-wing activists would mount money-draining legal challenges against them, according to PEN America. Between August and November, state authorities banned more than 300 books in at least 11 school districts, the group found.
In February, the ACLU of Missouri, the Missouri Association of School Librarians and the Missouri Library Association filed a lawsuit against the state, arguing that the ban violated the First Amendment.
In a statement defending librarians and libraries from a wave of legislative threats last month, the president of the American Library Association condemned the "vocal minority" stoking "the flames of controversy around books."
"Every day professional librarians sit down with parents to thoughtfully determine what reading material is best suited for their children's needs," ALA president Lessa Kanani'opua Pelayo-Lozada said. "Now, many library workers face threats to their employment, their personal safety, and in some cases, threats of prosecution for providing books to youth that they and their parents want to read. Our nation cannot afford to lose the library workers who lift up their communities and safeguard our First Amendment freedom to read."
Join our commenting forum
Join thought-provoking conversations, follow other Independent readers and see their replies