The Independent's Banned Books Week
The school librarian in the middle of Louisiana's war on libraries
The state's top law enforcement officer, elected officials and right-wing activists have put libraries at the centre of their attacks against LGBT+ people and the first amendment. One librarian is fighting back, Alex Woodward reports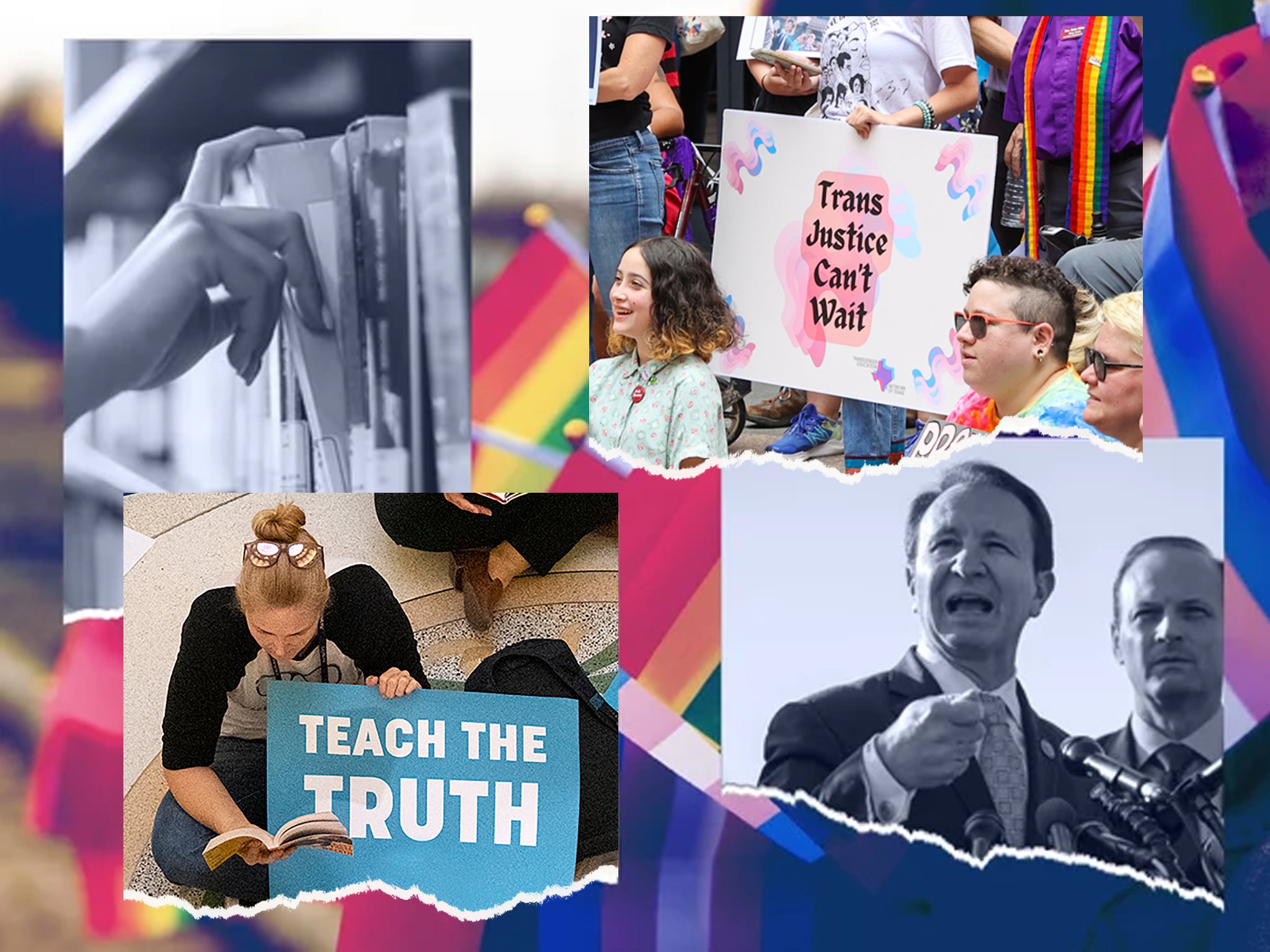 Amanda Jones spent nearly half her life inside the Louisiana school where she works as a librarian. She's been there more than 20 years, including 14 teaching English and nearly eight as a school librarian, a job she says she always knew was for her.
Her school in Livingston Parish is part of a close-knit community where "everybody knows everybody," she told The Independent. Some of her former students are now teachers there.
"We're family, and I just love my job," she said.
In 2020, she was named a Louisiana librarian of the year and the president of the Louisiana Association for School Librarians.
Two years later, in the same local library where she has been a member since 1983, she addressed a community meeting to speak out against a growing censorship campaign targeting books about LGBT+ people and race and racism.
One month later, she received a death threat via email.
A wave of online abuse and coordinated harassment campaigns followed, smearing Ms Jones to the community where she has lived, worked and taught a generation of students and families. She was branded a pedophile and a "groomer" distributing pornography to young children.
"When you're attacked so publicly, and so incessantly, it takes a huge toll on your mental health, and so I'm taking a step back from work," she told The Independent.
Ms Jones is not alone. Librarians, library staff and officials across the US have stepped down from their roles following a surge of challenges to books and materials in schools and libraries, a movement entangled with broader efforts targeting LGBT+ people, and one that is increasingly relying on the courts, elected officials and law enforcement.
Last year, a record high of more than 1,200 attempts to remove books from school and libraries were reported to the American Library Association.
Those book challenges targeted more than 2,500 unique titles, with the vast majority written by or about LGBT+ people, Black and Indigenous people and people of colour.
Within the first half of the 2022-2023 school year, there have been at least 1,477 attempts to ban 874 individual book titles, according to PEN America.
Overwhelmingly, book ban attempts target stories by and about people of colour and LGBT+ people, PEN found. At least 30 per cent of the impacted titles are books about race, racism, or feature characters of colour, and more than a quarter of all titles include LGBT+ characters or themes.
More than 90 per cent of such attempts to challenge those materials included multiple titles at a time, which the ALA has characterised as a coordinated campaign to restrict, remove and ban titles about marginalised groups and prevent readers from making their own decisions about the content they choose to read.
State lawmakers and local authorities in more than half of US states have passed legislation or introduced measures to restrict library materials, cut their funding, and criminalise the duties of librarians and library staff if they fail to comply, according to the ALA.
Ms Jones was among more than a dozen people that spoke out against such bans during a Livingston Parish community meeting on 19 July 2022.
"The citizens of our parish consist of taxpayers who are white, Black, brown, gay, straight, Christian, non-Christian – people from all backgrounds and walks of life, and no one portion of the community should dictate what the rest of the citizens have access to," Ms Jones said at the meeting. "Just because you don't want to read it or see it, it doesn't give you the right to deny others or demand its relocation."
Ms Jones did not mention any specific title in her remarks, but she condemned a "false narrative" that librarians are distributing pornography in children's sections of libraries.
"Censoring and relocating books and displays is harmful to our community, but will be extremely harmful to our most vulnerable: our children," Ms Jones said at the meeting.
Two days later, Ryan Thames posted a meme of Ms Jones with a caption suggesting she said she was "advocating teaching anal sex to 11-year-olds". The following day, a Facebook post from Citizens for a New Louisiana included her photograph on a target.
"Why is she fighting so hard to keep sexually erotic and pornographic materials in the kid's section?" the post read.
The page's owner Michael Lunsford also submitted records requests to Ms Jones's workplace and demanded access to her personnel file and emails, according to her complaint against both men.
Mr Thames' Bayou State of Mind page – which routinely posts anti-trans memes to his more than 6,500 followers – repeatedly targeted Ms Jones in the weeks that followed. Comments on some of the posts endorsed physical attacks against her.
In August, Ms Jones filed a defamation lawsuit against them.
Her complaint argues that both men falsely "portrayed, and continue to portray, Amanda Jones as a criminal and a pedophile, one who supports dissemination of 'pornographic materials' to elementary school children," smears that have put Ms Jones and her colleagues in "immediate danger of irreparable harm".
A month later, Judge Erika Sledge of the 21st Judicial District Court dismissed her case.
In a statement to The Independent, Mr Lunsford called Ms Jones a "paid government bureaucrat" who sought to "censor a nonprofit news organisation."
"The fact is, our message is getting out there," he added. "These kinds of books simply do not belong in the library children's section. Ms Jones wanted us silenced by the court because her position is untenable nationwide."
In a statement to The Independent, Joseph Long, an attorney for Mr Thames, accused Ms Jones of joining "radical leftists who seek to redefine common sense and burn our culture on the altar of wokeism".
Ms Jones filed an appeal in March. Days later, she was awarded the Intellectual Freedom Award from the American Association of School Librarians.
"Amanda is an example that we must all stand together and stand strong," the organisation's president Kathy Lester said in a statement. "When a public library is challenged, all libraries are challenged. When a school or district in a state is challenged it is only a matter of time before other schools and districts are challenged. To unite and protect the rights of all learners is inspirational."
The campaign against Louisiana libraries
Mr Lunsford's challenge in Livingston Parish was not his first. In October 2021, he challenged the Lafayette Public Library system's inclusion of This Book Is Gay, more than 70 miles from Denham Springs, after he received a list from anti-LGBT+ hate group MassResistance that called the book pornography.
The book by Juno Dawson has been targeted for removal by officials across the US, most recently in Iowa City, where bomb threats at two schools followed homophobic attacks from influential anti-trans social media account Libs of TikTok.
Mr Lunsford's appeal prompted the parish library director to move the book from teen nonfiction sections to adult nonfiction sections without banning the book from shelves altogether. But the library's forced act of self-censorship fuelled Mr Lunsford and his Citizens for a New Louisiana group to mount similar challenges to books and library officials across the state.
Towns across Louisiana are among dozens across the country wrapped up in a movement against titles like This Book Is Gay, joining a pressure campaign against LGBT+ people that is dominating state legislatures. Over the last two years, lawmakers have flooded statehouses and Congress with nearly identical bills that aim to control and restrict LGBT+ Americans, particularly trans youth, and their families.
"Every kid in the library deserves to see themselves," Ms Jones told The Independent.
"I do have students that are members of the LGBTQ community, or their parents are," she said. "You look at the titles of the books that these people are complaining about, and almost every single one of them is about or by an author of the LGBTQ community, or a Black, indigenous, person of colour. And it's no secret that they're trying to marginalise, ignore and shut down a complete portion of our community, and that's going to affect our students."
The office of Louisiana's Republican attorney general Jeff Landry, the state's top law enforcement official and a candidate for governor in 2024, performed a statewide audit of library titles and created model legislation that would strip funding from libraries if they don't comply with a set of rules for reviewing materials he deems inappropriate.
In February, his office released a "Protecting Innocence" report with excerpts of books singled out as "examples of sexually explicit materials" in the state's libraries. A "tip line" he set up to report objectionable materials was flooded with thousands of spam and prank messages.
Mr Landry's office directed The Independent to a press release when reached for comment.
In an attached statement, he said his office recommends updating library card systems "so that parents can ultimately choose what materials are appropriate for their children, which then takes pressure off of the librarians and puts more power back into the hands of parents – where it belongs".
"He's using libraries and librarians as political pawns," Ms Jones told The Independent. "And all of the parishes are picking that up. And they're picking it up in the public library, and it's going to trickle down to the schools and to the school boards. And eventually we're going to have this giant dystopian nightmare of suppressed knowledge, and we're going to eliminate and marginalize and kill our LGBTQ and our BIPOC [Black, Indigenous, and people of color] communities."
The same month that Mr Landry's office produced the report, Livingston's library board froze the accounts of all minors until their parents signed off on the kinds of books they are allowed to check out, per the attorney general's recommendations. Lafayette's library officials implemented a similar policy that same month.
In March, Livingston Parish Council voted to remove a member of the Library Board of Control following guidance from Mr Landry that local governments are free to do so, even before their terms in office are complete. Debbie Henson was the only member of the library board with a master's degree in library science.
Giovanni Tairov, who served as the parish's library director for more than a decade, abruptly resigned the same week.
"The library board must choose a replacement director that is willing to stand up to the liberal American Library Association and take the steps necessary to protect our children from explicit material," Parish councilman Garry Talbert wrote about Mr Tairov in a Facebook post.
In February, Mr Talbert admitted hiring a private investigator to investigate the library's internet access to pornography. Mr Tairov said the investigator merely used a "backdoor" to break through the library's firewall, which is already a violation of the library's policy.
Louisiana attorney general release 'Protecting Innocence' report amid book ban fears
Last year, officials in Bossier Parish began replacing library board members with political appointees, who also moved to suspend the board's bylaws and write new ones, including policies to determine which books are on the shelves. The parish's library president resigned under duress.
In December, a prosecutor in St Tammany and Washington parishes sent a memo to law enforcement about a "screening tool" for reviewing library materials. In St Tammany Parish, dozens of titles are under review, from books by and about LGBT+ and trans authors to Rupi Kaur's Milk and Honey poetry collection and Jonathan Safran Foer's Extremely Loud & Incredibly Close.
Several have returned to the shelves, including Toni Morrison's The Bluest Eye and I Am Jazz, the story of a transgender girl and one of the most banned books in the country.
"Each parish is on their own," Ms Jones told The Independent. "And I'm afraid that weaker parishes – and by weaker I mean parishes not ruled by strong administration and superintendents – are going to back down, and they're going to ban and censor these books that, in my opinion, can be vital to kids."
Louisiana lawmakers are considering several bills involving library oversight and censorship at the start of this year's legislative session, alongside an arsenal of bills targeting LGBT+ people.
One proposal, identical to Mr Landry's, would impose age restrictions for library cards. Another would hand more power to local authorities over library boards, including allowing officials to remove board members at will and appoint ideologically minded loyalists in their place.
The threats go much further than the LGBT+ community, according to SarahJane Guidry, executive director of Louisiana's Forum for Equality.
Targeting LGBT+ people "makes the larger community feel safer when the threat is not to them – the threat is to everybody, and our freedom of access," she told The Independent.
"These attacks are on our children, and it comes to a point where you keep seeing these conversations [with] constituents saying, 'You are killing us by filing this, by speaking on this,'" she said. "It comes to a point where you have to ask, do they even care?"
Forum for Equality and a coalition of LGBT+ and civil rights advocacy groups are in a race against a legislative session with lawmakers determined to rush through bills with as little debate as possible, she said.
The coalition is collecting testimony, amplifying student voices and making sure people can appear in person to speak out against the bills.
"Legislators never sit down with youth, never sit down with LGBTQ [people], never sit down with the libraries," Ms Guidry said. "Those conversations never happen and there's a reason they push [legislation] faster and harder and quicker."
In Abita Springs, the mother of a trans son posted a colourful sign reading "ban hate, not books". On 7 April, it was torched.
Alanah Odoms, executive director of the ACLU of Louisiana, has condemned the statewide censorship campaign "and the intolerance and exclusion that underlies it".
"Suppressing information about these ideas opens the door to suppression of any others that politicians don't like," she said in a statement. "And for countless LGBTQ+ youth who face bullying, isolation, and depression in their communities, representation in books and literature can be a life-saving refuge."
The rhetoric and debates surrounding legislation targeting LGBT+ youth has taken a toll on the mental health of an overwhelming majority of young trans and nonbinary people, according to polling from The Trevor Project and Morning Consult.
"[Louisiana] will be a very scary and unsafe place for the LGBT+ community if this is the trajectory," said Ms Guidry, pointing to a "travel advisory" for LGBT+ tourists to Florida issued by LGBT+ advocates. "We need to make sure Louisiana doesn't make the list."
Hundreds of challenges across the US
Republican state lawmakers in Missouri have threatened to defund all of the state's public libraries in a drastic budget proposal that has magnified the accelerating state-level campaigns against libraries over books and materials with LGBT+ people and themes.
The state's Republican-controlled House of Representatives voted on a state budget proposal in March that sets the library's budget at zero, eliminating millions of dollars for the state's libraries.
Lawmakers in Missouri's state Senate, however, plan to put $4.5m (£3.6m) back into the budget proposal that was stripped out of the House version of the spending plan.
Missouri's legislative debate over library funding follows a recently enacted state law that broadly bans educators from "providing sexually explicit material" to students, punishable by up to a $2,000 fine or a year in jail.
That language has had a chilling effect in schools and libraries across the state, where officials preemptively removed titles over fears that right-wing activists would mount money-draining legal challenges against them, according to PEN America. Between August and November, state authorities banned more than 300 books in at least 11 school districts, the group found.
In February, the ACLU of Missouri, the Missouri Association of School Librarians and the Missouri Library Association filed a lawsuit against the state, arguing that the ban violated the first amendment.
In apparent retaliation, Republican lawmakers proposed stripping $4.5m allocated to the state's public libraries each year, arguing that the state should not be "subsidizing" the libraries' lawsuit. The ACLU of Missouri is representing the libraries for free, at no cost to taxpayers.
More than 100 bills in state legislatures in at least 31 states this year threaten to cut library budgets, implement book rating systems, regulate the kinds of books and materials in their collections, and amend obscenity definitions that preempt first amendment protections, according to a database from EveryLibrary.
In Texas, officials in Llano County are considering plans to "cease operations" entirely at the county's library system, after a judge ordered the library to return books that were targeted for removal.
In a statement defending librarians and libraries from a wave of legislative threats last month, the president of the American Library Association condemned the "vocal minority" stoking "the flames of controversy around books."
"Every day professional librarians sit down with parents to thoughtfully determine what reading material is best suited for their children's needs," ALA president Lessa Kanani'opua Pelayo-Lozada said. "Now, many library workers face threats to their employment, their personal safety, and in some cases, threats of prosecution for providing books to youth that they and their parents want to read. Our nation cannot afford to lose the library workers who lift up their communities and safeguard our first amendment freedom to read."
Last year, voters in Michigan's Jamestown Township – population 10,000 – rejected renewals for two tax proposals that have funded the community's Patmos Library for decades.
Without that funding, the library is expected to close in 2024.
The debate largely centred around just one title: Maia Kobabe's Gender Queer.
Right-wing outrage over that book – a memoir about gender dysphoria and life outside a gender binary – and other titles led to the resignation of a library director and plans to dissolve a library board in Idaho. A prosecutor in Michigan suggested bringing criminal charges against a local librarian who refused to concede to state and right-wing pressure against it.
That campaign has also hit Washington DC, where congressional Republicans are proposing national bills that mirror the legislation dominating state capitols.
Republican US Rep Clay Higgins, a former law enforcement official now representing Lafayette and southwestern Louisiana in Congress, has labelled libraries "grooming" centres – using the same language that activists in his home state and across the country have used to smear librarians like Ms Jones and LGBT+ people at the centre of their attacks. He advocated instead for "church-owned public access libraries".
"I'm going to help these churches get funding. We will change the whole public library paradigm," he said last month. "The libraries regular Americans recall are gone. They've become liberal grooming centers."
Ms Jones is on leave through the spring semester, and she is committed to taking her defamation suit to the Supreme Court.
"I'm gonna have to," she told The Independent. "I'm in it for the long haul."
Or until my money runs out, she said. She expects legal costs to reach $100,000. She also will be liable for the legal costs of the men who suggested she is a pedophile and a groomer if she loses.
"Libraries are for everyone," Ms Jones said. "A public library, especially, covers ages from birth to death, and covers everybody."
Join our commenting forum
Join thought-provoking conversations, follow other Independent readers and see their replies