Bowl purchased for $35 at Connecticut yard sale is rare Chinese artifact worth $500K
Experts say the porcelain vessel dates back to 15th century Yongle Emperor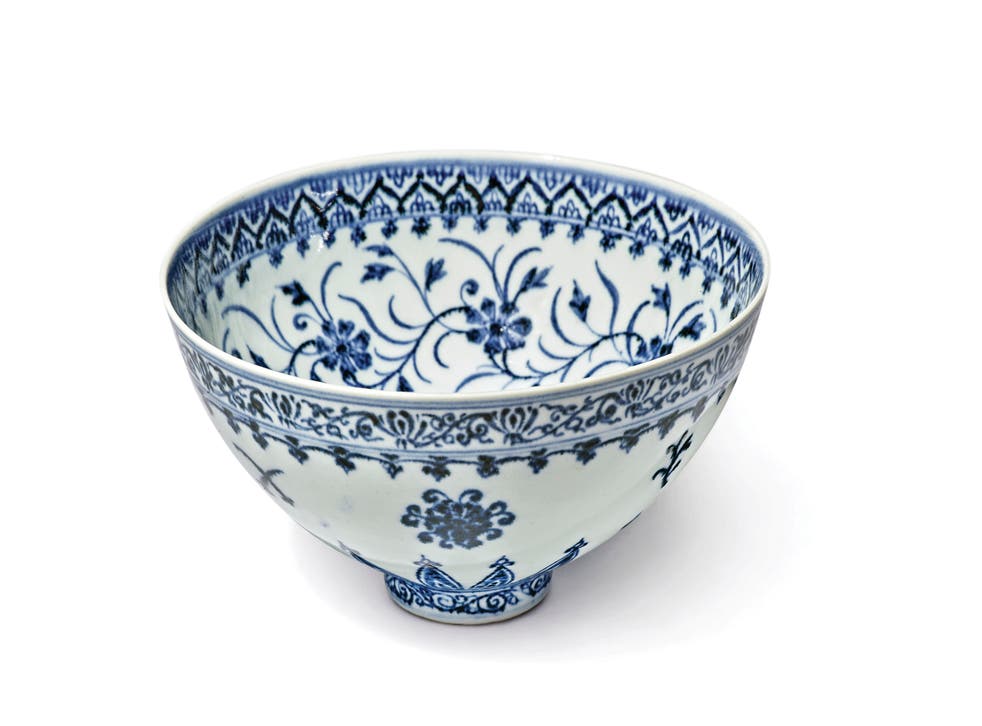 Leer en Español
A small porcelain bowl bought for $35 at a yard sale turned out to be a rare Chinese artifact worth up to $500,000.
The six-inch bowl, which dates from the 15th century, was sold at the yard sale in New Haven, Connecticut, last year.
Now it is expected to fetch between $300,000 and $500,000 when it goes under the hammer at Sotheby's on 17 March in New York.
The anonymous owner of the white bowl, which is adorned with blue flowers, contacted Sotheby's for an evaluation after taking it home.
And the auction house's experts on Chinese ceramics and art realised immediately that they had a special find on their hands.
"It was immediately apparent to us that we were looking at something really very, very special," said Angela McAteer, Sotheby's senior vice president and head of its Chinese Works of Art Department.
"The style of painting, the shape of the bowl, even just the colour of the blue is quite characteristic of that early, early 15th-century period of porcelain."
The experts have determined that the bowl, crafted in the shape of a lotus bud or chicken's heart, dates back to the Yongle Emperor, the third ruler of the Ming Dynasty.
They dated the bowl by its silky glaze that is smooth to the touch, with colours and design distinctive to that period.
Most of the six other bowls like this one are in museums in London, Taipei and Iran, but none are in the US.
It is not known how the precious artifact ended up at the yard sale in Connecticut and may have unwittingly been passed down between generations of the same family.
"It's always quite astounding to think that it kind of still happens, that these treasures can be discovered," added Ms McAteer. 
"It's always really exciting for us as specialists when something we didn't even know existed here appears seemingly out of nowhere."
Register for free to continue reading
Registration is a free and easy way to support our truly independent journalism
By registering, you will also enjoy limited access to Premium articles, exclusive newsletters, commenting, and virtual events with our leading journalists
Already have an account? sign in
Register for free to continue reading
Registration is a free and easy way to support our truly independent journalism
By registering, you will also enjoy limited access to Premium articles, exclusive newsletters, commenting, and virtual events with our leading journalists
Already have an account? sign in
Join our new commenting forum
Join thought-provoking conversations, follow other Independent readers and see their replies