Young boy dies from brain cancer after thousands help him celebrate final Christmas early
'Thank you for taking the time, and taking an interest in our sweet boy's journey. Sadly, there are many others like him that we hope you will continue to help'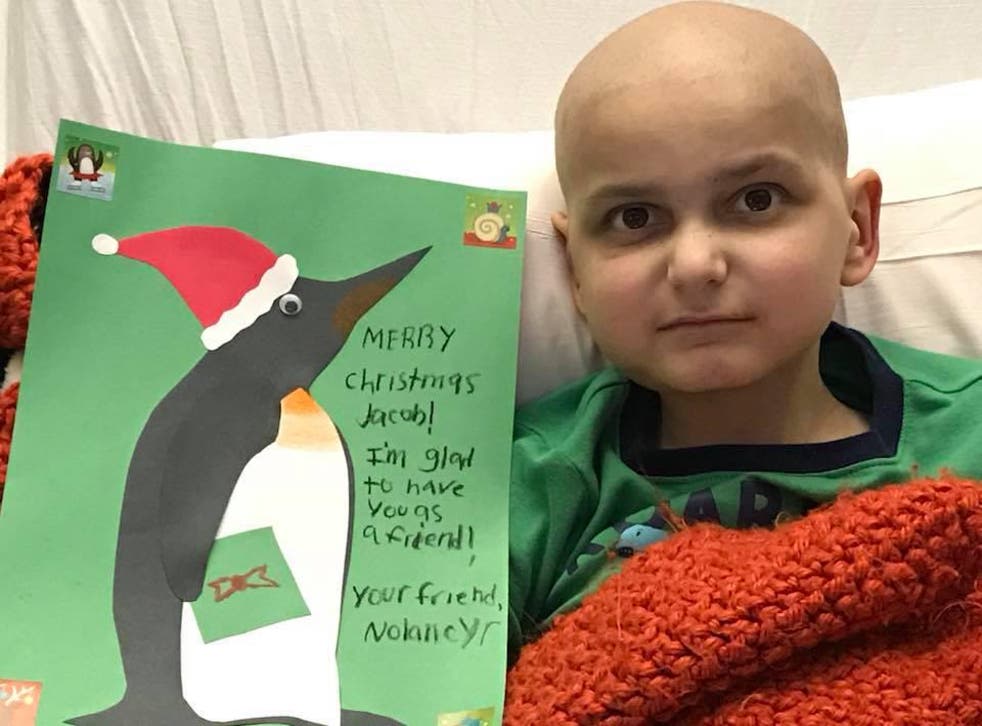 A nine-year-old boy has lost his battle with cancer just days after thousands of people helped fulfil his wish of celebrating Christmas for a final time.
Jacob Thompson was diagnosed with neuroblastoma – a type of brain cancer that generally affects infants and young children - three years ago.
Last month, doctors told his parents he only had weeks to live, meaning there was little hope he would still be alive on Christmas Day.
Instead of waiting, Jacob's family decided to hold a special celebration at the boy's hospital bedside.
So they installed a tree and decorations in his hospital room, arranged a visit from Santa Claus and lavished him with presents.
Tens of thousands of strangers also answered the Thompson family's plea for Christmas cards to help make Jacob's final days even more special.
Even celebrity admirers like Arnold Schwarzenegger made a card and sent it to Maine Medical Center, where he was being treated.
After celebrating his final Christmas on 12 November – which also included a visit from the University of Maine hockey team and various local law enforcement organisations – Jacob sadly passed away on 19 November.
His family from the small town of Saco, have now thanked the thousands of supporters from around the world who helped make Jacob's last wish come true.
World news in pictures

Show all 50
"You brought Jacob joy and you brought us all optimism for the future," they wrote on Facebook this week. "Thank you for taking the time, and taking an interest in our sweet boy's journey. Sadly, there are many others like him that we hope you will continue to help.
"We hope that Jacob's story and the enormous outpouring of support from around the world will have a lasting impact on raising awareness for this disease. We hope that donations will be made, and a cure will be discovered as a result."
There are around 700 new cases of neuroblastoma each year in the US and up to 100 in the UK.
Jacob was admitted to hospital "for the last time" on 11 October after the cancer had spread to his skull and to bones in his inner ear, as well as tumours on his hips.
He also received a slew of cards for Halloween which prompted his family to put out a call for more for their early Christmas.
"He opened up and saw them and it was like getting a gift," his father Roger Guay told CNN at the time. "He read it to us and had a big smile, his face and nose scrunched. He was excited to see what people had to say and it just brightened his day."
The Thompson family are now urging supporters to make a donation in Jacob's memory to the Operation Gratitude charity, to a penguin rescue group – penguins were Jacob's favourite creature – or to simply "pay it forward" in the community.
"Do something for others, donate blood and platelets, or use your talents to bring shelter, nourishment or joy to those in need in honour of Jacob's memory," the family's statement said.
"And most importantly, always remember to #LiveLikeAPenguin for Jacob."
Register for free to continue reading
Registration is a free and easy way to support our truly independent journalism
By registering, you will also enjoy limited access to Premium articles, exclusive newsletters, commenting, and virtual events with our leading journalists
Already have an account? sign in
Register for free to continue reading
Registration is a free and easy way to support our truly independent journalism
By registering, you will also enjoy limited access to Premium articles, exclusive newsletters, commenting, and virtual events with our leading journalists
Already have an account? sign in
Join our new commenting forum
Join thought-provoking conversations, follow other Independent readers and see their replies