BP angers America again – this time over deal with Russians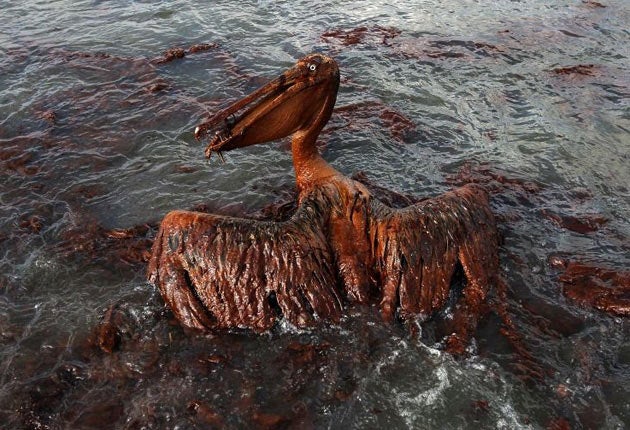 BP's frantic efforts to repair its devastated reputation in the US have been set back by a major new alliance with the Russian government, prompting outraged comments from all sides of the political spectrum.
Amid continuing anger from the American public over the Gulf of Mexico oil spill, politicians are calling for an investigation into BP's deal to sell a 5 per cent stake in the company to the Russian state-controlled oil giant Rosneft.
That deal, which gives BP access to vast untapped oil reserves in the Arctic, was signed with fanfare in London on Friday night, but across the Atlantic, one Congressman renamed BP "Bolshoi Petroleum". US critics also suggested BP has now become a national security threat, as well as environmental one.
"The national security implications of BP America being involved with the Russian company – that does require scrutiny by the Committee of Foreign Investment in the US (CFIUS)," Michael Burgess, a Republican from Texas, said in a television interview hours after the deal was signed.
Mr Burgess is a member of the House of Representatives Energy and Commerce Committee, making him a potential thorn in the side of BP, which has major operations across the US. "BP unfortunately has not been a great player either in the oil pipeline in Alaska and in the Gulf of Mexico," Mr Burgess said. "We have had serious problems there."
Earlier, Ed Markey, a prominent Democrat, had highlighted that BP was in 2009 the top supplier of petroleum to the US military. And he promised to push for intense scrutiny of the deal. He said: "Even following the largest oil spill in US history, and potentially billions of dollars in fines still outstanding, the Russian Bear is apparently bullish about BP. This acquisition will almost certainly complicate the politics of levying and collecting damages from BP following their Gulf of Mexico oil spill.
"BP once stood for British Petroleum. With this deal, it now stands for Bolshoi Petroleum. The details of this deal and its impacts on the operations of BP America need to be thoroughly examined," Mr Markey added.
CFIUS is the US Treasury body with the power to block mergers and takeover deals if they are found to hurt US national security. Natural resources deals have always been among the most politically sensitive, and appear to be even more so since the emergence of China and other emerging nations on the world stage. US political pressure thwarted a Chinese takeover of an American oil company, Unocal, in 2005.
A BP spokesman said yesterday that the company was "very happy and pleased with the deal we have done, and we will deal with groups that have things to say as and when necessary".
Privately, the company believes there are no grounds for the US to intervene in the deal. Wall Street analysts say BP's business prospects are more heavily dependent on other issues, including the long-term costs of the Gulf of Mexico oil spill and BP's reputation with US safety regulators. It remains unclear if, or how soon, BP might once again become a contender for future drilling licences in the Gulf.
BP's chief executive, Bob Dudley, and Vladimir Putin, the Russian Prime Minister, called it "an alliance based on mutual advantage". Rosneft will take a 5 per cent stake in the British company, worth £4.9bn, in return for 9.5 per cent of Rosneft. It is the first time that one of the international oil giants has entered into this kind of cross-shareholding arrangement with a state-controlled oil company.
Under the deal, BP will help exploit new oil and gas exploration licences awarded to Rosneft last year, which cover approximately 125,000 square kilometres in the shallow waters of the South Kara Sea. The deal was immediately attacked by environmental campaigners, including Greenpeace, for extending drilling to the fragile Arctic.
And yesterday, Ed Miliband, the Labour party leader, told the BBC's Andrew Marr: "I'd be pretty worried about this... I think that the lesson of the Gulf oil spill should be that the task for all of us – private companies, government and so on – is not to just keep digging and digging deeper and deeper for oil. It is actually to find those alternative forms of energy that can help us move forward in a clean way."
Join our commenting forum
Join thought-provoking conversations, follow other Independent readers and see their replies