Bradley Manning's lawyers to petition Barack Obama over 35-year sentence for passing US secrets to WikiLeaks
Jail term is longest in cases of military or government leaks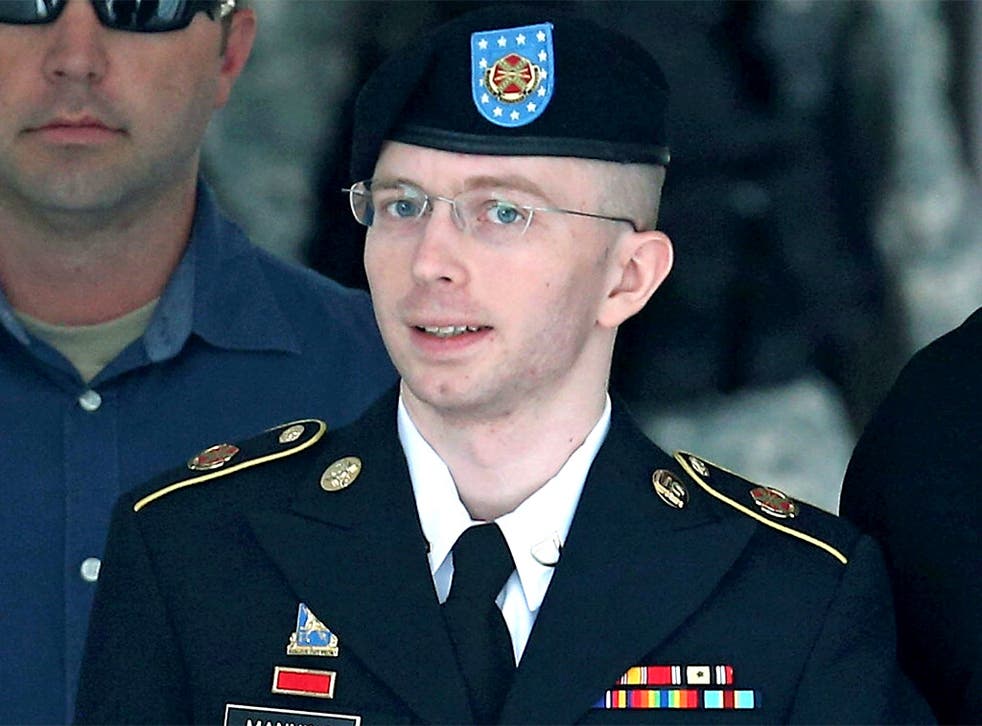 Bradley Manning, the former US Army intelligence analyst, has been sentenced to 35 years in prison for leaking more than 700,000 classified documents to the WikiLeaks website.
Shortly after the unprecedented sentence was handed down by Colonel Denise Lind, the military judge presiding over Manning's court martial, the 25-year-old's lawyer said he would petition Barack Obama to pardon his client or commute his sentence to time served.
Colonel Lind could have sentenced Manning to up to 90 years in prison after finding him guilty last month of most of the charges levelled against him, including those connected to breaches of the US Espionage Act. US government prosecutors had sought a prison term of at least 60 years. Manning's defence had suggested a term of no more than 25 years.
Although not as severe as the term requested by the prosecution, the sentence is the longest in history in a case over a leak to the media of secret US government documents. Elizabeth Goitein, who co-directs the Liberty and National Security Programme at New York University's Brennan Centre for Justice, said Manning's penalty should be compared with the next-longest sentence, the two-year term handed down in the case against Samuel Morison, a naval-intelligence analyst, in the mid-1980s. "This is far, far longer," she said. Today, the young army private stood to attention as Colonel Lind read out the sentence during a brief hearing in a courtroom at the Fort Meade military base in Maryland. Flanked by his lawyers, Manning did not appear to react as the judge said that he would be dishonourably discharged from the US military, his rank would be lowered and he would have to forfeit his pay. When she announced the prison term, somebody in the courtroom was reported to have gasped. As Manning was led out of the room, supporters shouted, "We'll keep fighting for you, Bradley," and, "You're our hero".
Later, Manning's lawyer, David Coombs, recounted how his client had tried to reassure him after the announcement by saying: "Don't worry about it. It's all right. I know you did your best. It's going to be OK."
The prison term will be reduced by more than three years to reflect time served. Manning, who was a low-level analyst in Baghdad, will also receive 112 days' credit for inhumane treatment at a military prison in Quantico, Virginia. Under the rules, he must serve at least a third of his sentence before he is eligible for parole. Factoring in the credits, he could, in a best-case scenario, receive parole in his early- to mid-thirties.
Responding to the sentence, WikiLeaks founder Julian Assange said in a statement: "This hard-won minimum term represents a significant tactical victory. The United States government had charged Bradley Manning with a capital offence and other charges carrying over 135 years of incarceration.
"His defence team is now appealing to the US Army Court of Criminal Appeals in relation to this sentence and also for due-process violations during the trial."
The American Civil Liberties Union, which advocates for civil and constitutional rights in the US, said the sentence marked "a sad day for all Americans who depend on brave whistleblowers and a free press for a fully informed public debate". Manning's supporters, meanwhile, were planning to mount a rally outside the White House.
Manning's motives have been debated ever since he handed the first of the leaked documents detailing US activities in Iraq and Afghanistan to WikiLeaks in 2010. Later, he disclosed a trove of additional material, including numerous diplomatic cables.
According to his lawyers, he was motivated not by a desire to harm the US – in her ruling last month, Colonel Lind acquitted Manning of "aiding the enemy", the most serious charge levelled against him – but to prompt a debate about his country's policies.
The Brennan Centre's Ms Goitein said the sentence was a victory for the Obama administration, which, though it has been aggressive in its pursuit of whistleblowers, has struggled to secure convictions or long sentences. In this regard, the sentence was "precedent-setting", she said.
The war on terror: Convictions
Lynndie England American Photographed abusing Iraqi prisoners in Abu Ghraib prison. She was convicted of conspiracy, maltreating detainees and committing an indecent act and served half of a three-year sentence.
Omar Ahmed Khadr Canadian Aged 15 when he was captured in Afghanistan in 2002. In 2010, he pleaded guilty to murder, attempted murder and spying. He was sentenced to eight years.
Majid Shoukat Khan Pakistani Arrested in 2003 on a visit to Pakistan. He was charged in 2012 and pleaded guilty as part of a pre-trial agreement to co-operate. His sentencing is delayed by four years to allow him to do so.
Join our new commenting forum
Join thought-provoking conversations, follow other Independent readers and see their replies