Arizona shooting: One dead and five injured during shooting in Mesa
Police say a suspect is still at large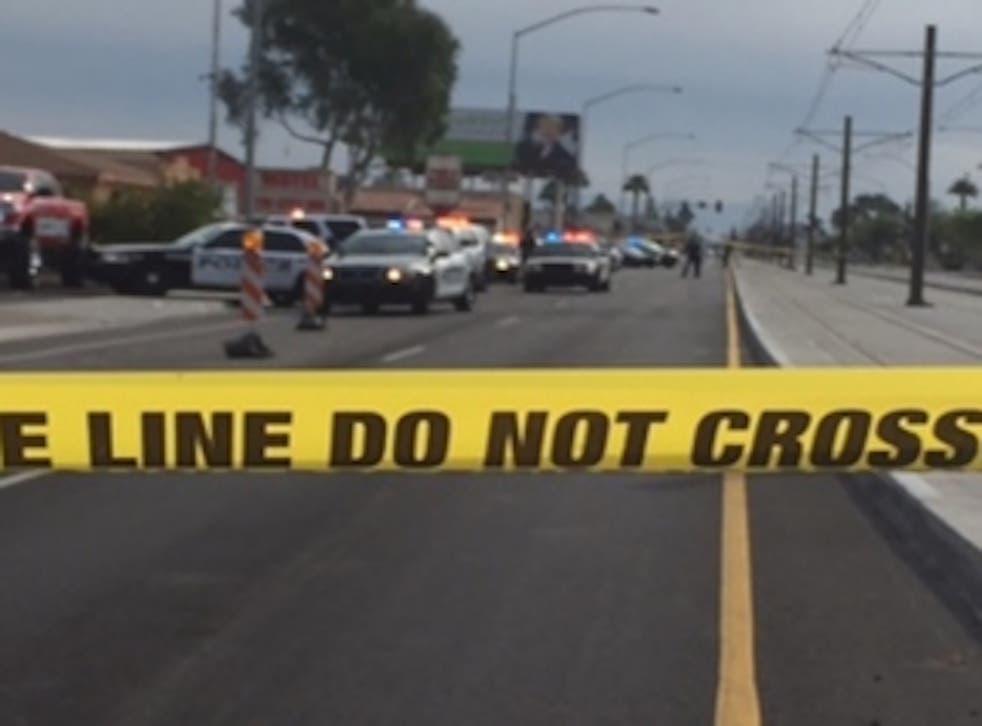 Police in the Arizona town of Mesa have caught a man suspected of killing one person and shooting five others in a shooting spree.
The suspect, a bald, white male in his 40s with a neck tattoo, eluded police four hours before being brought into custody at around 12.30pm local time in Mesa, located about 20 miles east of Phoenix.
The shooting began at 8.48am at the Tri-City Inn motel in the city, where police believe an argument broke out. Three people were shot at the motel and one male died at the scene. The suspect then moved across the street to Bistro 13, a nearby restaurant.
At the restaurant the gunman carjacked a grey Honda Accord and shot one more person, whose injuries are not thought to be life threatening.
The suspect then proceeded to an apartment complex in the city, where he broke into a home and shot a male victim who is expected to survive. Another victim was then found in critical condition in the apartment complex next door.
"Right now, our hearts and prayers are with the people of Mesa, the individuals affected by this tragedy, and all law enforcement and first responders working to assist the victims,"Arizona Governor Doug Ducey said.
Register for free to continue reading
Registration is a free and easy way to support our truly independent journalism
By registering, you will also enjoy limited access to Premium articles, exclusive newsletters, commenting, and virtual events with our leading journalists
Already have an account? sign in
Register for free to continue reading
Registration is a free and easy way to support our truly independent journalism
By registering, you will also enjoy limited access to Premium articles, exclusive newsletters, commenting, and virtual events with our leading journalists
Already have an account? sign in
Join our new commenting forum
Join thought-provoking conversations, follow other Independent readers and see their replies