British teacher 'murdered' on Amazon kayaking trip joked about being killed days before
'In or near Coari (100km away) I will have my boat stolen and I will be killed too. Nice,' Emma Kelty wrote on social media
Chantal da Silva
Wednesday 20 September 2017 14:37 Comments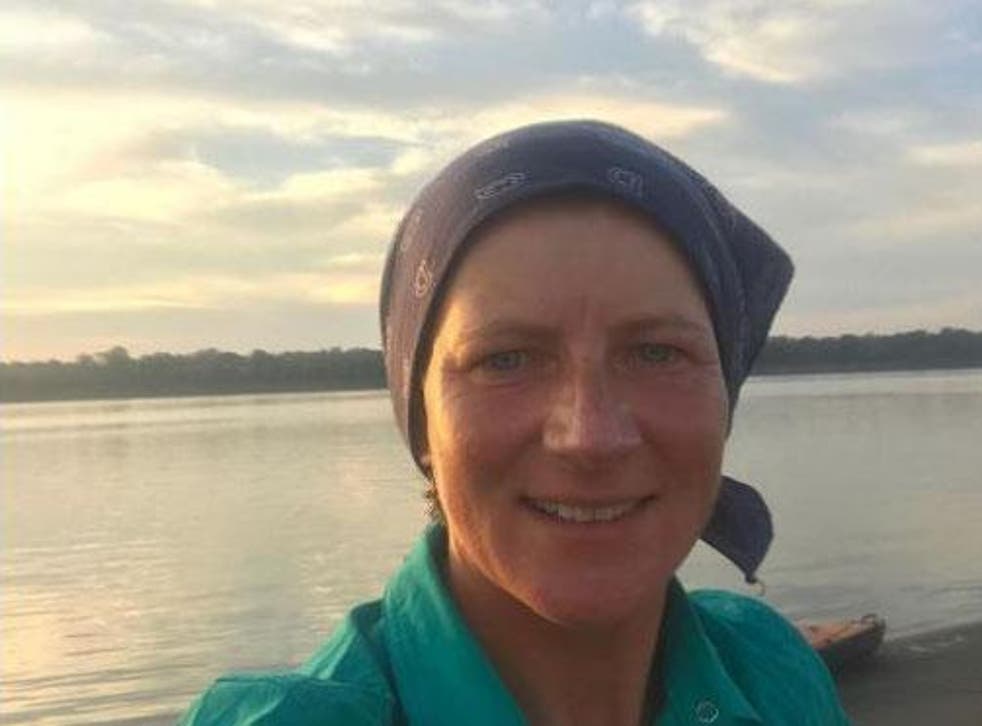 A British woman believed to have been murdered on a solo kayaking trip in the Amazon joked on social media about being killed just days before she went missing.
Brazilian authorities have arrested a man and two teenagers in relation to the disappearance of Emma Kelty.
One of the teenagers arrested told local police the 43-year-old was attacked by a group of men who stole her belongings and shot her.
Ms Kelty, a former headteacher from London, had posted frequent updates on her journey in northern Brazil on Facebook.
"So in or near Coari (100km away) I will have my boat stolen and I will be killed too. Nice," Ms Kelty wrote on 10 September.
She posted another update two days later, reassuring friends and family that she was "in the clear. All ok."
But just two hours later, she returned to Facebook to warn that she had seen 30 to 50 men "in boats with arrow and rifles".
"My face [must] have been a picture!! (Town was uber quiet... too quiet!!)" she wrote, before adding: "All good" at the end.
She had been on day 42 of her 4,000-mile trip kayaking along the Solimoes River when she went missing. ​
The area is known for pirates and drug traffickers.
Ms Kelty's body has not been found, but authorities said they had discovered her kayak and belongings earlier this week.
Relatives of the British adventurer have paid tribute, describing her as "active and determined".
In a statement released by the Foreign Office, Ms Kelty's three siblings said she was "dearly loved by us all and her strength will be sorely missed".
World news in pictures

Show all 50
​"Emma was an active and determined sister who challenged herself, latterly through her adventures on the Pacific Coast Trail, as well as in the South Pole and Amazon River," the statement said.
"In a world that is today a much smaller place, the explorer in our sister found herself seeking ways to prove that challenges were achievable. We are extremely proud of our sister."
Ms Kelty was known for tackling perilous journeys, including a solo ski trip to the South Pole.
She had told BBC earlier this year that she had taken a self-defence class to "minimise the risk" of being harmed on her kayaking trip.
"I'm going to a self-defence course which is going to be tailored to de-arming people, so if I do come across that situation at least I'm prepared for it," she had said.
In her last Facebook post on 13 September, Ms Kelty wrote: "At 1am, such a dramatic change in one day... but such is the river... every km is different and just because 1 area is bad doesn't mean next is."
The Foreign Office has said it is providing support to Ms Kelty's family.
Additional reporting by AP
Register for free to continue reading
Registration is a free and easy way to support our truly independent journalism
By registering, you will also enjoy limited access to Premium articles, exclusive newsletters, commenting, and virtual events with our leading journalists
Already have an account? sign in
Join our new commenting forum
Join thought-provoking conversations, follow other Independent readers and see their replies