How Brooklyn's Williamsburg has become latest epicentre of America's measles outbreak
New York City has had 285 cases of measles since October, while 465 cases have been reported across US just this year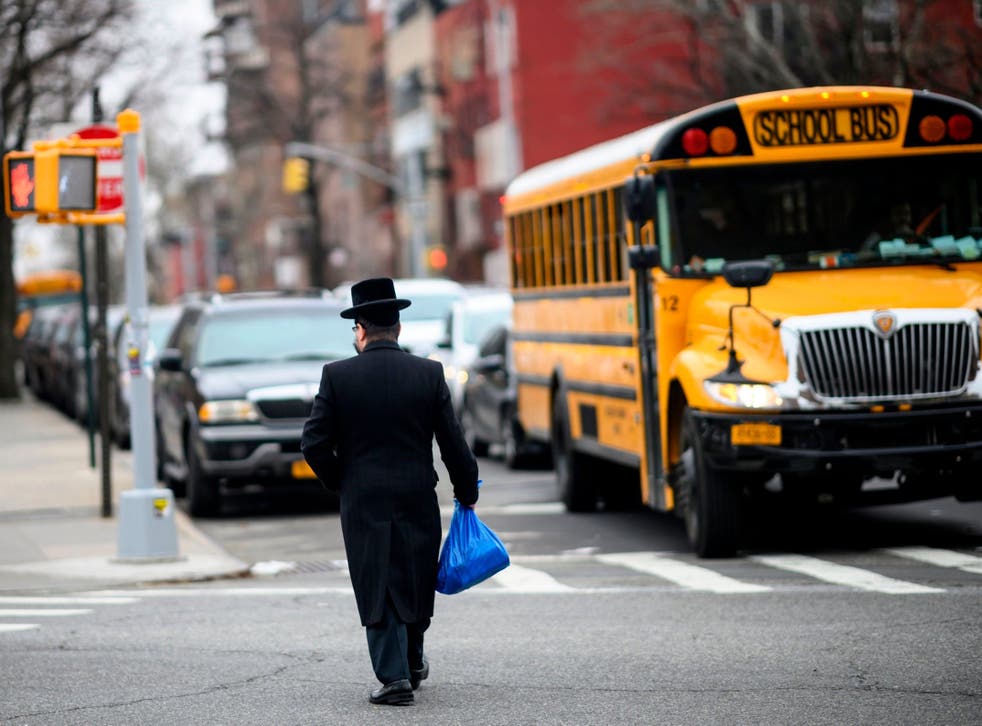 In the last few weeks, Dr Jay Begun says he and his colleagues have been in something akin to crisis mode at their small pediatrics office in Brooklyn.
As an accelerating outbreak of measles has raised alarms both inside and outside of the secluded Jewish community there, staff have been forced to take some patients on the pavement or in their cars, hoping to avoid spreading the virus that has made the Williamsburg neighbourhood the latest epicentre of a national debate on vaccines.
Where possible, nasal swabs and blood samples are taken from children – thought to have been exposed to the virus at yeshivas or during play dates in a culture that encourages big and burgeoning families – outside, just as the weather has shown signs of relenting from the lingering cold of winter.
"Over the last few weeks there has been a significant increase in the number of cases. I'm seeing many more cases. I'm getting many more calls about it," said Dr Begun, the founder of Kindercare Pediatrics and an instructor in the Department of Pediatrics at Mount Sinai Medical Centre.
"For some reason, all of a sudden, the transmission became accelerated. It's really gained a momentum," he said of the outbreak of the virus, said to have been brought back from Israel in October by Orthodox Jews returning from Sukkot, the Jewish harvest festival.
New York City has seen at least 229 cases of measles just this year, accounting for nearly half of the 465 cases seen across the country, in an outbreak of a disease that American health officials declared eradicated 20 years ago. Since October, the city's total outbreak has been 285.
That concerning situation is illustrative of a broader surge in anti-vaccine thinking in communities across the US in recent years, touching on communities of all stripes. In Texas, conservative populations have rejected vaccines, while liberals in Washington state have done the same.
Vaccines funding could 'save 4m children'

Show all 9
In those areas, as in Brooklyn, misinformation has spread and instilled fear, with campaigns warning of sin, or autism, or any number of side effects from the modern medicine that has saved lives. At least 17 studies have shown no link between autism and the MMR vaccine, a theory originally proposed by disgraced British doctor Andrew Wakefield.
As the recent cases in Brooklyn piled up – fuelled by pamphlets warning that vaccines are made with the cells of aborted foetuses and will cause autism – in the close-knit community of Orthodox Jews in southern Williamsburg and Borough Park, the situation drew the attention of New York mayor Bill de Blasio this week, who took action by declaring a health emergency and instructing his health department to focus on making sure that the dangerous and highly contagious disease is stopped.
To tackle the problem, the city says that 20 health inspectors have been deployed to the area wearing uniform blue jackets, conducting vaccine audits of yeshivas, and working closely with physicians to make sure that residents have access to information and vaccines that could be life saving.
Those inspectors have assisted with interviews of individuals who may have been exposed to the virus, and are bringing blood samples to a lab in Queens for further analysis, a spokesperson for the mayor's office said.
"The health department is doubling down on this outbreak and continuing its targeted, methodical work in the affected areas to ensure they are reaching members of the community who may have potentially been exposed and sharing the importance of vaccinations," the spokesperson said in an email.
Health officials urge vaccines as US faces measles outbreak
But the situation in Williamsburg, from the ground, appears anything but desperate.
Men and women walk along the pavements and streets as normal, and kosher markets remain open and selling products such as Idaho potatoes. Bright yellow school buses emblazoned in Yiddish still run their routes. Fathers wearing broad brimmed black hats and bekishes still wait on street corners for their toddler daughters to arrive on those same buses.
David Oberlander, the principal at the Yeshiva Kehilath Yakov where some cases had been found earlier in the outbreak, pointed out a letter he had received from the city's health department indicating that his schools had been 97.3 per cent compliant with vaccination requirements in mid-February, but had since then raised that to 100 per cent.
Mr Oberlander said that he thinks the spike in cases is the result of big families in a tight urban environment, not necessarily indicative of a widespread disbelief and fear of vaccines. The fact that they are children, he said, shows that it is likely that parents had been putting off the vaccines until later in the children's lives, which incidentally reduced herd immunity.
"It's a close-knit community. Small apartments. You can have 50-60 children in a building," he said.
Mr Oberlander said that his schools will not admit students if they have not been vaccinated, and that he suspects most cases are very young children. He suggested that it is not just his community that has seen these outbreaks, noting that they have been reported all over the country.
"It sounded like there was an ultra-Orthodox cult," he said of the recent media coverage of the situation in Brooklyn.
Rabbi David Niederman likewise said that he does not think the individuals in his community – which numbers in the hundreds of thousands – are rejecting vaccines at a rate unseen in other areas of the country. His community cares about the health of its members and children, he said.
Instead, he said that the virus can spread faster in his community, which has built itself around religious institutions in a New York City neighbourhood that is barely more than two square miles in total.
In a city known for having residents that literally live on top of one another, the residents of south Williamsburg are particularly connected.
"It's the nature of New York City," Rabbi Niederman said. "But, we also have to live around our religious infrastructure."
Join our new commenting forum
Join thought-provoking conversations, follow other Independent readers and see their replies