California drought brings greatly reduced snowpack - which is bad news for skiers... and for everyone else
Snow-melt makes up 30 per cent of the state's annual water supply, forcing Governor Jerry Brown to allocate $1bn for water projects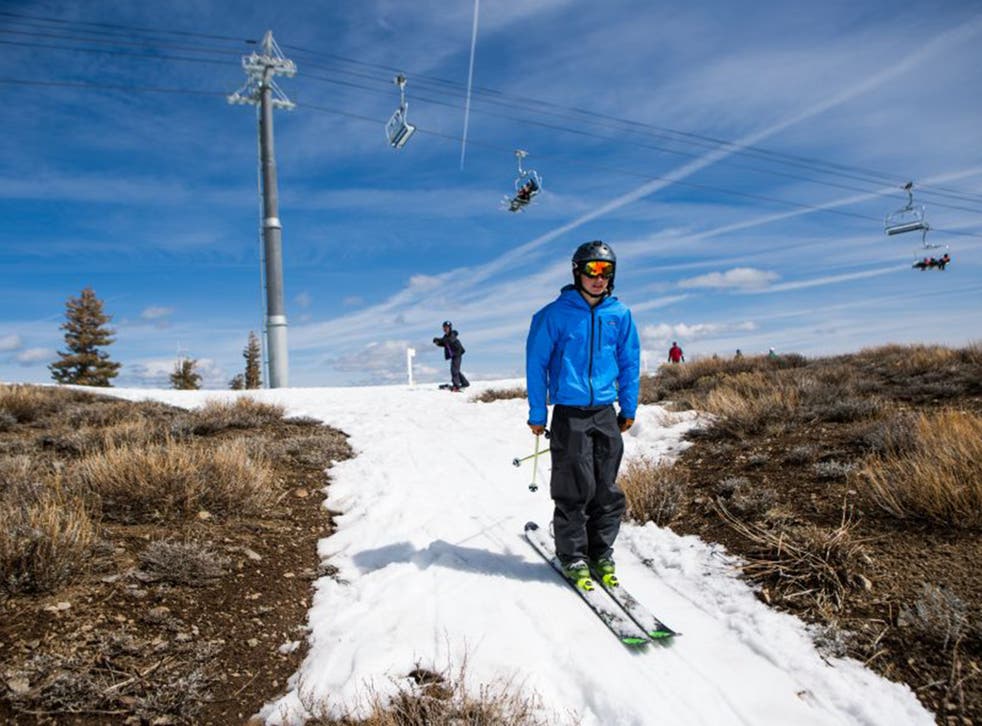 In Southern California, it's often said, you can ski in the morning and surf after lunch. This Spring, though, you might have to stick to surfing. With the drought in the US Southwest entering its fourth year, and the California snowpack at just 19 per cent of its historical March average, ski resorts up and down the Golden State have been forced to close weeks – and, in some cases, months – early.
"This has been what I'm now calling the 'cruellest' winter I've ever seen," wrote Tim Cohee, CEO of Central California's China Peak resort, in a Facebook post following its mid-February closure. "We have not only dealt with no snow, but also with incredibly marginal snowmaking conditions... In nearly four decades I have never worked for a resort that closed mid-winter; now I have."
The first month of 2015 was the driest January on record in California. The state's Department of Water Resources described the unprecedentedly small 2014-15 winter snowpack – the amount of water reserves stored in snow – as "dismally meagre". That's bad news not only for skiiers, but for everyone else in the state: snow-melt accounts for 60 per cent of the water captured in California reservoirs, and for 30 per cent of the state's overall water supply in an average year.
Mountain High resort in Wrightwood, a two-hour drive from Downtown Los Angeles, would usually be open for skiing until mid-April, sometimes even into May, according to its marketing chief, John McColly. This year, the resort shut up shop on 3 March. "We had to close at around the same time last year, too," Mr McColly said. "They're the shortest seasons I can remember."
Bear Mountain and Snow Summit, two major resorts also within easy driving distance of LA, plan to close today, two weeks earlier than usual, despite a sophisticated snow-making system with the capacity to cover their ski runs in their entirety, without any natural snowfall. "Everyone in the industry in this region has to have snow-making machines to survive," Mr McColly said. "But we couldn't even make snow in the end this year. It was just too warm."
At Lake Tahoe, the popular ski area in cooler Northern California, almost every slope has seen less than half its annual average snowfall. The Sugar Bowl resort recently built a new $500,000 (£336,000) snow-making system and would typically stay open as late as mid-April. It closed last Sunday, said marketing manager Peter Avedschmidt: "The last few years have been pretty hard on us and our competitors," he said. "The California drought has definitely affected Tahoe."
California's ski industry is traditionally worth as much as $1.3bn, but skier visits – the number of skiing days per visitor – have dropped by almost a third in the state since the drought began. And the problem is not confined to California. According to Bloomberg, some 300 of the 470 ski resorts in the US could be forced to close entirely over the next decade.
Last February's Winter Olympics in Sochi – and its Russian hosts' blushes – were saved only thanks to the assistance of 450 Finnish industrial snow-making machines. In the 19 cities that have hosted them, average February temperatures have reportedly risen from freezing, to more than seven degrees Celsius, since the first Winter Games in 1924.
Last year was the warmest on record in California, which is in the middle of its driest spell for centuries. Scientists have warned that the region could face a long-term "megadrought", in which ski resorts would merely be the first casualty. Earlier this month, California Governor Jerry Brown announced a $1bn drought relief plan to pay for water projects and provide aid to small communities around the state that are already facing severe water shortages.
State legislators have also imposed a hosepipe ban and ordered hotels and restaurants to stop serving water unless asked by patrons. Last month, for the second year in a row, the federal bureau that manages California's Central Valley Project irrigation system announced a zero water allocation to its agricultural users, leaving thousands of acres of fields in the state's agricultural heartland to lie fallow.
Join our new commenting forum
Join thought-provoking conversations, follow other Independent readers and see their replies