California earthquake latest: 6.5 magnitude tremor recorded off West Coast
'That was a big one,' San Francisco resident says
Harriet Agerholm
Thursday 08 December 2016 16:11 Comments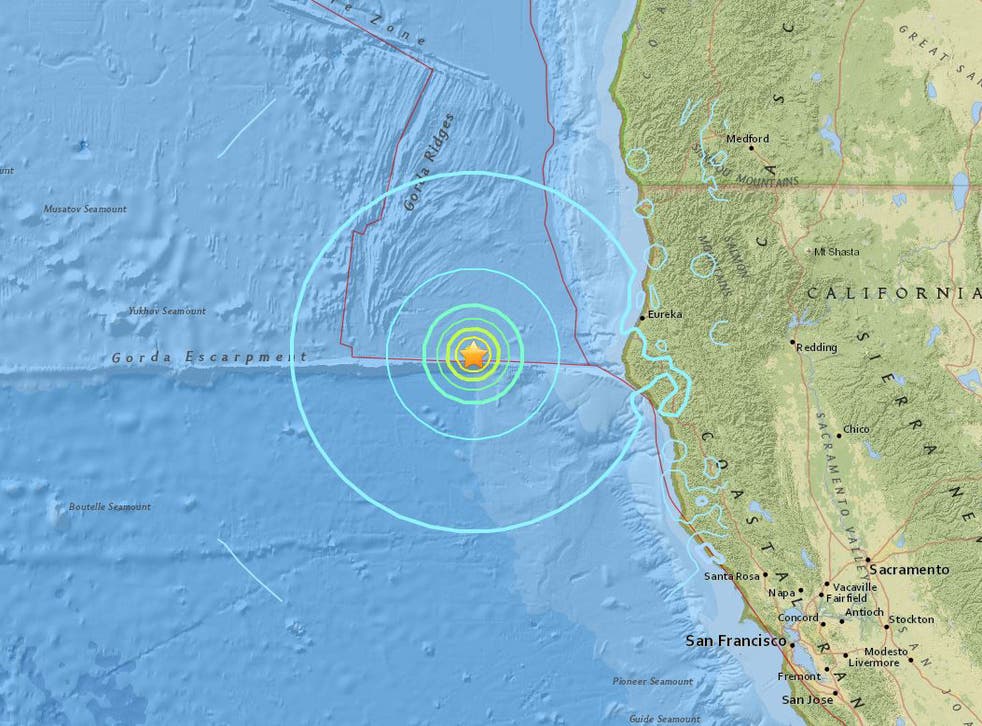 A 6.5 magnitude earthquake has been reported off the coast of northern California, the United States Geological Survey has said.
The epicentre was 165km west of Ferndale, California, at a shallow depth of 10km, according to the scientific agency.
The quake – which hit around 6.50am Pacific time – was initially thought to be 6.9-magnitude, but the it was revised down to 6.5.
There was no tsunami warning, advisory or threat in effect following the earthquake, the Pacific Tsunami Warning Center of the National Weather Service said on its website.
Some social media users said they felt the tremor in San Francisco, about 418.43 km south.
"That was a big one," wrote Twitter user Antonis Papatsaras from the Bay Area city.
"Felt 20 seconds of very light shaking," tweeted another San Francisco resident, Lila LaHodd.
Cliffs collapse during New Zealand quake
In Ferndale, which has a population of about 1,300 people, Mayor Don Hindley said in a phone interview that he had not heard of any damage from the quake. He said he felt the tremble for about 15 seconds.
"It wasn't that bad at all," Mr Hindle said.
Bonnie Brower, owner of the Ferndale Pie Company, says she was grabbing something from the fridge in the restaurant's kitchen when the quake happened. She didn't see any damage, but said says felt a "big jolt."
"I just felt this very huge jerk and I didn't know what it was," she said. Afterward, it felt like the ground was rolling, "like you were on a boat."
Two quakes exceeding 4.0-magnitude have shaken California in the last week
On Wednesday a 6.5-magnitude quake in Indonesia killed more than 100 people.
Agencies
Register for free to continue reading
Registration is a free and easy way to support our truly independent journalism
By registering, you will also enjoy limited access to Premium articles, exclusive newsletters, commenting, and virtual events with our leading journalists
Already have an account? sign in
Join our new commenting forum
Join thought-provoking conversations, follow other Independent readers and see their replies