California fires: Rupert Murdoch's $30m vineyard damaged as blaze rips through exclusive Bel-Air neighbourhood
Media mogul's mansion evacuated as record summer and drought leaves Los Angeles unseasonably dry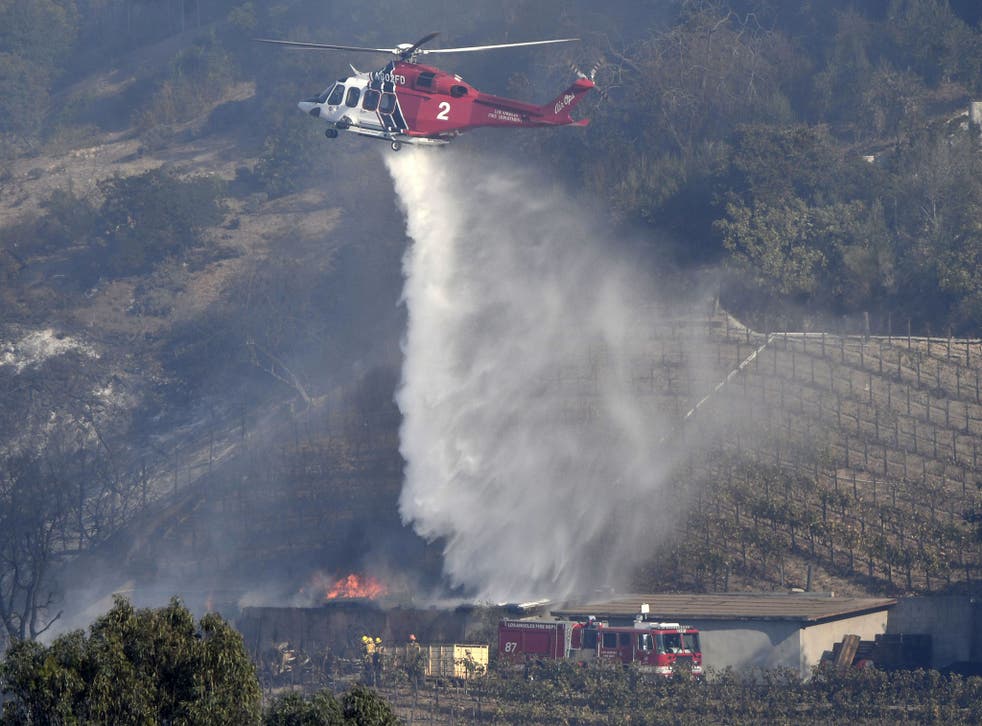 Wildfires in southern California have ripped through the upscale neighbourhood of Bel-Air, burning properties and estates including parts of a $30 million winery owned by Rupert Murdoch.
Los Angeles mayor Eric Garcetti has declared a state of emergency, with the so-called Skirball blaze forcing evacuations of thousands of residents in the exclusive enclave.
Mr Murdoch, who owns British newspapers The Sun and The Times, lives in a mansion on his $30 million Moraga Vineyards estate, dubbed "the only commercial vineyard in Los Angeles".
The fire reached a wine storage shed on Wednesday after burning at least six other properties and threatening hundreds more.
Mr Murdoch said in a statement: "The property was evacuated but based on what we are seeing on TV there may be damage to some buildings in the upper vineyard area. We believe the winery and house are still intact.
"We are monitoring the situation as closely as we can and are grateful for the efforts of all the first responders. Some of our neighbours have suffered heavy losses and our thoughts and prayers are with them at this time."
Southern California bushfire rages on
It was unclear how much damage had been done to the 86-year-old's vineyard, or how much wine had been lost.
The wildfires this week come after the hottest summer on record and a widespread drought left the area unusually dry.
Donald Trump took to Twitter on Wednesday afternoon to offer "thoughts and prayers" to everyone affected by the wildfires.
California fires: in pictures

Show all 36
Some scientists are linking the record-breaking fires to climate change, a phenomenon Mr Murdoch has branded "alarmist nonsense".
Social media users sought to highlight the apparent irony.
Mr Murdoch bought the estate in 2013 for $28.8m after seeing an advert for the property in in Wall Street Journal, a US newspaper he owns.
Join our new commenting forum
Join thought-provoking conversations, follow other Independent readers and see their replies