California lawmakers reach historic agreement to raise minimum wage to $15
The wage hike would happen incrementally, until it reaches $15 per hour in 2022.
Tim Walker
Los Angeles
Tuesday 29 March 2016 23:09 Comments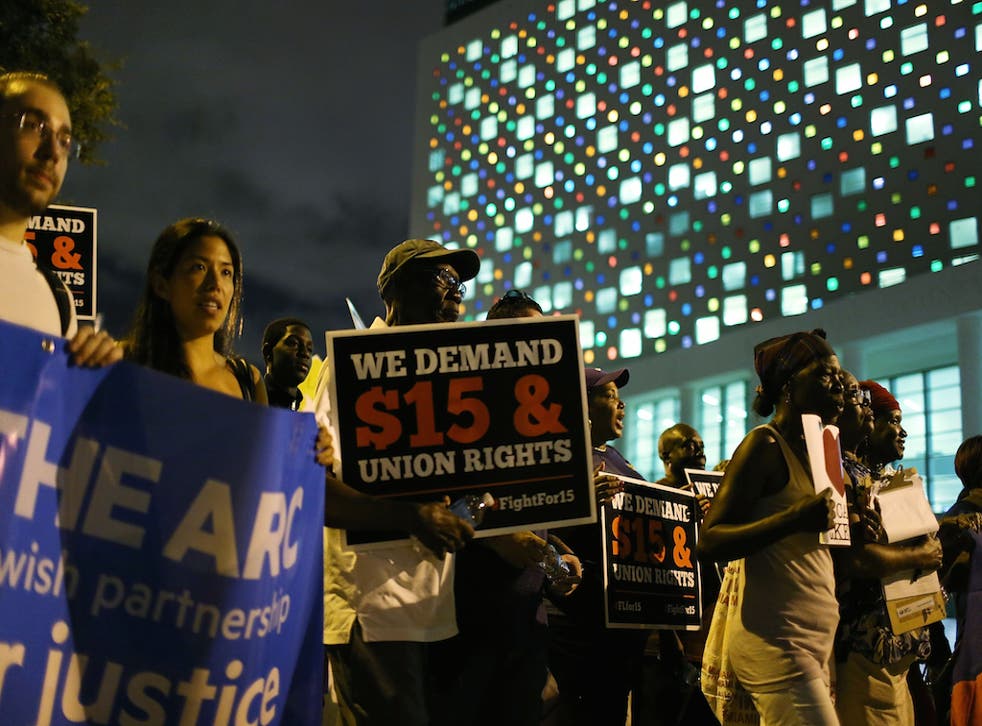 California lawmakers have reached an historic agreement to raise the statewide minimum wage to $15 (£10.42) per hour, the highest of any state in the US. The Golden State is home to 12 per cent of the US workforce, and the deal reached this week by labour unions, the state legislature and Governor Jerry Brown is expected to raise wages for around one in three California workers.
The state already has one of the nation's highest minimum wage rates, at $10 per hour. Under the proposal, that will rise to $11 by 2018, and then by $1 per year until it reaches $15 in 2022. Some areas will see a wage hike sooner: the cities of San Francisco and Los Angeles have already passed measures to raise their minimum wage to $15 by 2018 and 2020 respectively.
Since the Fair Labour Standards Act of 2009, the federal wage has stayed at $7.25 per hour. President Barack Obama called on legislators to raise that platform in 2013, and several states and cities have done so. However, there are still two states with minimum wage rates below the federal minimum, and five states with no minimum wage whatsoever.
The change in California has been attributed in large part to the successful activism of the Fight For 15 campaign, a grassroots movement organised by low-income workers - many from the fast-food industry - who in recent years have pressured employers and legislators to increase the minimum wage to $15.
Democratic presidential candidate Bernie Sanders has called for the federal minimum wage to be raised to $15, saying the increase would generate an economic stimulus that would outweigh any potential job losses. His rival, former Secretary of State Hillary Clinton, has joined US Senate Democrats in support of a $12 minimum wage.
Register for free to continue reading
Registration is a free and easy way to support our truly independent journalism
By registering, you will also enjoy limited access to Premium articles, exclusive newsletters, commenting, and virtual events with our leading journalists
Already have an account? sign in
Join our new commenting forum
Join thought-provoking conversations, follow other Independent readers and see their replies