Why California cities are suing themselves over homeless encampments
San Francisco and Sacramento are locked in lawsuits over encampents, as the US Supreme Court weighs changing a major precedent, Josh Marcus reports
Wednesday 20 September 2023 19:53 BST
Comments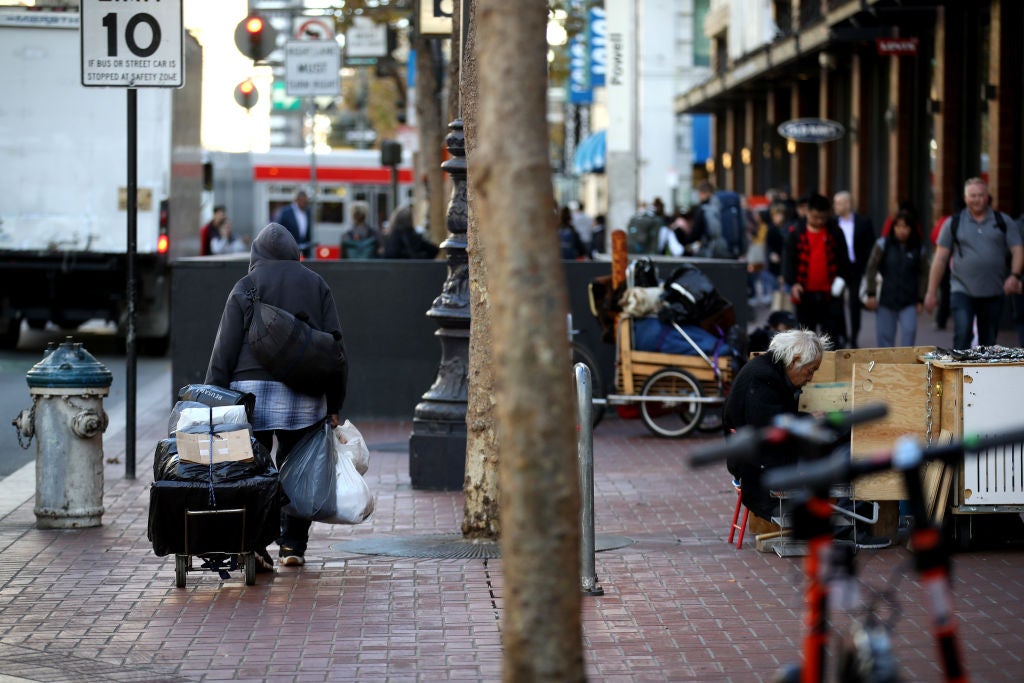 No issue divides the solidly liberal consensus in California quite like homelessness.
The Golden State, home to some of America's most progressive politics – and its biggest housing inequalities – has been coming apart at the seams over how to address homeless encampments, with major cities locked in contentious legal fights about the limits of their authority to address the problem. All told, California is home to nearly a third of the total US population of unhoused people.
As a federal appeals judge recently wrote, "Homelessness is presently the defining public health and safety crisis in the western United States."
And a feature defining that crisis has been legal conflict, sometimes between leaders of the same cities.
Most recently, the top county prosecutor in Sacramento, District Attorney Thein Ho, sued the state capital, alleging the city had moved from "utter collapse into chaos" over an alleged failure to dismantle homeless encampments and move people into shelters.
"The community is at a breaking point," he said at a press conference.
Other city leaders fired back, arguing the recently elected DA was ignoring existing city efforts and eschewing collaboration with his shot across the bow.
"No local government in the Sacramento region has done more to address the crisis on our streets: 1,200 new emergency beds, ordinances to protect sidewalks, schools and other sensitive sites; a legally binding partnership with the county; thousands of new affordable housing units – to name a few," mayor Darrell Steinberg wrote in a statement after the lawsuit was filed.
See Sacramento DA Thien Ho explain why he's suing city of Sacramento over homelessness
"The frustration that members of our community feel is absolutely justified," he added. "The Council has endorsed and is pressing for strong enforcement of our codes and the law. But the DA's lawsuit will not clear a single sidewalk nor get a single person off the streets."
The legal action paints a lurid picture of the at least 16 encampments in the city, describing a city in panic, with unhoused people strewing hypodermic needles on youth soccer fields and fire deparatments training to handle blazes sparked by outdoor cooking fires.
Between 2020 and 2022, hoemelessness in Sacramento County grew by 68 per cent, more than six times faster than in places like San Diego and Los Angeles.
"Across the nation, Sacramento was one of the places where homelessness grew the most," Marisol Cuellar Mejia of the Public Policy Institute of California recently told The New York Times.
The lawsuit comes after DA Ho threatened city officials with legal action if they didn't implement a list of desired policy changes in the next 30 days, including an expansion of prosecutorial staff and a daytime camping ban.
"It sadly appears the DA would rather point fingers and cast blame than partner to achieve meaningful solutions for our community," City Attorney Alcala Wood said in a statement after the lawsuit was filed.
Sacramento isn't the only city riven by divisions over encampments.
In September, a group of advocacy organisations called the Coalition on Homelessness sued San Francisco, alleging its homelessness sweeps and other enforcement actions were violating the Martin v Boise ruling, a federal Ninth Circuit appeals decision that declared it illegal to penalise homeless people on government property without offering them adequate shelter because it amounted to "cruel and unusual punishment" under the US Constitution's 8th Amendment.
In December, a federal judge issued a temporary injunction, halting encampment sweeps, prompting outrage from city officials, who appealed. The case is now before the Ninth Circuit.
The city has an unhoused population estimated at around 8,000, and on any given night, shelters have waiting lists hundreds of people long.
"[The City] insists on a charade that the City makes valid shelter 'offers' to unhoused individuals when the entire shelter system is at capacity, 400 individuals are waiting patiently on a waitlist to shelter to no avail, and the City itself doesn't know if any shelter will become available on a given day when it continues to threaten the enforcement of laws enjoined by the district court's injunction," Zal Shroff, an attorney representing the Coalition on Homelessness, recently told CBS News Bay Area. "We should expect better from our political leaders. San Francisco deserves better."
Meanwhile, officials including London Breed, the mayor of San Francisco, California governor Gavin Newsom, and various Silicon Valley tech leaders have all rallied against the suit, arguing the city should be able to keep clearing encampments because it is offering people valid forms of shelter.
Elon Musk went so far as to encourage tech leaders to boycott a lawfirm working on behalf of the advocates, arguing, "They want war? Let's give it to them," Mr Musk wrote on X, the social media platform previously known as Twitter. "We cannot let these snakes win or San Francisco will end up like Detroit."
Last week, at a Politico event in Sacramento, Governor Newsom said the state would file an amicus brief in support of San Francisco with the Ninth Circuit.
"I've had it," Mr Newsom, a former mayor of San Francisco himself, said. "I hope this goes to the Supreme Court, and that's a hell of a statement coming from a progressive Democrat out of California."
"People's lives are at risk; it's unacceptable what's happening on the streets and sidewalks," he added. "We're now complicit, all of us, at all levels of government and all branches of government."
He may get his wish on the issue, albeit in the form of a case from one of California's neighbours.
The Oregon city of Grants Pass has appealed a case to the Supreme Court over a camping ban of its own.
After the Martin v Boise ruling, unhoused people succesfully challenged a city rule that threatened civil penalties for violating anti-camping ordinances, prompting Grants Pass to appeal to the Ninth Circuit, which declined the city's requests.
"According to the City, it revised its anti-camping ordinances to allow homeless persons to sleep in City parks," the majority wrote at the time. "However, the City's argument regarding the revised anticamping ordinance is an illusion. The amended ordinance continues to prohibit homeless persons from using 'bedding, sleeping bag, or other material used for bedding purposes,' or using stoves, lighting fires, or erecting structures of any kind. The City claims homeless persons are free to sleep in City parks, but only without items necessary to facilitate sleeping outdoors."
This August, Grants Pass took the case to the Supreme Court, where the conservative majority could impact the consensus on divisive cases like Martin v Boise.
Even if the law does change, the bitter legal infighting in places like California shows that public leaders are vexed about the thorny problem of homelessness, even when they're all ostensibly on the same side.
Join our commenting forum
Join thought-provoking conversations, follow other Independent readers and see their replies