California to make most new homes have solar panels by law
State continues to embrace ambitious measures to combat climate change
Jeremy B. White
San Francisco
Thursday 10 May 2018 14:37 Comments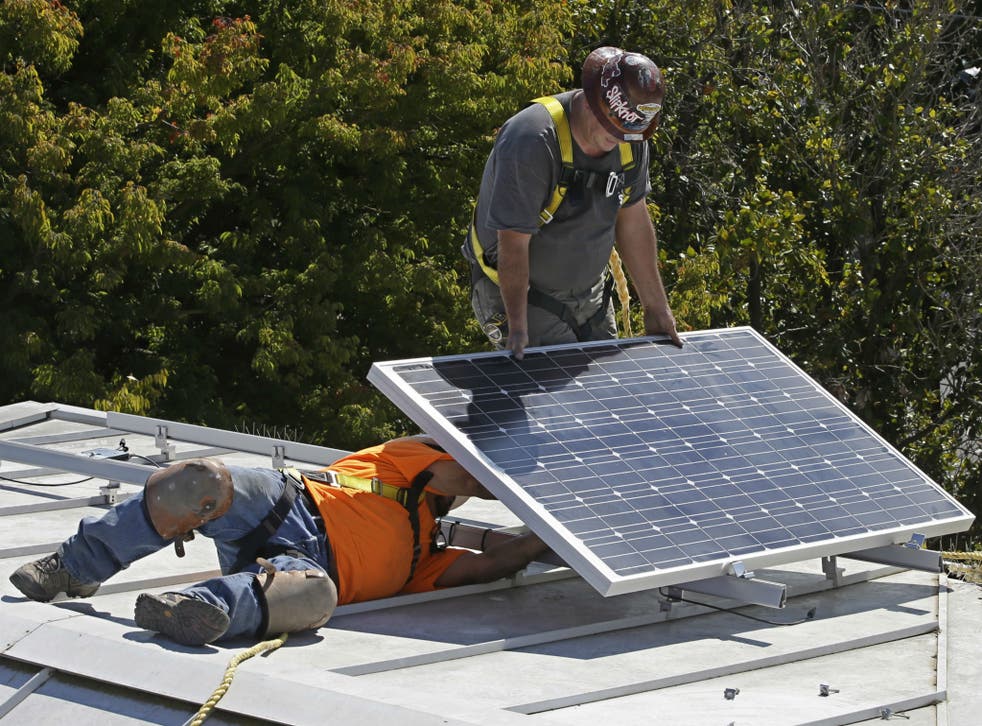 California is poised to become the first state to require solar panels on virtually every home under a newly passed rule.
The building standard approved by the California Energy Commission would mandate the existence of solar arrays on new single-family residences and on multi-family buildings of up to three stories.
Commissioners unanimously passed the proposal, saying it would bolster the state's efforts to combat climate change and help California accomplish its energy reduction goals.
"We cannot let Californians be in homes that are essentially the residential equivalent of gas guzzlers", said commissioner David Hochschild, who hailed the change - which takes effect in 2020 - as a "very bold and visionary step".
The state is working towards cutting emissions to their 1990 levels by 2020 and has a goal of making all new homes "net energy zero" by 2020 - in other words, ensuring they do not consume more than they produce.
The measure seeks to help California get there, but it will also add to housing costs in a state that is already facing a dire shortage and soaring real estate prices. An official analysis found that the solar mandate would add about $9,500 to the price of building a single-family residential home.
Solar Technology in the UK

Show all 7
But those costs would be offset by reductions energy savings, the commission predicted, estimating that the average single-family home would save about $19,000.
Given California's size - it is America's most populous state and the world's 5th-largest economy - its decisions can influence the rest of the country. Robert Raymer of the California Building Industry Association suggested that the state's "quantum leap in statewide building standards" would ripple outwards.
"You can bet every other of the 49 states will be watching closely to see what happens", he said.
Nasa finds solar system with as many planets as our own
The California Building Standards Commission must still approve the change.
In recent years the state has enacted ambitious measures to curb carbon emissions and blunt the effects of climate change, which outgoing Governor Jerry Brown has made his signature issue. A law championed by Mr Brown requires that 50 per cent of the state's electricity to be derived from renewable sources by 2030.
Register for free to continue reading
Registration is a free and easy way to support our truly independent journalism
By registering, you will also enjoy limited access to Premium articles, exclusive newsletters, commenting, and virtual events with our leading journalists
Already have an account? sign in
Join our new commenting forum
Join thought-provoking conversations, follow other Independent readers and see their replies