Trump-backing anti-maskers storm California shop: 'I don't want underwear over my face!'
According to bystanders, people wearing MAGA hats pushed their way into the store and asked people to remove masks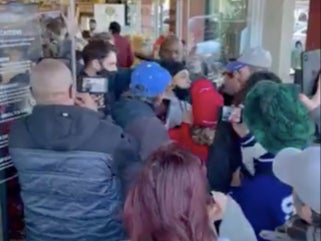 A crowd of around 50 maskless people stormed into a grocery store in California, flouting safety guidelines, in what they said was a protest against mask restrictions getting "out of hand".
Los Angeles police were called to the grocery store in  Erewhon Market in the Fairfax district after the crowd began aggressively questioning the store's employees and customers, according to a report by KTLA TV.
The police said the crowd was protesting safety guidelines by either taking off their masks inside the store or entering without a face covering.
The protesters were heard chanting slogans like "Open up LA!" One person yelled: "They want you to wear a mask, they want you to lock down!"
A bystander, Ira Brian Miller, posted the video of the crowd chanting and aggressively pushing people in order to enter the store. Speaking to the LA Times, Mr Miller, a resident of West Hollywood, said the crowd was "pushing their way in."
"They were trying to push the workers out of the way for them to enter the store," said Mr Miller. He also said he heard protesters asking people to take off their mask.
A woman who was part of the protest wearing a red "MAGA" hat told the Daily Beast: "The masks do nothing! That's why you can wear anything! I don't wear underwear over my face! I'll pull off my underwear right now and put them over my face."
KTLA News quoted another protester saying they showed up because they feel coronavirus restrictions have gotten out of hand.
"We're not here coughing everything, smearing everything," said Jason Traver, one of the organisers of the protest. "We just want to shop, we want to take our own precautions that we've been doing all of our lives, and we'll be fine."
Mr Traver also said he feels the vaccine will be "a whole can of worms" and he'd "rather people just step up and fight."
The police said the situation was eventually brought under control and the protesters left the store. They said no arrests were made in the incident.
Los Angeles County has seen over 746,000 cases of coronavirus so far with over 9,000 deaths. A record 7,181 people were hospitalised with Covid-19 in LA on Tuesday. 
Join our commenting forum
Join thought-provoking conversations, follow other Independent readers and see their replies