California wildfire: 100 homes evacuated as blaze fanned by winds of up to 50 mph
Local fire department says the blaze is less than 10% contained and will take at least three days to get under control
Sunday 27 December 2015 00:40 Comments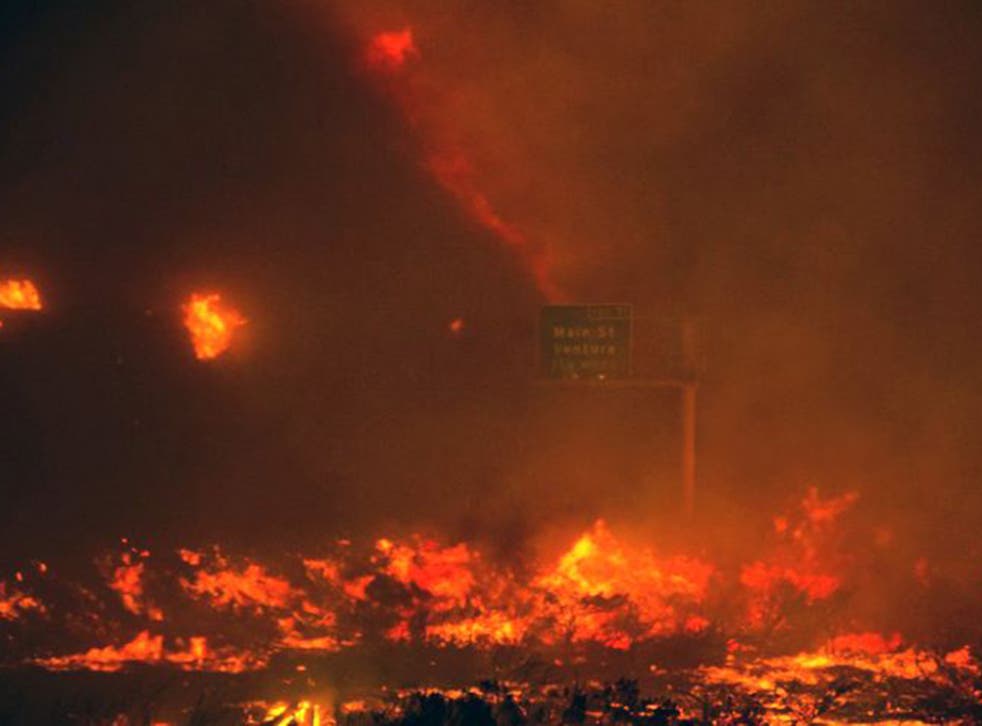 A wind whipped wildfire swept across around 1,250 acres of land to the northwest of Los Angeles, leading to Boxing Day evacuation orders being given to at least 100 homes.
More than 600 fire fighters battled the blaze in Ventura County from ground and air but they were unable to prevent the closure of part of a major motorway, Highway 101.
Two firefighters had sustained minor injuries while battling the fire, Ventura County Fire Department Captain Mike Lindbery, told reporters.
Officials are still trying to determine what caused the blaze which exploded late Christmas Day, fanned by winds of up to 50 mph.
No structures had been damaged and none were immediately threatened, but road closures could make it difficult for people to flee if they needed to, Ventura Fire Chief, Fred Burris, told NBC News.
The fire is less than 10 per cent contained and it will take at least three days to get it under control, he added.
The county has had less than a tenth of an inch of rain in the last six weeks and officials said the dry conditions and brush were not aiding their battle.
Helicopters and fixed-wing tankers were helping to battle the blaze with water drops.
The fire started at around 11 pm local time on Friday near Ventura, and strong winds and dry vegetation caused it to grow rapidly, fire officials added.
Register for free to continue reading
Registration is a free and easy way to support our truly independent journalism
By registering, you will also enjoy limited access to Premium articles, exclusive newsletters, commenting, and virtual events with our leading journalists
Already have an account? sign in
Join our new commenting forum
Join thought-provoking conversations, follow other Independent readers and see their replies