California wildfire: Should inmates be fighting the state's worst ever blaze?
Civil rights activists say that the incarcerated firefighters should be getting the same pay as their non-incarcerated peers. But, the programme can save the state up to $100m a year in firefighting costs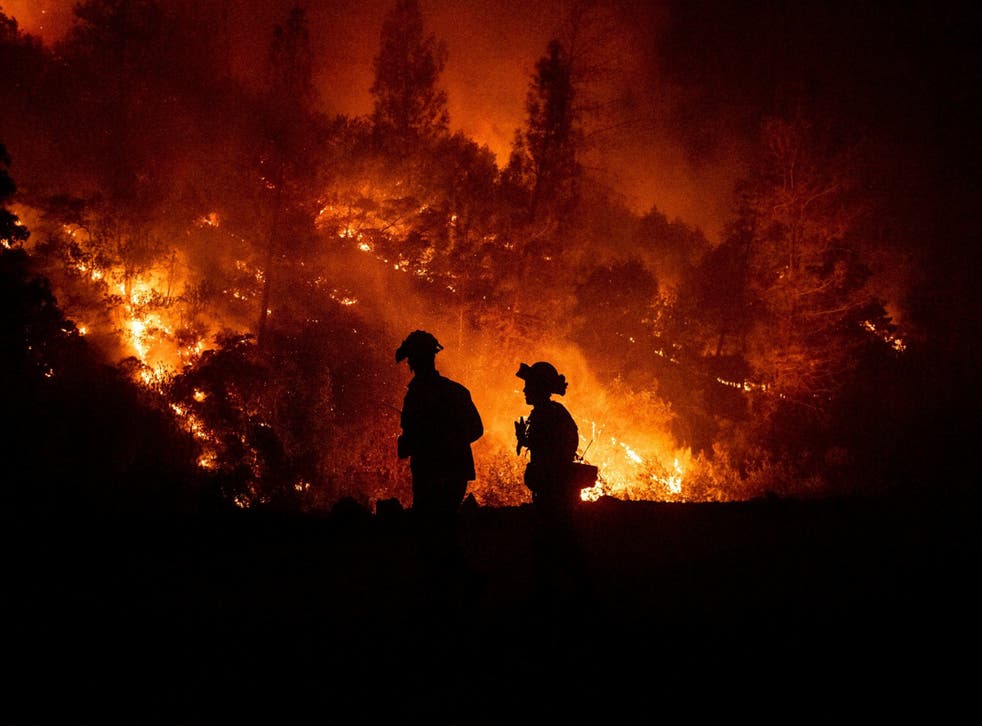 With the largest wildfire in the state of California's history razing homes and businesses, the paid, professional firefighters who have been deployed by the thousands there to save lives are getting help from what may seem like an unexpected place: the state's prisons, and thousands of felons who have signed up to risk their lives for just dollars a day.
More than 2,000 inmates have volunteered to join an army of 14,000 firefighters fighting at least three massive fires in the state, including 58 youth offenders, in a role that often results in 24-hour shifts where workers face potentially fast-changing conditions that could put firefighter lives in danger within moments.
While the inclusion of inmate firefighters has provided a helpful boost to the response – and saved the state government as much as $100m – their employment has raised questions about whether the conditions of their work are exploitative – and whether it makes sense to pay people dramatically differently when they're facing down the same potentially deadly threats.
"Absolutely – this is very inhumane," Clarise McCants, the campaign director for the group Colour of Change, said, citing a vast pay inequity between incarcerated firefighters and those who did not come from state prisons to work.
"And, there needs to be a really big change so that people are actually treated fairly, so they have increased pathways to get out of prison early, so there's fairness in that, and that they're actually able to make a living once they get out," Ms McCants continued.
Emergency firefighters in California make at least $11 per hour (£8.50), according to the California Department of Forestry and Fire Protection (Cal Fire), which oversees emergency fire responses in the state. That pay – which jumps to at least $16.50 an hour for overtime – dwarfs that of the inmates who make $2 a day, plus another $1 for each hour they spend fighting an active fire during that time. Those responders – incarcerated or not – face a daunting task to stop what may become the worst fire season in California history.
California wildfires: thousands flee homes after devastating blaze

Show all 15
Already, the state has experienced its largest fire – the Mendocino Complex fire which has burnt up 450 miles' worth of northern California – in history, while another massive fire, the Carr fire, has simultaneously burnt roughly 271 miles worth of Golden State lands.
That massive scale of destruction has had a devastating impact on the communities in the fires' paths. The Mendocino Complex fire has destroyed at least 75 homes, and burnt down at least another 68 buildings. The Carr fire, meanwhile, has destroyed at least 1,077 homes, and over 500 other buildings.
And, in that process, at least seven people themselves have died in the blazes.
The inmate firefighters – all individuals without records of arson, sexual crimes, escape attempts, kidnapping, gang affiliations, or life sentences – who have volunteered to help out have all made something of a gamble in their decision to jump on the front line of the battle against nature and the dry, hot, and unforgiving circumstances near those infernos.
In addition to the elevated pay compared to their incarcerated peers who opt out of the programme, they can also receive time off of their sentences for good behaviour, often two days off for each day fighting fires. They can reportedly get better meals, and extended periods outdoors that would not normally be afforded inmates in the state's correctional facilities.
Still, though, "the pay is ridiculous", La'Sonya Edwards, an incarcerated firefighter, told The New York Times last year during the fire season. "There are some days we are worn down to the core. And this isn't that different from slave conditions. We need to get paid more for what we do."
Families of incarcerated firefighters do not receive death benefits, as was the case following the death of 22-year-old Shawna Lynn Jones, who was killed in 2016 while fighting fires.
Danica Rodarmel, an attorney with the Lawyers' Committee for Civil Rights of the San Francisco Bay Area, said that, even for Californians facing down the potential destruction of their home, the struggles facing the incarcerated firefighters can be surprising. Many, she noted, may face difficulties becoming a firefighter after being released from prison, as firefighters are often required to get Emergency Medical Services licenses before joining a force – a license frequently denied to felons.
Ms Rodarmel recalled that last October she had to rush home to her family home in Santa Rosa to help with community coordination as a different wildfire threatened to burn down homes in the community, and that she saw first hand as Californians began to realise that there were incarcerated firefighters working to save their communities from destruction just over a ridge.
"It was really amazing to watch people learn that so many of the people who were just over the hill, who were fighting the fire, were people who were incarcerated," Ms Rodamel said. "And, watch as my community really was horrified by the fact that they weren't going to be able to get these jobs when they would be released."
The California Department of Corrections has been contacted for comment.
Register for free to continue reading
Registration is a free and easy way to support our truly independent journalism
By registering, you will also enjoy limited access to Premium articles, exclusive newsletters, commenting, and virtual events with our leading journalists
Already have an account? sign in
Register for free to continue reading
Registration is a free and easy way to support our truly independent journalism
By registering, you will also enjoy limited access to Premium articles, exclusive newsletters, commenting, and virtual events with our leading journalists
Already have an account? sign in
Join our new commenting forum
Join thought-provoking conversations, follow other Independent readers and see their replies