Almost half of Canada want illegal immigrants deported, finds poll
When Donald Trump issued an immigration ban Prime Minister Justin Trudeau said he would welcome refugees rejected from the US
Samuel Osborne
Tuesday 21 March 2017 16:12 Comments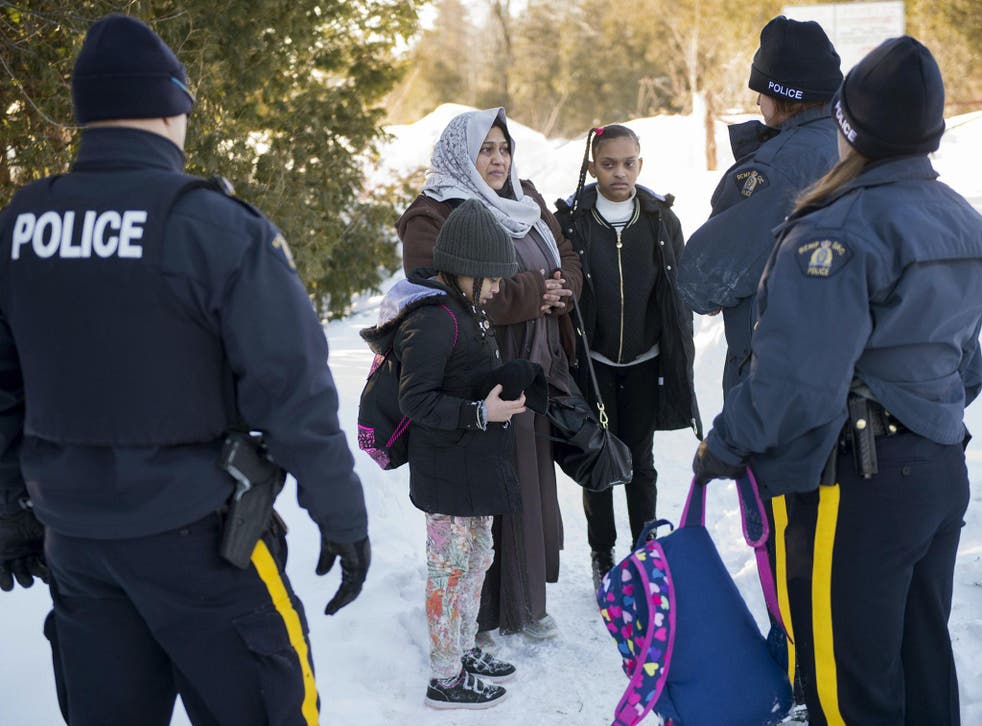 Almost half of Canadians want people who entered the country illegally to be deported, a poll has found.
Growing numbers of asylum-seekers are coming to Canada in the wake of the election of US President Donald Trump, who has pledged to crack down on refugees and undocumented immigrants.
A spike in refugee claims for the first two months of 2017 put Canada on track for the highest number since at least 2011. A fifth of those claimants were caught crossing the border illegally.
The Reuters/Ipsos poll found 48 per cent of respondents want to deport illegal immigrants to the US, while only 36 per cent wanted to accept them as they seek refugee status.
More than 40 per cent said such migrants would make Canada less safe.
Justin Trudeau moved to tears when reunited with refugee family he welcomed last year
When Mr Trump issued his first immigration ban, Canadian Prime Minister Justin Trudeau said Canada would welcome refugees who had been rejected by the US.
However, when asked if they support the way the Trudeau government has handled the issue of migrants crossing from the US, 46 per cent said they did not.
Statistics released by the government show 5,520 people made refugee claims in Canada in January and February.
If the pace of asylum-seekers keeps up, it will mean upwards of 33,000 refugee claims filed in Canada this year, almost 40 per cent higher than 2016.
World news in pictures

Show all 50
Despite the images of individuals hauling babies and belongings across the snowy border, only 20 per cent of those who have filed refugee claims in Canada so far this year, 1,134, were intercepted by Royal Canadian Mounted Police as they crossed the border illegally.
Of those, the majority, 677, were caught crossing into Quebec, with the rest in British Columbia and Manitoba (and five in the prairie province of Saskatchewan).
Register for free to continue reading
Registration is a free and easy way to support our truly independent journalism
By registering, you will also enjoy limited access to Premium articles, exclusive newsletters, commenting, and virtual events with our leading journalists
Already have an account? sign in
Register for free to continue reading
Registration is a free and easy way to support our truly independent journalism
By registering, you will also enjoy limited access to Premium articles, exclusive newsletters, commenting, and virtual events with our leading journalists
Already have an account? sign in
Join our new commenting forum
Join thought-provoking conversations, follow other Independent readers and see their replies