Record numbers of refugees fleeing United States for Canada
Charities are warning an even greater influx could be on the horizon with Donald Trump in the White House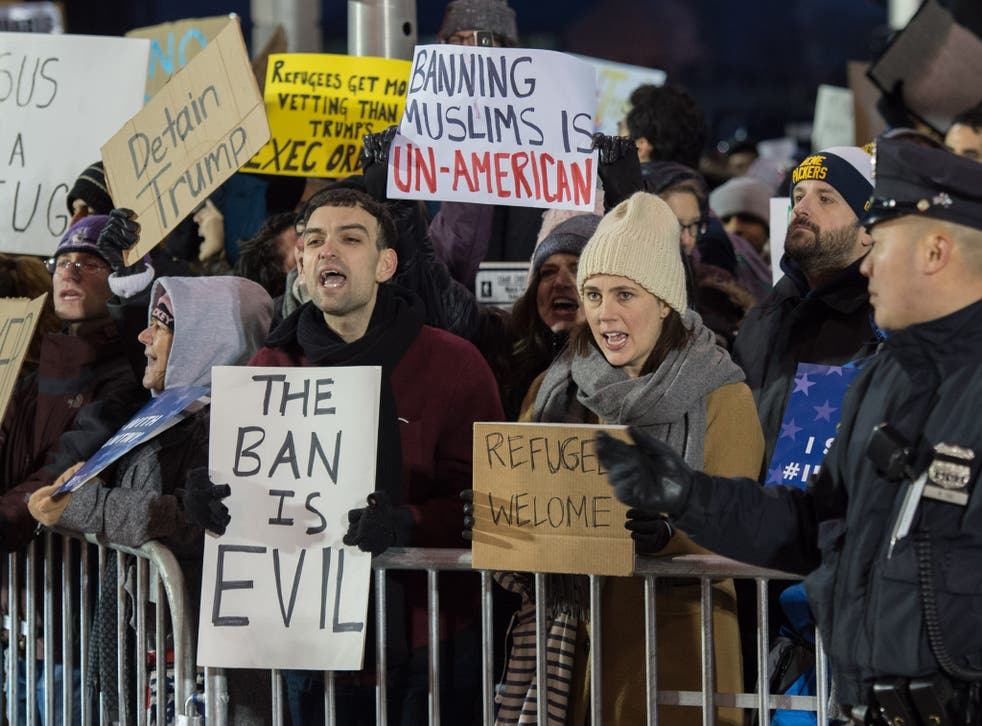 Record numbers of refugees in the US are fleeing to Canada as uncertainty about Donald Trump's immigration policies continues.
The Welcome Place refugee agency in the central province of Manitoba, said it had helped 91 people since November, more than the total number of claimants it normally sees in a year.
Most braved freezing conditions to cross the border, walking miles through snow-covered prairie fields into Canada so they could avoid official border checks.
Maggie Yeboah, president of the Ghanaian Union of Manitoba, said that two men lost all their fingers to frostbite in December and nearly froze to death.
"We haven't had something before like this," she said. "We don't know what to do."
She added that 27 Ghanaian men had walked to Manitoba from the United States since last summer. Her organisation helps refugees access medical attention and housing.
Charities are now warning that an even greater influx could be on the horizon after Donald Trump issued an executive order temporarily suspending America's refugee resettlement programme and permanently barring Syrian refugees from entering the US.
The measures, which have since been suspended, also barred citizens from Yemen, Iraq, Iran, Libya, Somalia, Sudan and Syria, from travelling to the US. It resulted in travellers being detained or deported even if they had a valid visa or green card.
"They will make a dash for Canada, whether they are going to go through cold weather to die or not," said Abdikheir Ahmed, a Somali immigrant in Manitoba's capital Winnipeg who helps refugees make immigration claims.
More than 7,000 refugee applicants entered Canada in 2016 through land ports of entry from the United States, up 63 per cent from the previous year, according to the Canada Border Services Agency (CBSA).
Over 2,000 more entered "irregularly" during a similar time period, without official authorization. Some crossed unmonitored fields along the 5,525 border - the longest in the world between two countries.
Canada's Prime Minister Justin Trudeau committed to admitting tens of thousands of Syrian refugees when he took office in 2015.
"While the majority of the world is turning their backs and building walls, the fact that Trudeau took this bold humanitarian goal put [Canada] on the map," said Chris Friesen, director of settlement services at Immigrant Services Society of British Columbia.
But this year, Canada plans to take only 7,500 government-assisted refugees - less than half last year's number. People eager to sponsor refugees find themselves waiting years to do so.
Canadian Council for Refugees, Amnesty International and the Canadian Civil Liberties Association, are demanding Canada abandon the Safe Third Country Agreement that requires people to apply for asylum in the first of the two countries they arrive in.
However, the government is standing by the agreement, Immigration Minister Ahmed Hussen told Canada's House of Commons last week.
Canadian Council for Refugees executive director Janet Dench said if the government refuses to act, her group will sue.
"We are talking about people's charter rights…so, yes, we would expect to see something in the courts," she said.
Register for free to continue reading
Registration is a free and easy way to support our truly independent journalism
By registering, you will also enjoy limited access to Premium articles, exclusive newsletters, commenting, and virtual events with our leading journalists
Already have an account? sign in
Register for free to continue reading
Registration is a free and easy way to support our truly independent journalism
By registering, you will also enjoy limited access to Premium articles, exclusive newsletters, commenting, and virtual events with our leading journalists
Already have an account? sign in
Join our new commenting forum
Join thought-provoking conversations, follow other Independent readers and see their replies