Caught on tape discussing Dilma Rousseff, top ally of Brazil's Michel Temer steps aside
Arguably most serious of all is suggestion that the Brazilian military was in on the plot to jettison Rousseff
David Usborne Comments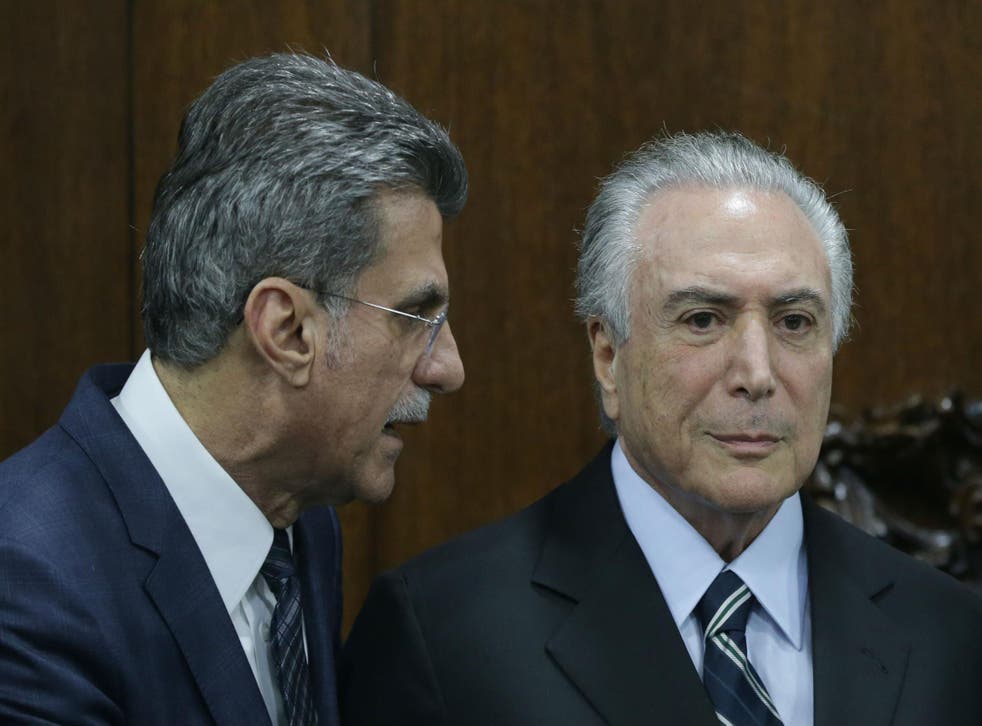 Brazil's interim leader Michel Temer is facing his first full-blown political crisis following the release of tape recordings seemingly showing that the suspension two weeks ago of President Dilma Rousseff was the result less of legitimate constitutional complaints and more of a plot.
After a day of frantic speculation in the capital, Brasilia, the country's barely installed planning minister and top Temer ally, Romero Juca, announced he was temporarily stepping aside after admitting earlier in the day that his was one of two voices heard on the tape
"Starting from tomorrow, I will step aside," Mr Juca told a huddle of reporters in the capital Brasilia. The drama around him comes just as Mr Temer is embarking on a rapid-fire set of reforms to try to tackle Brazil's spiraling economy. Getting them to stick will now be more difficult and his opponents will be emboldened to protest his proposed reforms.
Mr Temer became interim president of Latin America's largest economy earlier this month after the upper chamber of the National Congress voted to suspend Ms Rousseff and begin an impeachment trial against her on charges she fiddled the nation's books to paper over a dire budget deficit. She and her allies contended however that she was in fact a victim of a "coup".
The bomb was dropped on the Temer team early Monday when one of Brazil's leading papers, the Folha de São Paulo, released chunks of a 75-minute conversation from early March between Mr Juca, who was then a Senator, and Sergio Machado, also a former senator and the head of a state oil company. Who made the tape and why is not clear.
The excerpts depict the two men discussing their distaste for the long-running 'Car Wash' probe of widespread kickbacks and bribes involving the oil giant Petrobras and numerous senior political figures and how only by removing Ms Rousseff would they be able to stymie it.
In an earlier press conference, before confirming his decision to step aside, Mr Juca insisted that the paper had taken parts of the taped conversation out of context.
"There isn't the tiniest chance of any interference of the executive power in any sort of investigation," he said. "Personally, I've always defended the Lava Jato (Carwash) operation … I've always said that I consider the Lava Jato operation a positive change in Brazilian politics, a paradigm change for the relationship between political parties, candidates and companies."
But his protestations may not bail him out, in part because the parts of the tape released by the paper seem to back up precisely what many of Ms Rousseff's defenders have been insisting: that her foes had been maneuvering behind the scenes for months to get rid of her.
"We have to stop this shit," Mr Juca is heard saying of the Car Wash probe on the tape. "We have to change the government to be able to stop this bleeding." Mr Macado is then heard to say: "The easiest solution would be to put in Michel [Temer]." They were talking just weeks before the lower chamber of Congress moved first to begin the impeachment process.
As alarming as anything, however, are remarks made by Mr Juca suggesting that he had directly sought - and received - reassurances of support for an effort to displace Ms Rousseff from both the Brazilian military and its Supreme Court, comments which seem to show a deliberate blurring of constitutional demarcations between different arms of the state.
Any notion of connivance with the military to oust a president in particular will spread alarm among those Brazilians who haven't forgotten their country's long period of military dictatorship ending only 1985. "I am talking to the generals, the military commanders," the then senator is heard telling Mr Machado. "They are fine with this, they said they will guarantee it."
Members of the Workers' Party who have found themselves sidelined alongside Ms Rousseff, its leader, since her ouster, seized on the revelations as evidence that the Brazilian people had been duped by the claims that the impeachment move was legitimate.
"This only confirms what we have been talking about for some time: it confirms the coup against Dilma," said Paulo Rocha, the Senate leader for her Workers' Party.
On the tape, Mr Juca is also heard suggesting that the Brazilian press has also been brought on side. "The press wants to take her [Dilma] out," he is heard saying.
Dozens of top political figures both from Ms Rousseff's Workers Party and from the more centrist Democratic Movement Party of Mr Temer have been imprisoned or charged in the still widening Car Wash probe. Seven of Mr Temer's ministers were picked for his cabinet in spite of being under investigation.
Investigators have said that kickbacks paid to politicians and government officials came to more than $2 billion.
The sudden emergence of the tapes sent both Brazil's main stock index and its currency down on Monday as investors feared Mr Temer's promise of economic reforms were in peril.
Register for free to continue reading
Registration is a free and easy way to support our truly independent journalism
By registering, you will also enjoy limited access to Premium articles, exclusive newsletters, commenting, and virtual events with our leading journalists
Already have an account? sign in
Join our new commenting forum
Join thought-provoking conversations, follow other Independent readers and see their replies