Cecil the lion death: Police step up patrols at office of US dentist Walter Palmer after 'terroristic threats'
Dr Palmer's surgery has been closed after a deluge of online attacks and a petition to extradite him to Zimbabwe to face criminal charges
Caroline Mortimer
Thursday 30 July 2015 21:31 Comments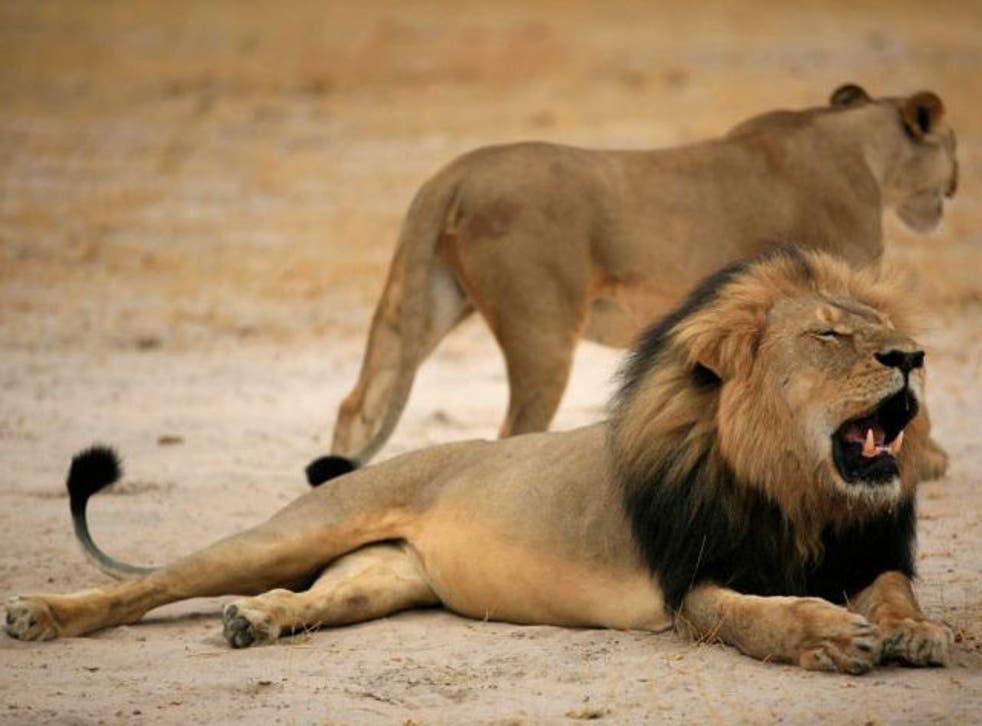 Patrols have been stepped up at the offices of the US dentist who shot Cecil the lion following a report of "terroristic threats", police have said.
The dentist was reportedly 'in hiding' following a barrage of protests and online attacks after he was identified as the man who shot the famous lion in Zimbabwe
Police in Minnesota have warned the dentist who shot the famous lion in Zimbabwe dead is facing "terroristic" threats.
In an email to Reuters, the deputy chief of Bloomington Police said the force had stepped up patrols around the besieged office of Walter Palmer in Minneapolis after a phoned in threat.
Deputy chief Mike Hartley said: "A terroristic threats report related to this incident was taken by our police department yesterday and will be investigated like any other similar offense report."
It comes as local animal rights activists staged a protest outside Dr Palmer's office on Wednesday and left a small memorial of stuffed animals at the building's entrance.
Outraged animal lovers have descended on Dr Palmer's business calling him a "coward" and saying he should suffer the same way Cecil did.
Many used reviews website Yelp to give the practice 5,000 one star ratings with one saying Mr Palmer has "singlehandedly ruined [his] own business".
Celebrities such as supermodel Cara Delevingne and comedian Ricky Gervais have lead Twitter in outrage with Ms Delevingne calling Dr Palmer "a poor excuse of a human being".
Cecil, regarded as something of a national treasure in the country, was lured out of Hwange National Park using bait before being shot with a bow and arrow by hunting enthusiast Dr Palmer.
He is believed to have been wounded for around 40 hours before being shot dead with a gun.
The 13 year old lion was then decapitated and skinned.
Dr Palmer has said he regrets killing the lion in a letter to patients and said he believed the hunt was legal at the time.
He is believed to have paid $55,000 to arrange the hunt.
The most controversial animal killings

Show all 6
Two Zimbabwean men have appeared in court charged with poaching in connection with the case. If they are found guilty they could face up to 10 years in jail.
Dr Palmer has not been charged in connection with Cecil's death but a Change.org petition has called on President Barack Obama to extradiate Walter Palmer to Zimbabwe because "his actions have damaged the reputation of the United States".
Additional reporting by Reuters
Register for free to continue reading
Registration is a free and easy way to support our truly independent journalism
By registering, you will also enjoy limited access to Premium articles, exclusive newsletters, commenting, and virtual events with our leading journalists
Already have an account? sign in
Join our new commenting forum
Join thought-provoking conversations, follow other Independent readers and see their replies