Central Park hosts an all-female, naked production of The Tempest
11 women admirably ditch their costumes to promote body freedom and free expression
Rachael Revesz
New York Comments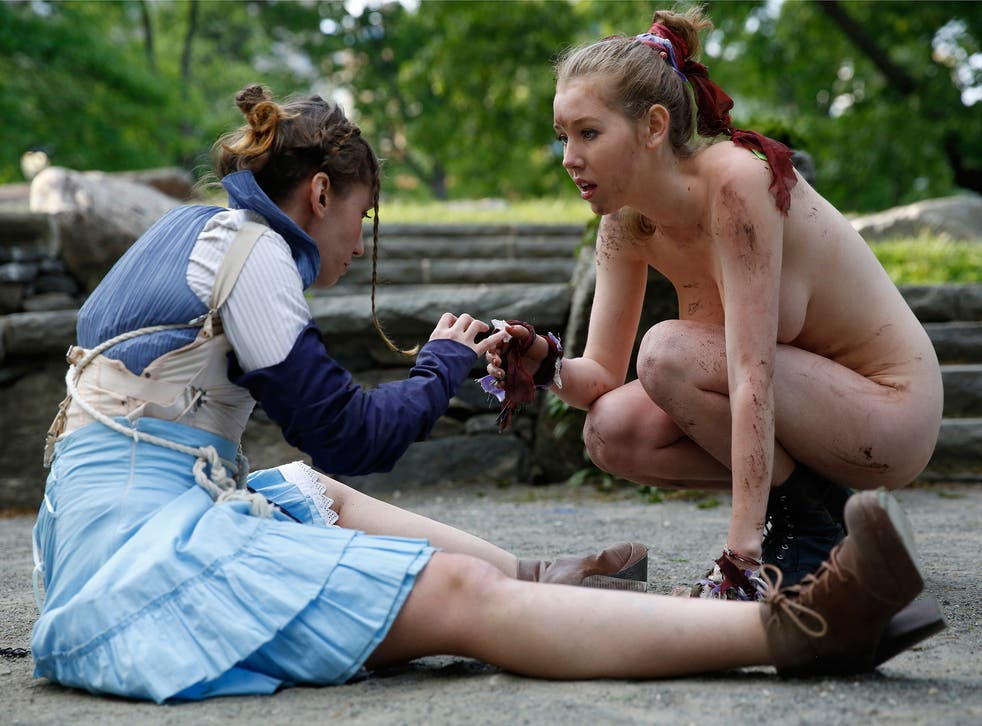 For an actor, reeling off endless lines of Shakespeare is a demanding job. Shouting it over the din of planes, helicopters and ambulance sirens whizzing past New York's Central Park is even tougher. Doing it all naked however, in front of hundreds of onlookers – who would do that?
An all-female cast as it turns out. Made up of individual actors as well as members of the Outdoor Co-ed Topless Pulp Fiction Appreciation Society. They're currently performing their thoroughly modern version of The Tempest in Central Park.
Surrounded by lush grass and green trees, while the audience settles itself on the ground and on benches at the iconic Summit Rock, a naked Miranda (Marisa Roper) is wandering around her supposed tropical island, picking up sticks and dropping them again.
She is approached by a lost tourist with a map. She admirably ignores him and carries on acting her part.
She is joined by her father Prospero (Gina Marie Russell), who really commands her nakedness, striding around and brandishing her stick to conjure all that manipulation and illusion to make sure Miranda is restored to her rightful place in society.
As the plot evolves, the rest of the cast appear, some in body paint, some in clothes, but by the end, all 11 women are butt naked and taking a bow.
Why naked? The company said not wearing clothes is about "body freedom and free expression", and that those freedoms should not be taken for granted, even in a state so liberal that it has two democratic senators.
Topless Tempest in New York's Central Park

Show all 9
The play may be free, but novelty is aplenty. Half way through the 90-minute performance, the colourfully painted Ariel (Reanna Rone) and her companions run towards the audience and guide them higher up the rock to sit on a different patch of grass.
Unlike the much coveted tickets for the annual Free Shakespeare in the Park, this production of The Tempest was keen to encourage passers-by to take a look. In such a busy and eccentric city as New York, these women are braver than most.
One elderly man was stood near the back row with his binoculars out (below), while another was snorting loudly, punching his hand into his fist and wandering around in small circles.
In the final scenes, the audience watches, rather uncomfortable on the ground, as Miranda unites with Ferdinand (Kara Lynn), the prince of Naples. The women sit side by side on the bough of a tree, smiling at each other. They look like twins and it's slightly odd.
Directed by Alice Mottola and Pitr Strait, the actors make good use of the space, and they do an incredible job of not forgetting their lines amid the craziness of the park.
But the pitfalls of setting a Shakespeare play so close to the road means everything serves as a distraction, including the police cars, the eagle flying overhead – or was it a seagull? – and the bizarre members of the audience, who, at points, were each worth a closer look than the production itself.
It felt like one had once again stumbled upon a group of students from a university society who have dressed up in medieval garb and are play-fighting in the woods.
Woman strips naked in Paris museum and films it
There is an important point to it, but sometimes it's easy to forget what.
The Tempest will play at 2.30pm at Summit Rock, New York City on Friday 20 May
Register for free to continue reading
Registration is a free and easy way to support our truly independent journalism
By registering, you will also enjoy limited access to Premium articles, exclusive newsletters, commenting, and virtual events with our leading journalists
Already have an account? sign in
Join our new commenting forum
Join thought-provoking conversations, follow other Independent readers and see their replies