Chapel Hill shooting: Father of murdered students calls for hate crime charges
Suspect's wife says her husband's actions went no further than an ongoing dispute over parking spaces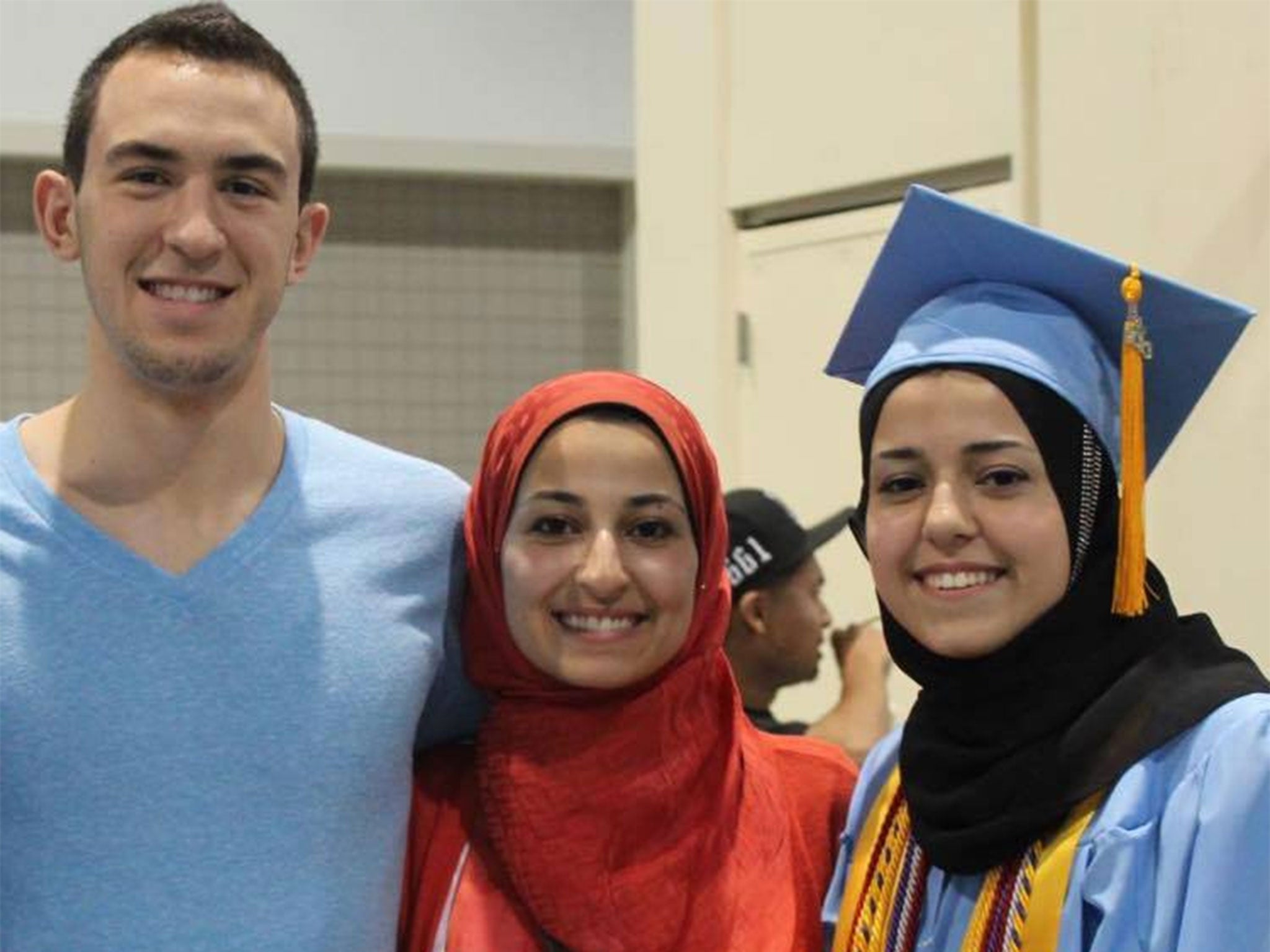 A man has been charged with the triple murder of three students who were found dead in their North Carolina home.
Craig Stephen Hicks is accused of shooting Yusor Mohammad Abu-Salha, 21, her husband, Deah Shaddy Barakat, 23, and her 19-year-old sister, Razan Mohammad Abu-Salha.
The fatal encounter happened on Tuesday close to the University of North Carolina campus in Chapel Hill, where the three victims studied.
Police said they had found no evidence of any motivation beyond a confrontation over parking spaces, but that their investigation was continuing. The fact that all three were Muslims has led to speculation on social media about whether their faith played a role in the shooting.
"We will exhaust every lead to determine if this was the case," a police statement said.
Dr Mohammad Abu-Salha, father of the two women, said that whatever triggered the killings he considered that hatred of Islam was surely involved. "It was execution style, a bullet in every head," he told a local paper, the News & Observer.
"This was not a dispute over a parking space; this was a hate crime. This man had picked on my daughter and her husband a couple of times before, and he talked with them with his gun in his belt."
Mr Hicks used his Facebook page to expound on his disdain for religions. "I give your religion as much respect as your religion gives me," he wrote.
Pressure on the police to investigate the killings as a hate crime was also applied by the Council on American-Islamic Relations. "We urge state and federal law enforcement authorities to quickly address speculation of a possible bias motive in this case," Nihad Awad, a spokesman, said.
Karen Hicks, the suspect's wife, said on Wednesday that her husband's actions went no further than an ongoing dispute over parking at the residence.
"I can say that it is my absolute belief that this incident had nothing to do with religion or the victim's faith, but in fact was related to long-standing parking disputes my husband had with various neighbors regardless of their race, religion or creed," Ms Hicks said in a statement.
Mr Hicks appeared in court today and remains in custody.
Join our commenting forum
Join thought-provoking conversations, follow other Independent readers and see their replies