Charleston shooting: Fury over Confederate flag used on Dylann Roof's car still flying over South Carolina state house after 'racist' massacre
The massacre reignited the debate about the controversial symbol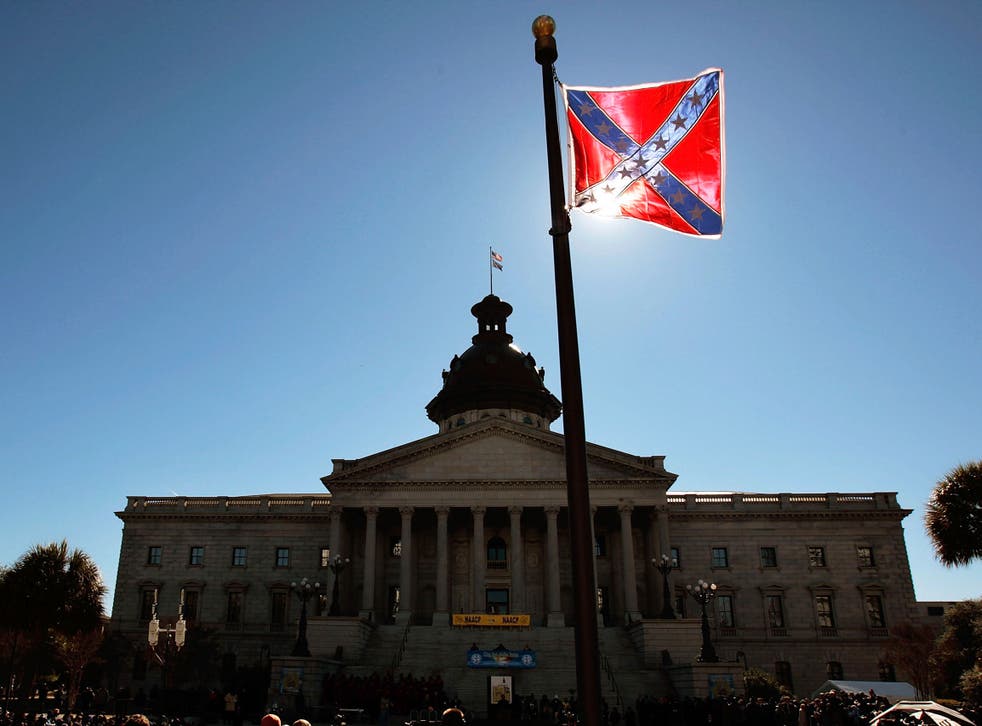 As flags across South Carolina were flown at half-mast in mourning for the Charleston church massacre, the Confederate banner still fluttered high outside the state house.
The red, blue and white flag is a divisive symbol in the US, more than 150 years after it was used as the symbol of the failed Confederacy during the Civil War.
Many people in the South embrace it as a badge of their shared history and independence from the federal government in Washington but its use by white supremacists and links to slavery and racial segregation mean it is frequently associated with racism.
Cornell Brooks, national president of the National Association for the Advancement of Colored People, called for the flag to come down during a press conference on Friday.
"That symbol must be removed from our state capitol," Mr Brooks said. "That flag has to come down."
Dylann Roof, the 21-year-old white man charged with gunning down black members of the Emanuel African Episcopal Methodist Church, displayed it on his car's number plate.
Florist Debbie Dills ended a 14-hour manhunt yesterday when she noticed the symbol and his distinctive haircut 250 miles north of the crime scene.
Roof was stopped and arrested after she alerted police and is currently in custody after being charged with nine counts of murder and gun possession.
Even before the link with Roof's car was revealed, people were voicing their fury on Thursday that with other flags lowered in mourning, the Confederate banner fluttered proudly at full height outside the South Carolina state house.
Outrage at the sight has sparked the creation of numerous petitions garnering thousands of signatures.
In pictures: Charleston vigil

Show all 6
Retired WWE wrestler John Layfield wrote on Twitter: "The Confederate Flag has come to symbolise hatred, discrimination and ignorance. I find it repulsive, shame on anyone for flying it."
Desiree Adaway wrote: "Maybe when y'all start asking "why", the Governor can look at the Confederate flag flying over state capital."
Other commenters called it the flag of an "apartheid" state and some called for it to be outlawed like the swastika is in Germany, taken down or even burned.
More than 30,000 tweets were posted on the subject, with some people claiming the attitudes allowing the Confederate flag to fly are on the same spectrum as those that drove a white gunman to massacre black people after allegedly telling them: "You are raping our women and taking over the country."
The symbol is considered so offensive that its display is banned by some authorities in the US but its presence is protected by law in South Carolina and only the state's General Assembly can order it to be taken down.
It is reported not to be on a pulley system, meaning that it cannot be partially lowered and would have to be removed entirely.
In an unrelated ruling yesterday, the US Supreme Court found by a narrow margin that Texas did not violate the Constitution's free-speech amendment when it denied a request from the 30,000-member Sons of Confederate Veterans group for a state-approved Confederate flag license plate.
Mississippi is the only state to feature the symbol on its official state flag, where it appears in the canton after a vote to change it was defeated in 2001.
It was not the only controversial flag that Roof employed.
His Facebook profile picture showed him wearing a jacket with the former flag of apartheid era South Africa and that of Rhodesia, now Zimbabwe, when it was under white minority rule.
Former acquaintances of Roof have come forward since his arrest to claim he had been planning the attack for months and wanted to start a racially-fuelled "civil war" in the US.
It was unclear whether Roof is a member of any of 16 white supremacist groups believed to operate in South Carolina.
Richard Cohen, the present of civil rights group the Southern Poverty Law Center, said Roof "admires apartheid" and called his alleged massacre an "obvious hate crime by someone who feels threatened by our country's changing demographics and the increasing prominence of African Americans in public life".
He added: "Since 9/11, our country has been fixated on the threat of Jihadi terrorism. But the horrific tragedy at the Emmanuel AME reminds us that the threat of homegrown domestic terrorism is very real."
Additional reporting by agencies
Register for free to continue reading
Registration is a free and easy way to support our truly independent journalism
By registering, you will also enjoy limited access to Premium articles, exclusive newsletters, commenting, and virtual events with our leading journalists
Already have an account? sign in
Register for free to continue reading
Registration is a free and easy way to support our truly independent journalism
By registering, you will also enjoy limited access to Premium articles, exclusive newsletters, commenting, and virtual events with our leading journalists
Already have an account? sign in
Join our new commenting forum
Join thought-provoking conversations, follow other Independent readers and see their replies