Charlottesville: Anti-racism vigilantes join forces to identify white supremacists on social media
One of the far-right protesters is believed to have been sacked by his employer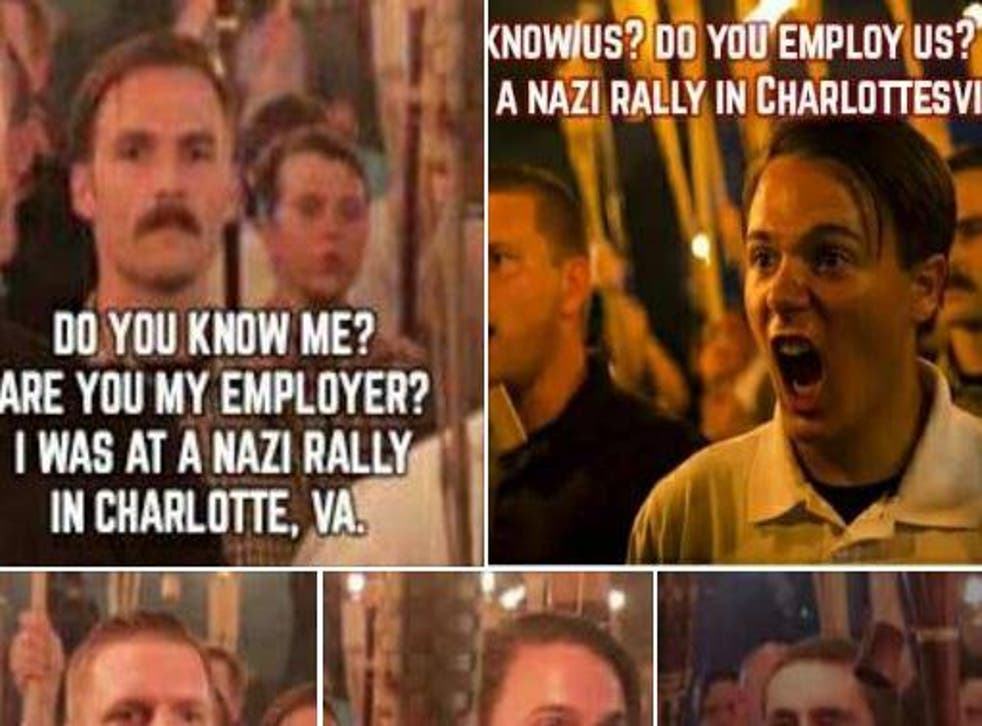 Anti-fascist vigilantes are naming and shaming the white supremacists which converged on Charlottesville in the hope of causing them to lose their jobs.
The efforts to identify the far-right protesters who engaged in violent clashes with anti-fascists over the weekend have already been successful and one of the far-right protesters is believed to have been sacked by his employer.
Gregg Davis, a Missouri resident, shared a Facebook post asking people to identify demonstrators at the far-right rally. The viral post, which has now been shared more than 219 thousand times, included close up images from the torch march that culminated in violence.
Charlottesville: Moment man breaks legs saving his fiance's life by pushing her out the way
Each photograph plainly asks: "Do you know me? Are you my employer? I was at the Nazi Rally at Charlotte, VA".
A Twitter account dubbed "Yes, You're a racist", which has made a name for exposing white nationalists in the past, has also called for anyone who recognises the men in the photos to out them publicly on social media or send anonymous tips.
"If you recognise any of the Nazis marching in Charlottesville, send me their names/profiles and I'll make them famous," it asked.
Cole White, a protester pictured on the account, has since been sacked from his job at a restaurant in Berkeley, California.
"Effective Saturday 12th August, Cole White no longer works at Top Dog," currently reads a sign on the fast-food restaurant's door. "The actions of those in Charlottesville are not supported by Top Dog. We believe in individual freedom and voluntary association for everyone."
Violence on the streets of Charlottesville

Show all 9
The account has also named a number of the other torch-carrying far-right extremists, publishing their addresses, places of employment and universities.
Clashes between white supremacists and anti-fascists engulfed Charlottesville over the weekend. Two policemen died in a helicopter crash while taking part in efforts to restore peace and a 32-year-old women named as Heather Heyer was killed after a car ploughed into a group of anti-fascist protesters in a separate incident.
Twenty-five people were injured in the attack. According to police, James Alex Fields, a 20-year-old from Ohio, has been charged with second-degree murder, three counts of malicious wounding and failure to stop at the scene of an accident that resulted in a death.
The mother of Ms Heyer has spoken out in the wake of the violence, saying she wants her daughter's death to be a "rallying cry for justice and equality".
Born in Charlottesville, Ms Heyer dedicated her life to battling injustice and worked at a law firm where she helped people who were in danger of being evicted from their homes, having their cars repossessed or who needed help paying medical bills.
A GoFundMe campaign set up in Ms Heyer's memory managed to raise $225,000 (£173,000) over the weekend alone. The campaign, which has since been closed, included a statement from her mother, Susan Bro, that said: "She died doing what was right. My heart is broken, but I am forever proud of her."
Join our new commenting forum
Join thought-provoking conversations, follow other Independent readers and see their replies