Chile economy minister apologises for accepting sex doll gift at industry dinner
Luis Cespedes laughed and smiled as he accepted the joke gift at an annual industry dinner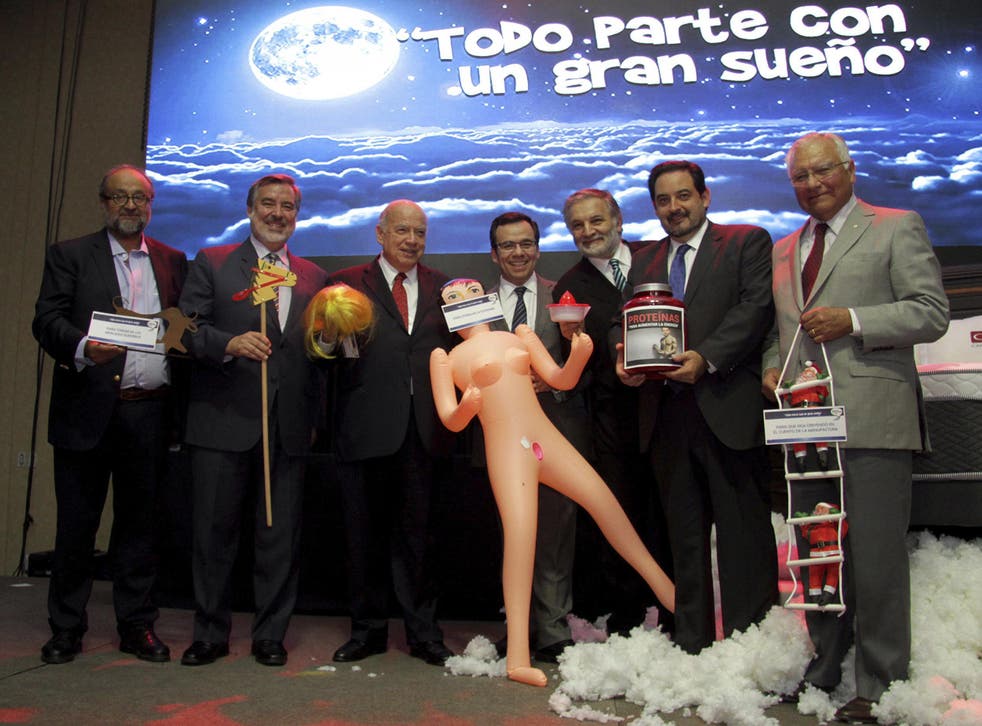 Chile's economic minister has apologised for accepting an inflatable sex doll at an industry dinner.
Luis Cespedes received the gift from Roberto Fantuzzi, the head of the Chilean exporters' association at an annual industry dinner on Tuesday night.
The naked doll, which has a hole where its genitals would be, had a note taped over its mouth that read "to stimulate the economy".
The prank sparked a massive backlash online and from people in government.
The minister, who laughed when he accepted the present, apologized two days later and said the doll was unexpected.
Mr Fantuzzi, who gave the gift, said on Twitter: "I have wife, daughter and granddaughters. The intention was never to generate violence against women."
As calls grow for Mr Fantuzzi's resignation, the exporters' association, Asexma, will meet on Friday to discuss his future.
Chile's first female president, Michelle Bachelet, said the men showed disrespect for women.
"The fight for women's respect has been an essential principle for my government," she said in a tweet.
"What happened in the Asexma dinner cannot be tolerated."
In a 2015 survey, 96 per cent of Chilean women said they saw the country as "macho", and 80 per cent of men thought the same. Almost half of the participants said they had discriminated against a woman at some point in their lives.
Register for free to continue reading
Registration is a free and easy way to support our truly independent journalism
By registering, you will also enjoy limited access to Premium articles, exclusive newsletters, commenting, and virtual events with our leading journalists
Already have an account? sign in
Register for free to continue reading
Registration is a free and easy way to support our truly independent journalism
By registering, you will also enjoy limited access to Premium articles, exclusive newsletters, commenting, and virtual events with our leading journalists
Already have an account? sign in
Join our new commenting forum
Join thought-provoking conversations, follow other Independent readers and see their replies