China blasts US over 'serious military provocation' in Taiwan
Chinese diplomats called arm sales, bomber flights an attack on 'China's sovereignty'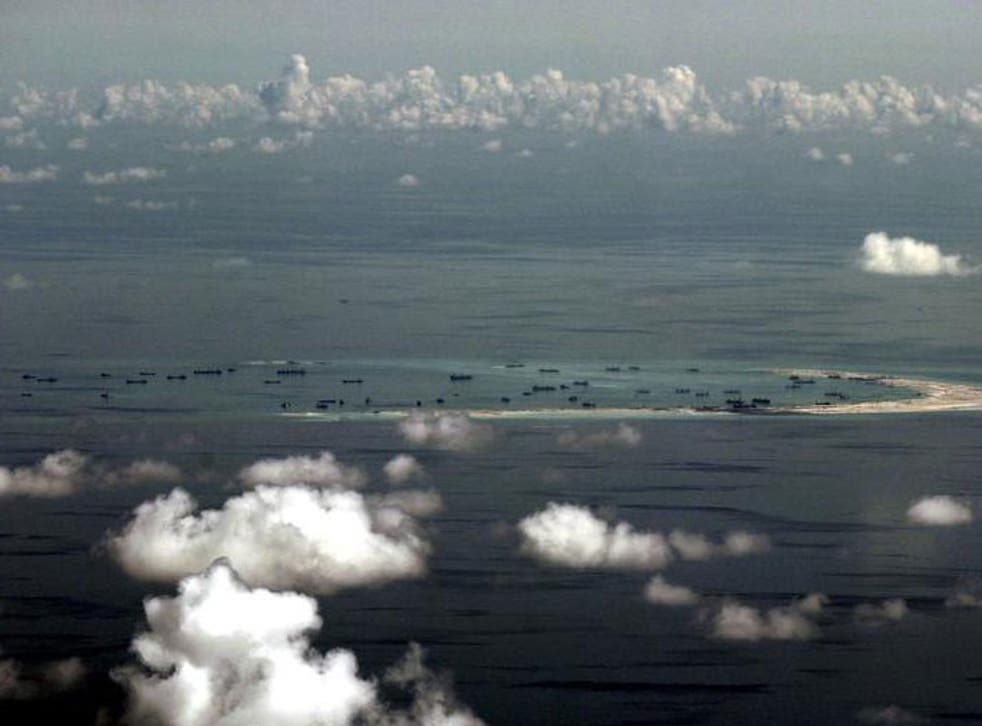 China has lambasted the United States over what Beijing has called the US military's assault on "China's sovereignty" in Taiwan and the disputed South China Sea.
The US military action comes amid overtures by Beijing to bolster unification efforts with Taiwan that Washington has pledged to support. Beijing has also sought in recent months to normalise relations with Southeast Asian nations that have weakened by conflicting claims over the strategically and economically important water space that Beijing calls the South China Sea.
Chinese Foreign Minister Wang Yi told US Secretary of State John Kerry that Washington must respect Beijing's "core interests and major concerns," semi-official newspaper China Daily reported Tuesday.
Mr Wang called recent US military flights over the South China Sea a "serious military provocation," China Daily added.
US Defense Department spokesman Commander Bill Urban told The Independent the Department was "aware of China's concerns" but could offer no further comment.
The comments came as a State Department spokesman said on Tuesday that the administration of President Barack Obama had on Tuesday notified Congress of "a $1.83 billion defence arms sales package to Taiwan." David McKeeby, a spokesperson for the Department of State's Bureau of Political-Military Affairs, later clarified that the $1.83bn deal was, in fact, that same one approved by Congress on December 16.
"This notification follows previous notifications by the Obama Administration totaling over $12bn," the spokesman said in an email.
Mr Wang's comments mark the latest in an ongoing exchange of political rhetoric between the world's two largest economic superpowers that became more heated after US bomber on December 10 flew over a chain of islands in the South China Sea claimed by both China and Southeast Asian nations like Brunei. The State Department spokesman declined to comment on the December 10 and other flights.
Chinese diplomats reiterated concern for their sovereignty.
"We once again urge the US side to reflect upon and correct its mistake, take effective measures to prevent similar dangerous and provocative actions from happening, and stop doing anything that hurts China's sovereignty and security interests as well as peace and stability of the South China Sea," Mr Wang said in a press release.
The South China Sea is also one of the world's most heavily trafficked shipping routes and believed to have major untapped natural energy deposits.
US v China dispute in South China Sea
On Taiwan, Vice Foreign Minister Zheng Zeguang said in an emailed press release that, "The arms sale from the US to Taiwan severely violates the international law … and severely damages China's sovereignty and security interests."
The State Department spokesman, who spoke on condition of anonymity, said that despite the arms sale, Washington had abided by its commitment to promote the reunification of Taiwan and the People's Republic.
"There is no change to our longstanding 'one China' policy based on the Three Joint Communiques and the Taiwan Relations Act," he said. "Today's notification is consistent with the Taiwan Relations Act, and our support for Taiwan's ability to maintain a sufficient self-defence capability."
In 1979, Washington switched recognition of the official Chinese government from Taipei to Beijing, following a normalisation of relations with the Communist Party-led Beijing administration. But until today, the US continues to provide Taiwan with military support to stave off military action by the mainland that Beijing charges amounts prevent reunification and have effectively turned Taiwan into a US colony.
Chinese President Xi Jinping and Taiwanese President Ma Ying-jeou met in November in apparent bid toward closer political and economic relations. Beijing has reportedly opposed anti-unification candidates in Taiwan's January general election.
Join our new commenting forum
Join thought-provoking conversations, follow other Independent readers and see their replies