Chris Christie engulfed by gridlock scandal: Republican frontrunner accused of closing New Jersey bridge road as retribution against Democrat town mayor
New Jersey governor has claimed no advance knowledge of the incident which saw the closure of two access lanes from Fort Lee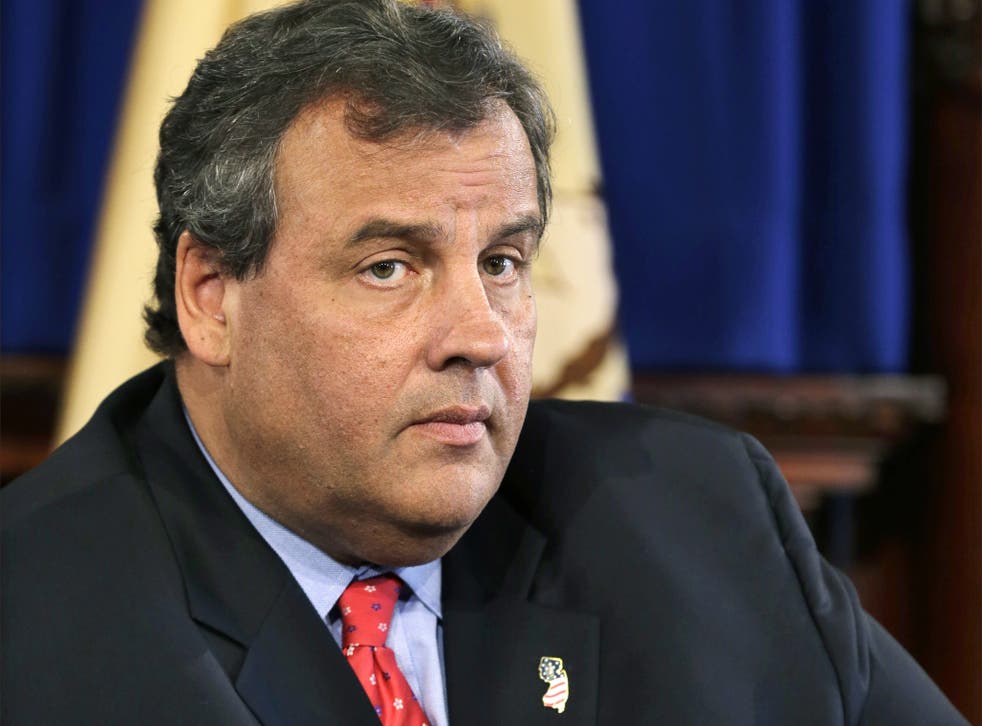 The issue at hand is small, even for local politics: the sudden closure, over four days, of a pair of access lanes from Fort Lee, in New Jersey, on to the George Washington Bridge into New York.
But in this traffic mystery, Democrats see a potential scandal that could permanently harm Republican New Jersey governor Chris Christie, who has been riding high as a prospective 2016 presidential candidate.
In September, two of Mr Christie's top appointees at the Port Authority of New York and New Jersey ordered the lanes abruptly shut to traffic, causing days of gridlock in Fort Lee. Democrats allege that the move was political retribution against the town's Democrat mayor, Mark Sokolich, for not endorsing Mr Christie for re-election this year.
With Democratic legislators and the news media continuing to dig up emails and other evidence, the two appointees involved in the lane closure have resigned.
Mr Christie has claimed no advance knowledge of the incident and has denied any wrongdoing on the part of his administration. But that has not kept Democrats in Washington from pouncing.
The goal is to puncture the image Mr Christie has carefully cultivated since 2012's Hurricane Sandy as a bipartisan bridge builder and trustworthy, if pugnacious, executive. His detractors say the episode reveals Mr Christie as what they say he really is – a nasty and corrupt New Jersey politician who bullies those standing in his way.
"It undercuts his key argument that he's a straight shooter," said Democratic National Committee spokesman Michael Czin. "It highlights the worst about his bombast and his condescension."
In interviews this week, one Democratic leader said the "Bridge-gate" episode reveals the Christie administration's "Nixon-like dirty tricks," while another likened it to Watergate. A third speculated about impeachment.
In Trenton, the charge has been led by state senate majority leader Loretta Weinberg, a Democrat, who has been among Mr Christie's most aggressive and indefatigable opponents.
"Do I think governor Christie called the Port Authority and said, 'Close lanes'? No," Ms Weinberg said. "But do I think he's helped to create an atmosphere where his political operatives think they're free to use the biggest bridge in the world for punitive action against somebody? I have to believe that it has to do with politics, because there is no other rational explanation for it."
But George Norcross III, an influential Democratic figure in South Jersey and a sometime Christie ally, said Democrats should "be focusing on their own candidates and their own profile".
Mr Christie's advisers expect the controversy will be short-lived, but they said they are prepared to defend him by pointing to his record fighting corruption as a US attorney.
A senior aide to Mr Christie acknowledged privately that scrutiny of the governor intensified almost overnight after his easy re-election last month. As the front-runner for the GOP nomination, Christie "fully expects" the scrutiny to continue, the aide said.
As Christie told reporters at news conference this month, "We're not in Kansas anymore, Dorothy."
© The Washington Post
Join our new commenting forum
Join thought-provoking conversations, follow other Independent readers and see their replies