Transgender governor nominee Christine Hallquist says she is getting death threats
Ms Hallquist says her campaign has received at least a dozen death threats in recent weeks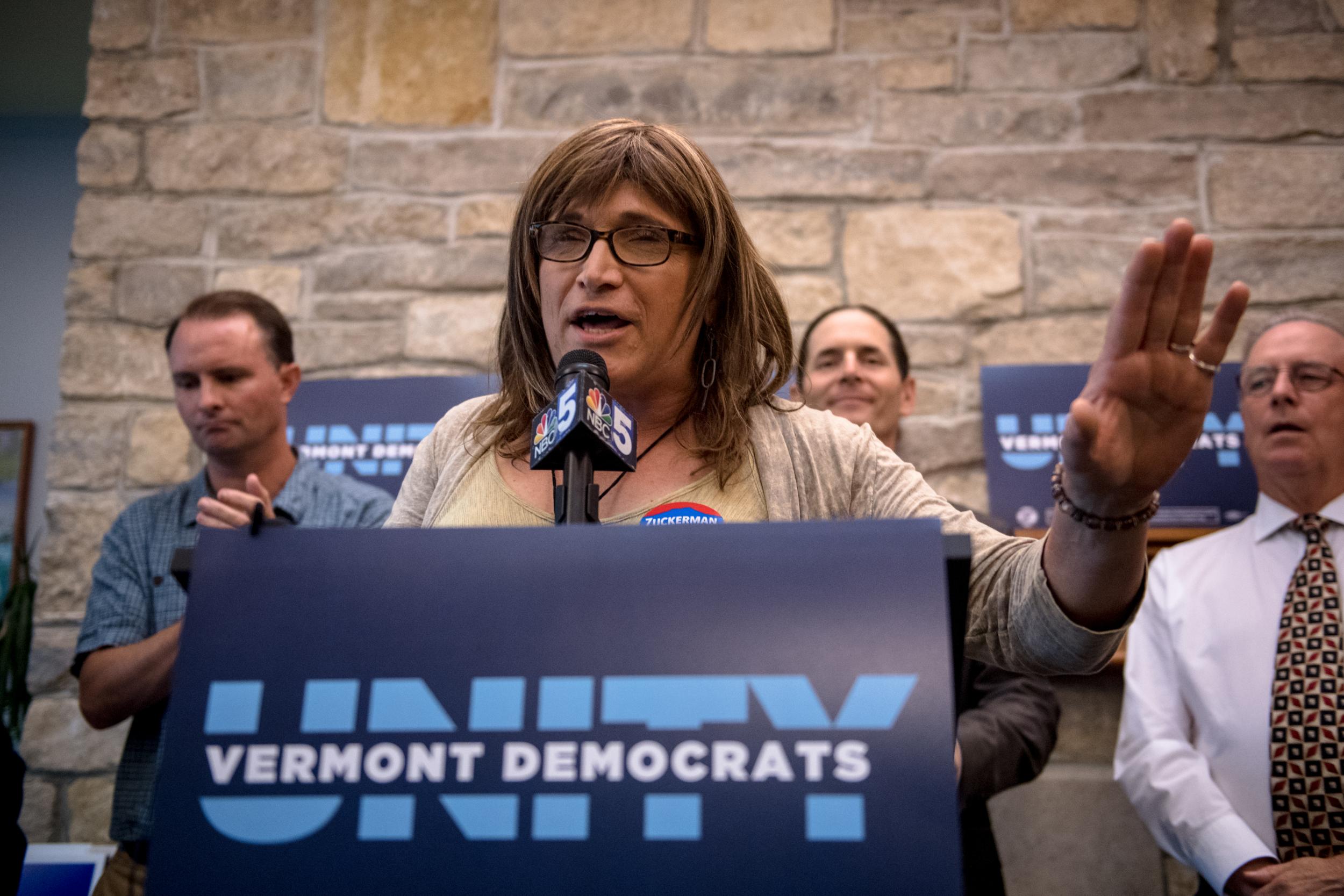 Christine Hallquist, the first transgender woman to win a major party's nomination for governor, says she has been receiving death threats ever since winning her party's primary earlier this month.
Ms Hallquist is running against Republican Governor Phil Scott of Vermont in the November elections. She beat out three other candidates in the Democratic primary on 14 August, making her the first transgender woman to advance this far in a gubernatorial race.
The historic win brought her campaign national attention, which in turn brought a rash of harassing phone calls and death threats, Ms Hallquist said. The candidate told the Associated Press she had received about a dozen actual death threats – mainly from people outside of the state – which she reported to the Vermont State Police and the FBI.
The Vermont Democratic Party, meanwhile, told NBC10 Boston it had received four or five harassing calls a day since the primaries. State and local police have suggested new security plans for the party to follow during the general election. Both the Virginia State Police and FBI confirmed they were investigating the complaints.
Ms Hallquist has also been adjusting her security plans, she said, taking care not to publicise the exact location of her campaign headquarters or give advance notice of certain events.
Thousands march against Donald Trump in LGBT rights parade
Show all 8
When one out-of-state guest called to enquire about an upcoming appearance, she said, she decided not to give them more information.
"I'm sure it's perfectly innocent, but with a little heightened awareness, we're just taking a little extra precaution," she said, adding that most Vermont residents had been more accepting of her campaign.
Her opponent, Mr Scott, condemned the threats and called for them to end.
"I won't tolerate it," he told NBC10 Boston. "I think it's important that we treat each other with respect and civility. It's something I've practised throughout my life."
Primary elections: Vermont nominates first transgender candidate for governor Christine Hallquist
Ms Hallquist is the former chief executive of the Vermont Electric Cooperative, and is running on a platform of building infrastructure in the state. She has also endorsed progressive platforms like Medicare for All and preventing climate change.
While her campaign has generated sizeable press coverage, she faces a steep battle in her bid for the governor's seat. Mr Scott currently enjoys high approval ratings, despite being a Republican in a largely liberal state. Vermont voters have not voted out an incumbent governor in more than half a century.
Regardless of whether she wins, however, experts say her campaign will help pave the way for future transgender candidates.
"Even if she doesn't get elected governor, the greatest contribution of her campaign could be to raise awareness about the issues transgender people face," Middlebury College Professor Eric Davis told the New York Times.
Join our commenting forum
Join thought-provoking conversations, follow other Independent readers and see their replies