Security staff under fire for violent takedown of animal rights protestor at New York Fashion Week
A woman holding a 'Coach Leather Kills' sign was dragged off the runway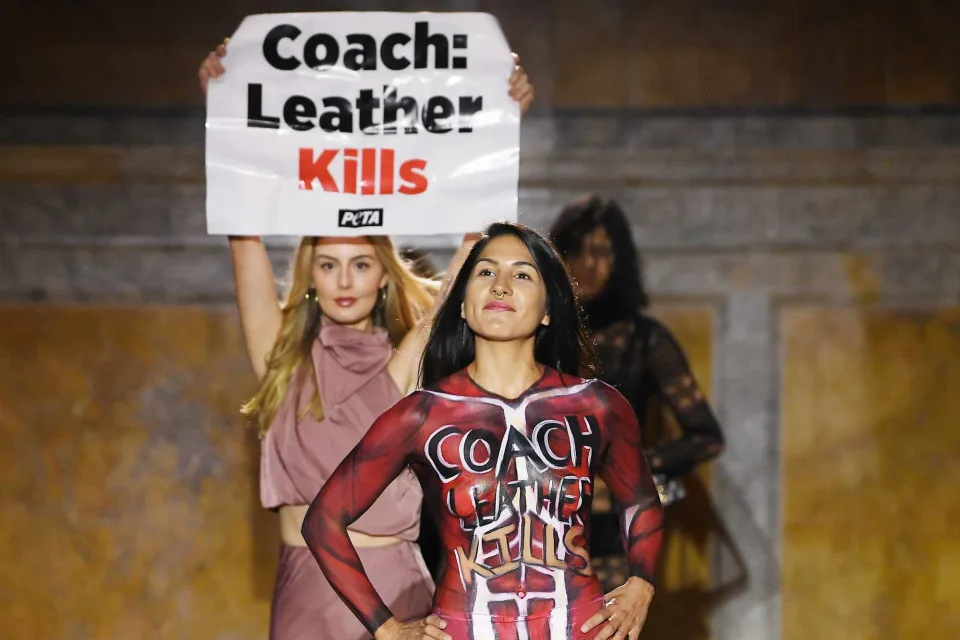 The rough removal of a PETA animal rights activist from the runway at a Coach fashion show has been has caused a flap in the couture world.
In video footage posted by The Cut on Instagram, a protestor covered only by body paint and a pair of underwear with the words "Coach Leather Kills" painted on her chest, was followed by another woman holding up a sign with the same message.
The protest, which happened in the middle of Coach's Spring 2024 ready-to-wear show at New York Fashion Week, happened Thursday.
Coach, a brand established in New York in 1941, is known for its leather fashion goods, especially handbags.
The woman wearing body paint walked swiftly before leaving the catwalk, while the other protestor holding the sign was grabbed by a member of staff and swiftly dragged behind the stage.
Many commenters under the video were quick to criticize how the protestor was removed.
One user said: "The person that grabbed her needs to evaluate themselves. Grabbing anyone like that when they are clearly of no physical threat to anyone is completely uncalled for. It's a f****** fashion show, calm down. I'm a huge fan of haute couture and fashion but gripping somebody up like that is ridiculous."
Another user also commented: "I mean she done already made it to the end of the runway why tackle her like that?!"
While PETA has not commented on how the protester was handled, they did write under the post: "We'll bring it to the runway as long as brands like Coach keep profiting off cruelty to cows & other animals who are killed for leather."
The show was attended by many big names, such as Vogue editor-in-chief Anna Wintour, who can be seen following the protestors with her eyes before saying something to Jennifer Lopez, who sat beside her, after the activist was taken off the stage.
Ms Lopez has been an ambassador for Coach since 2019, often fronting their campaigns and wearing their high-end fashion pieces.
A statement was released by PETA after the runway takeover explaining their motivations for protesting: 'Today's conscientious consumers know that the future of fashion lies in innovative vegan materials, not in cows' sliced-off skin,' said PETA Executive Vice President Tracy Reiman. 'PETA is shaking up Coach's catwalk to drive home the message that leather belongs in the annals of history, not in designers' current collections.'
This is not the first time PETA has invaded the runway at fashion weeks and other shows, including in 2002 at a Victoria's Secret fashion show in which protesters invaded Gisele Bundchen's appearance for fur company Blackgamma. The model continued to strut down the runway among the group of protestors who were holding signs saying "Gisele Fur Scum".
Despite increased concerns about sustainability — cattle are a major polluter — the leather industry has been booming and is predicted to grow by 21.87 per cent by 2028, Statista reports.
Join our commenting forum
Join thought-provoking conversations, follow other Independent readers and see their replies