Colleagues of 'seer of the web' Aaron Swartz face dark questions over his suicide
He was an internet pioneer – but now the foremost IT college in America faces questions in its possible role in the tragedy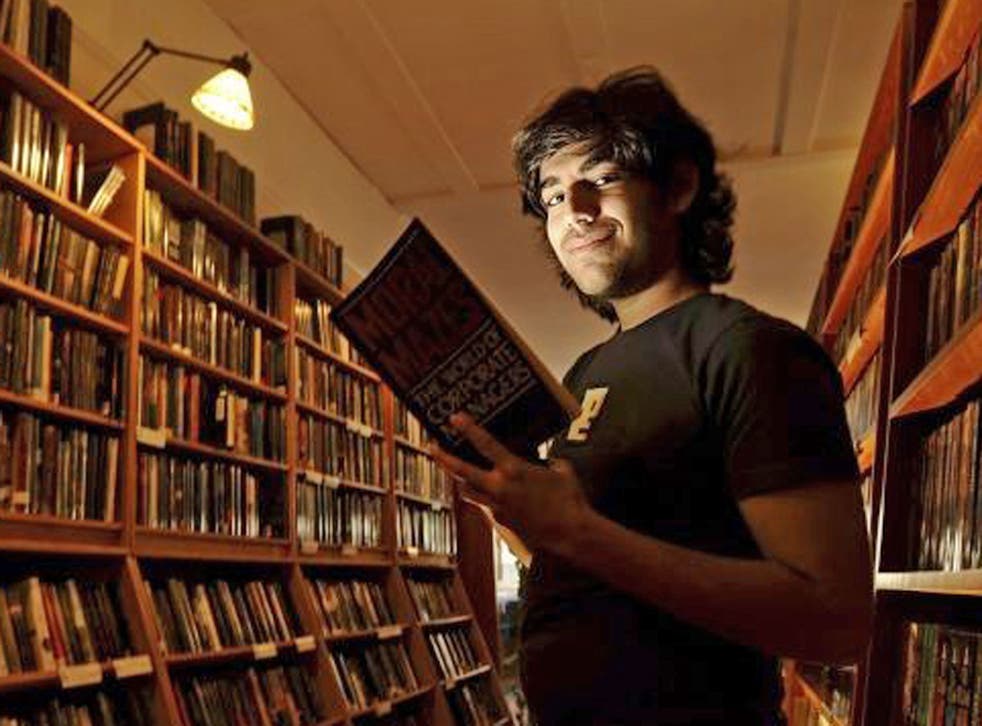 If it's possible to judge someone by the status of those who pay them tribute in death, then Aaron Swartz was an internet colossus.
The campaigner for web freedom and co-inventor of the RSS content distribution system was found hanged in his Brooklyn apartment on Friday. The following day Tim Berners-Lee, creator of the World Wide Web, wrote on Twitter: "Aaron dead. World wanderers, we have lost a wise elder. Hackers for right, we are one down. Parents all, we have lost a child. Let us weep."
While those who loved and respected him mourned their loss, the reasons why a visionary like Aaron Swartz would choose to take his own life remained in doubt. One theory is that the death of the 26-year-old, who suffered from depression, was connected to his prosecution for alleged data theft. Yesterday America's foremost technical university, The Massachusetts Institute of Technology, took what could be the first step towards solving that mystery when it ordered an internal investigation into what role it may have had in the tragedy.
Mr Swartz was a hero to activists committed to ensuring maximum and free access to knowledge and content on the internet, a person of nearly exotic brilliance who helped invent RSS when he was barely a teen and who co-founded the social sharing site Reddit. But as colleagues filled the ether with paeans and tributes to his achievements – and his family and friends prepared for his funeral today at a synagogue in Highland Park, north of Chicago –  attention turned to his 2011 arrest for allegedly stealing thousands of scientific articles from a closed archive at MIT called JSTOR with intent to distribute them for free on content-sharing websites. Mr Swartz stood accused of recklessly damaging a computer when he took his laptop into MIT's building and illegally downloaded close to four million scientific papers, which he allegedly believed should have been available to all. He was due to stand trial on 13 charges of data theft this spring and was facing fines and up to 30 years in prison – longer than his shortened life – had he been convicted.
Already controversial, the prosecution's case will now come under even greater scrutiny. Critics have accused prosecutors in Boston of harrying Mr Swartz and losing any sense of proportion as they pursued their case. Since the weekend, in excess of 1,500 copyright-protected articles have been made accessible for free on the web by their authors and owners as a tribute to Swartz under the common name, #pdftribute. 
"He was brilliant, and funny. A kid genius," Larry Lessig, director of the Edmond J. Safra Center for Ethics at Harvard University, wrote in his blog. Mr Swartz was a fellow at Harvard and attached to the Safra Centre when he allegedly hacked into JSTOR. A petition signed by 12,000 people so far has been sent to the White House demanding the sacking of the prosecutor who was in charge of the Swartz case, US Attorney Carmen Ortiz. "[He was] a soul, a conscience, the source of a question I have asked myself a million times: What would Aaron think?" Professor Lessig went on. "That person is gone today, driven to the edge by what a decent society would only call bullying. I get wrong. But I also get proportionality. And if you don't get both, you don't deserve to have the power of the United States government behind you."
Some have suggested that while JSTOR asked prosecutors to drop the case, the authorities at MIT took the opposite view. MIT's actions gave Mr Ortiz "the excuse he needed to continue his war against the 'criminal' who we who loved him knew as Aaron", Professor Lessig added.
The MIT investigation into these and other claims has been ordered by the university's president, Rafael Reif. He appointed Hal Abelson, a professor of electrical engineering and computer science at MIT, and a founding director of Creative Commons and the Free Software Foundation, to lead the probe.
"I and all of us at MIT are extremely saddened by the death of this promising young man who touched the lives of so many," Mr Reif said in a statement. "It pains me to think that MIT played any role in a series of events that have ended in tragedy."
In a statement issued over the weekend, the family of Mr Swartz did not hesitate to point a finger towards the government that was preparing to prosecute him. His death, it said, was a "the product of a criminal justice system rife with intimidation and prosecutorial overreach". The statement specifically blamed decisions by the Massachusetts prosecutors' office and MIT.
Activists who considered Mr Swartz their pied piper took early revenge on MIT by hacking into its website and crashing it over the weekend. But Professor Abelson, its chosen investigator, is also a fighter for intellectual freedom on the web. Maybe MIT has finally done something supporters of Aaron Swartz can agree with.
Register for free to continue reading
Registration is a free and easy way to support our truly independent journalism
By registering, you will also enjoy limited access to Premium articles, exclusive newsletters, commenting, and virtual events with our leading journalists
Already have an account? sign in
Register for free to continue reading
Registration is a free and easy way to support our truly independent journalism
By registering, you will also enjoy limited access to Premium articles, exclusive newsletters, commenting, and virtual events with our leading journalists
Already have an account? sign in
Join our new commenting forum
Join thought-provoking conversations, follow other Independent readers and see their replies