Colorado Springs shooting: Planned Parenthood suspect named as Robert Lewis Dear
Three people - including a 44-year-old police officer - died in the attack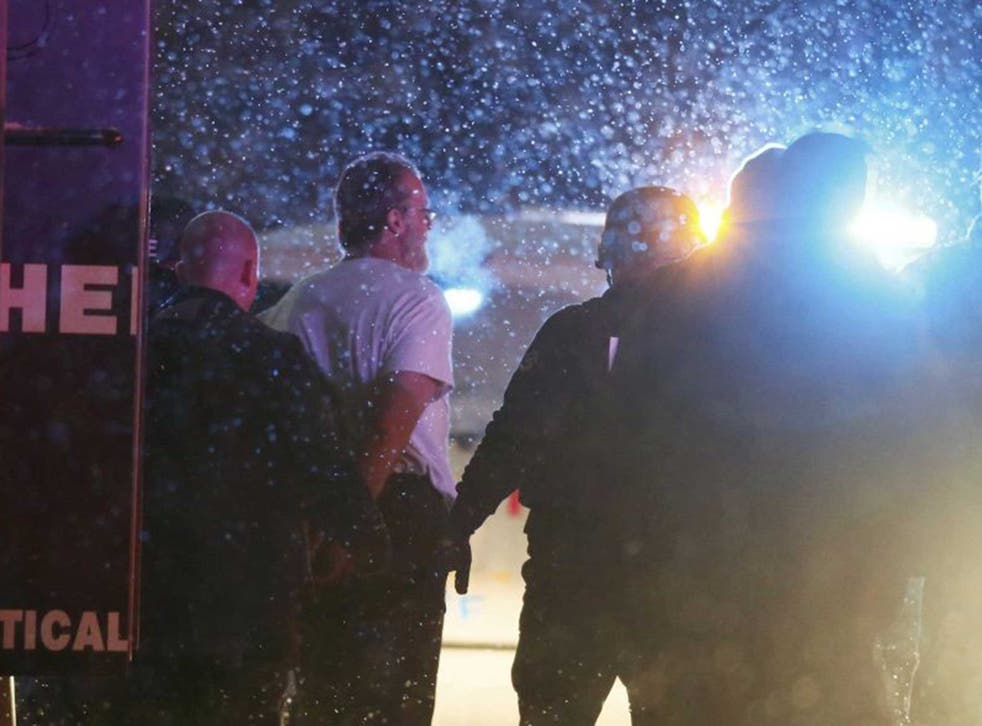 The suspected gunman who killed two civilians and a police officer after attacking a Planned Parenthood facility in the US has been named.
Colorado Springs police have detained suspected gunman Robert Lewis Dear, 59, after a six-hour stand-off with officers inside the Colorado Springs building. Nine people were also injured in the attack.
The motive of the suspect remains unclear. Planned Parenthood branches around the country have been targeted by anti-abortion campaigners' protesting outside.
Mayor John Suthers confirmed Mr Dear, who is believed to be from North Carolina, was in custody.
"I want to convey to the loved ones of the victims, this is a terrible, terrible tragedy that occurred here in Colorado Springs today," he also told a press conference.
It is believed the suspected gunman entered the clinic – which offers reproductive and sexual healthcare – at around 11.30am, carrying a number of bags and wearing a long trench coat, a hunting-style hat and armed with what has been described as a "long gun".
Two civilians, who have not been identified, were killed after the gunman entered the building and the third victim, 44-year-old police officer Garrett Swasey, died after responding to calls of an "officer under fire".
Officer Swasey, a father of two young children, had worked for past six years for the University of Colorado, roughly ten miles away from the shooting.
Vicki Cowart, president and CEO of Planned Parenthood of the Rocky Mountains, confirmed none of the facility's staff had been hurt in the attack but emphasised they were unaware of the "full circumstances and motives behind this criminal action".
"We share the concerns of many Americans that extremists are creating a poisonous environment that feeds domestic terrorism in this country," she added in a statement.
The nine people injured, including two police officers, have been described as in good condition.
Planned Parenthood runs around 700 healthcare centres across the US and claims to help around 2.7million people annually. The organisation – which offers abortions among other services – has been criticised by right-wing groups and politicians.
Register for free to continue reading
Registration is a free and easy way to support our truly independent journalism
By registering, you will also enjoy limited access to Premium articles, exclusive newsletters, commenting, and virtual events with our leading journalists
Already have an account? sign in
Register for free to continue reading
Registration is a free and easy way to support our truly independent journalism
By registering, you will also enjoy limited access to Premium articles, exclusive newsletters, commenting, and virtual events with our leading journalists
Already have an account? sign in
Join our new commenting forum
Join thought-provoking conversations, follow other Independent readers and see their replies