Community raises $110,000 for mosque struck in 'hate crime' arson
Local churches offered members of the mosque a space to offer prayers
Andrew Buncombe
New York
Monday 23 November 2015 17:54 Comments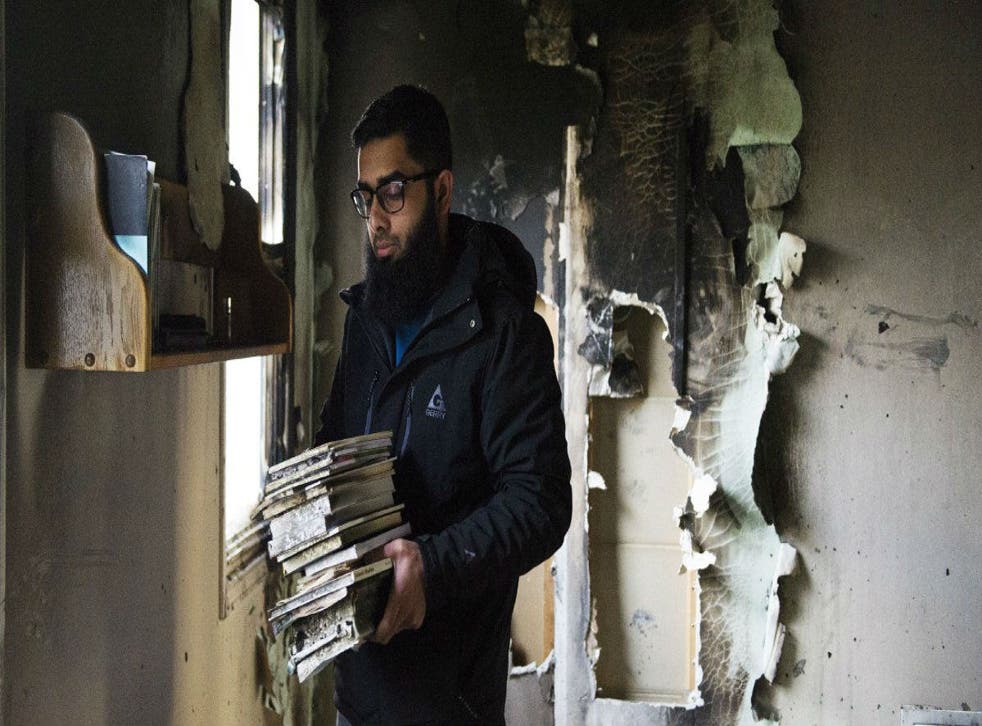 When arsonists struck the only mosque in the Ontario town of Peterborough, members of the community were not only horrified, but also determined to do what they could to help.
They rallied round, raised money to repair the damage, and local churches offered a space where members of the mosque could continue to give their prayers.
Having raised $110,000 - more than $30,000 above their target - the community members are now set to present the money to the mosque's members. The ceremony will be led by local radio personality Sean Eyre.
"We consider the campaign a tremendous success. Members of the Kawartha Muslim Religious Association have thanked us very much for our efforts. We are now going to close the online campaign and continue our efforts offline," Duane Rousselle wrote on a community's fundraising site.
"I would like to invite members of the Peterborough community to join Sean Eyre for a short event at the Masjid Al-Salaam Mosque on Wednesday, November 25th at 1.00pm. Sean will be presenting a cheque to Dr Kenzu Abdella and members of the board of the Kawartha Muslim Religious Association​ on behalf of all those who donated."
The community responded after an arson attack ten days ago on the Masjid Al-Salaam in Peterborough that police described as a suspected hate crime.
The attack on the Canadian mosque was one of several incidents in North America in which Muslims and mosques were threatened or attacked in the days after the Paris attacks, though police in Peterborough said they were uncertain if the arson was linked to events in France.
In Peterborough, the arson on the building, the name of which translates as was "Mosque of Peace", was widely condemned. The city's mayor's, Daryl Bennett, described it as a "despicable act".
Several local churches offered their facilities to members of the mosque so that they could continue to give prayer, an offer that was taken up.
In a message posted on its Facebook page, the Kawartha Muslim Religious Association wrote: "In light of the recent events at Masjid Al-Salaam, we would like to thank the community at large for the tremendous and continued support we have received."
Register for free to continue reading
Registration is a free and easy way to support our truly independent journalism
By registering, you will also enjoy limited access to Premium articles, exclusive newsletters, commenting, and virtual events with our leading journalists
Already have an account? sign in
Join our new commenting forum
Join thought-provoking conversations, follow other Independent readers and see their replies